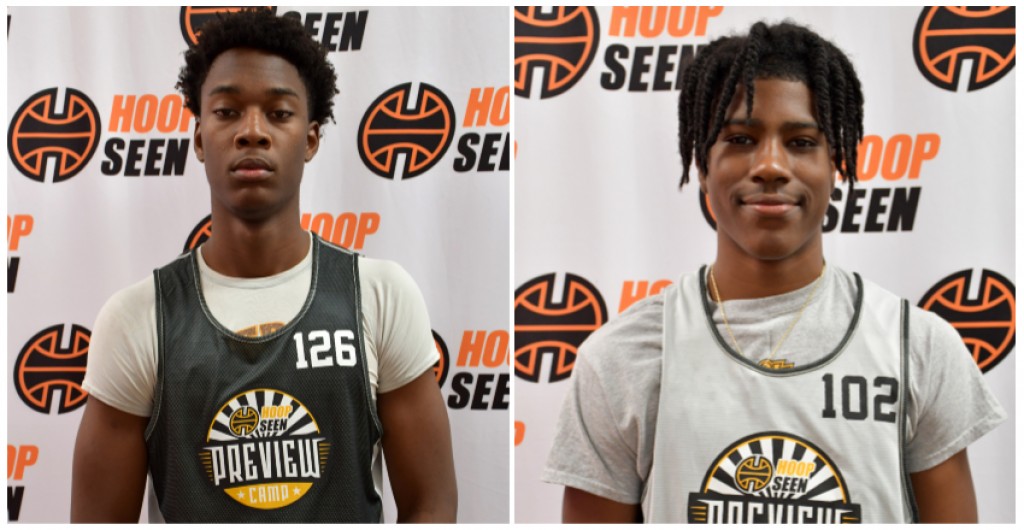 By Derik Williams
The first session of our Georgia HoopSeen Fall Preview camp is in the books and our staff of evaluators and coaches have gone through their notes of every player in the camp. Every. Single. One. Today we look closer at Team 16 from the camp.
Mason Barnes, Dawson County, 2021, PG: A physical pass-first point guard who sees the floor well and has a nice consistent shot from the outside and beyond the arch. With his ability to shoot the ball needs to look for more scoring opportunities within the flow of the game. As a lead guard needs to improve his on-ball defense but shows a willingness to compete on that end of the floor so improvement is inevitable.
Timothy Clark, Newton, 2022, CG: Timothy is deadly in the open court with his ability to finish at the rim. Don't just label him as a slasher, however, because he has the ability to shoot the ball from the outside with range at a consistent rate. His strong body gives him the ability to create contact and finish through it is just something that you can't teach. He needs to continue to work on converting from the free-throw line because his style of play will have him living at the line.
Jarius Griffin, Peachtree Ridge, 2022, SG: Shooter that can score or a scorer that can shoot however you want to label him just know he knows how to put the ball in the basket. E showed the ability to score from multiple areas of the floor and is not shy about getting up shots at a high rate. Some players are unable to be an efficient high volume scorer at a young age, but he has mastered that skill already. He needs to continue to work on his handle in one-on-one situations to be even more efficient. 
Ethan McIntyre, Cass, 2022, SF: The 6-foot-4 wing is a good shooter who plays hard. He's a solid defender on the wing and showed that he can mix it up inside if he needs to. 
Charlie Reisman, Gainesville, 2023, PG: A promising guard with a high basketball iQ, Reisman showed that he can be a good shooter on the wing. He plays with a big time motor and is an energy giver. He is not afraid to get physical and is fearless when out on the floor.
Jonathan Rodriguez, North Paulding, 2023, G: What he lacks in size he makes up with in his understanding of the game. Don't let the size confuse you he is a fearless competitor and is not afraid to dive on the floor for loose balls and do the dirty work to help his team win.  As his body continues to develop so will his confidence. He needs to play with the ball in his hand more to get used to the pressure and speed of high school basketball. 
Wit Szymanski, Darlington, 2022, G: This crafty guard has a unique ability to handle the ball against pressure for a young player. He is extremely tight with his handle and passes the ball very well. He needs to get stronger so he can be more efficient on the defensive side of the ball, but with continued development, he will be a very intriguing prospect. 
Liam Thomas, King's Ridge, 2022, SG: A young player who possesses the skill to be an effective wing player. Confidence will be key for him going forward as he has the ability, but needs to let that ability show at all times when on the floor. With constant work in the gym and weight room, he will be a very good player going forward.
Brinton "BJ" Wright, Perry, 2021, PF: A high character player who was always encouraging his teammates and communicating while on the floor or resting on the bench. He also has the ability to produce on both ends of the floor but needs to be aggressive at looking for scoring opportunities. With a junior season and another run on the circuit and camp seen on the horizon, we look forward to seeing him continue to develop. 
RELATED: Team 1 | Team 2 | Team 3 | Team 4 | Team 5 | Team 6 | Team 7 | Team 8 | Team 9 | Team 10 | Team 11 | Team 12 | Team 13 | Team 14 | Team 15