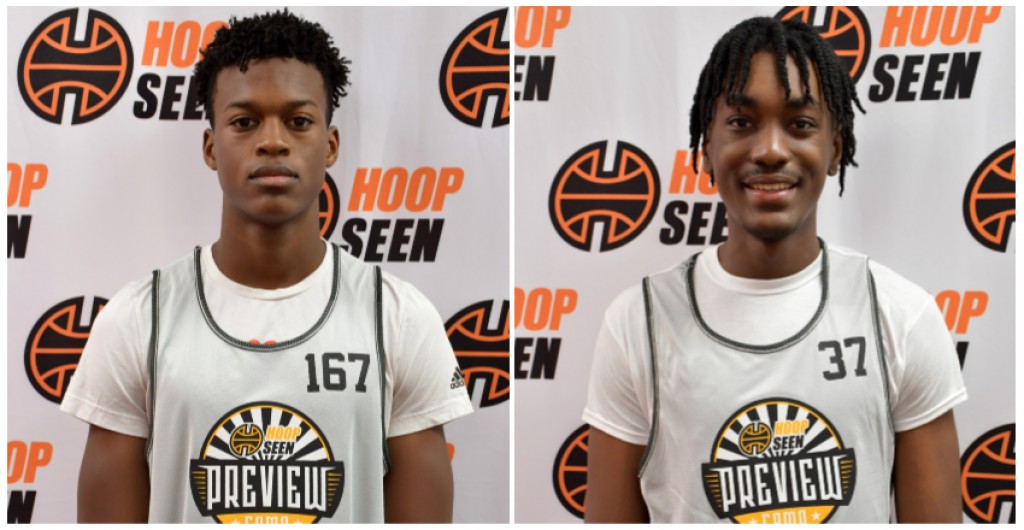 The first session of our Georgia HoopSeen Fall Preview camp is in the books and our staff of evaluators and coaches have gone through their notes of every player in the camp. Every. Single. One. Today we look closer at Team 14 from the camp.
Brent Bowman, Lakeview Fort Oglethorpe, 2023, SG: The 6-foot-2 freshman is still quite young in his game and skill development. His ceiling is high and there is plenty of room for improvement moving forward. The effort is there and he has the frame to grow into a good-looking hooper who can play multiple positions. 
Randall Godfrey, Jr., North Gwinnett, 2022, SF: The impressive sophomore was an eye-catcher at the Fall Preview camp. In fact, he was one of the very best 2022 prospects in the camp. He finished very well around the cup all day long and plays with a motor that doesn't turn off. Godfrey runs the floor very well and plays multiple spots on the floor. He's crafty to the rim and makes tough finishes against defenses. He's a super interesting player long term. This should be his breakout season at the high school level. 
Areyon Johnson, Archer, 2020, SG: The 6-foot-2 guard drew praise from his coach as an "excellent defender" and a "great slasher". If Johnson wanted to get to the basket, he could get there without any push back or trouble. His athleticism and speed allowed him to cover a lot of ground on both sides of the ball.
Jermyle Jones, Riverwood, 2020, SF: The 6-foot-5 wing was a nice eye-catcher on Sunday. The long senior played the passing lane well as a defender and caused problems for opposing offenses because of his length. He showed that he can be a consistent three-point shooter and he was crafty around the rim. He has a nice spin move and scored in the paint. Jones was able to convert tough baskets and hit corner three-pointers. 
Cole Middleton, Pace Academy, 2021, F: We know about his rough and tough approach in the paint and how that's is his bread and butter. We get that. And we saw more of that from Middleton in this setting. Defenders weren't too excited about that because he's just so tough to guard. Middleton is big and strong and physical. There just aren't too many players who play with that kind of toughness down low at the high school level. But in this setting we saw more of his athleticism in the open floor and more skill away from the paint. Middleton was a good passer in the open floor, showed off some transition skill and stepped out to hit jumpers. 
Re'Marr Rasool, Creekside, 2022, PG: The 5-foot-9 point guard did a fine job of controlling the pace of the game. He plays with a good tempo and knows how and when to put the game into an extra gear. 
Ty Tarpley, Hillgrove, 2021, G: The 6-foot guard is a very good passer who is crafty enough to create for himself and others. He has a good burst to the rim and can touch the paint when he's the primary ball-handler on offense. Tarpley has a decent three-point shot and was solid throughout the day of camp. 
Tim Thomas, The Haven Academics Center, 2021, SG/SF: The 6-foot-2 junior was solid on both sides of the ball throughout the camp. Thomas played well and playe consistent whenever he was on the floor. He never forced things and controlled his space well over the course of three games. 
RELATED: Team 1 | Team 2 | Team 3 | Team 4 | Team 5 | Team 6 | Team 7 | Team 8 | Team 9 | Team 10 | Team 11 | Team 12 | Team 13