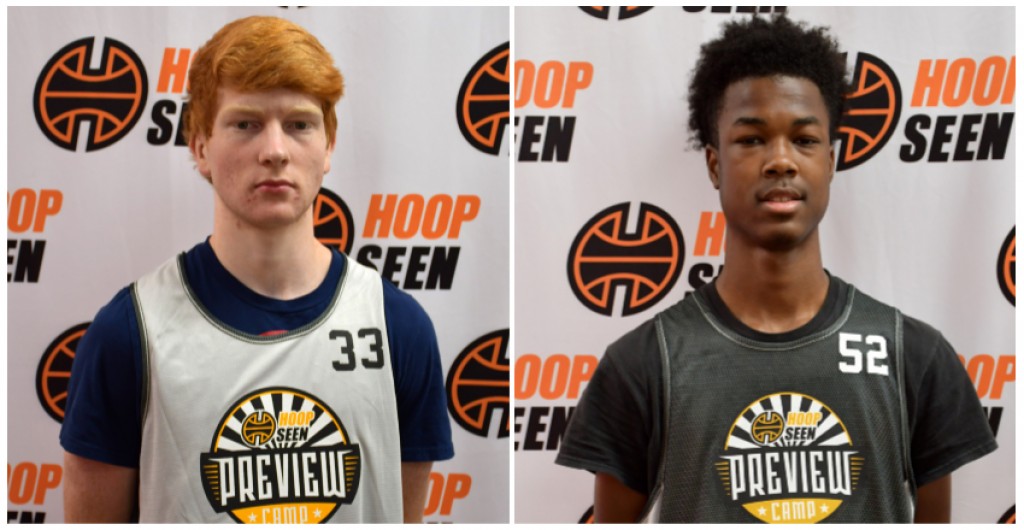 The first session of our Georgia HoopSeen Fall Preview camp is in the books and our staff of evaluators and coaches have gone through their notes of every player in the camp. Every. Single. One. Today we look closer at Team 13 from the camp.
Tyler Barton, Arabia Mountain, 2022, SF: The type of player every coach wants on his team. Works extremely hard on both sides of the floor and has the strength and body to compete at a high level for all four quarters.  Is not afraid to get his nose dirty and compete with any and everybody on the court. The ultimate glue guy with the time and potential to be so much more.
Justin Birch, Mill Creek, 2022, CG: A heady point guard that is a dead-eye standstill shooter. Has the ability to create his own shot, but really thrives in catch and shoot situations. Has great body control when getting to the paint which allows him to finish through contact. Showed a high IQ and willingness to compete on both ends of the floor.
Camron Carithers, Dacula, 2020, CG: Relentless at getting to the basket and has the speed and handle to get by any defender. Is virtually unstoppable in the open court at getting to the rim and has the body control to finish with contact over bigger defenders. He has sneaky lift and consistently finish up around the rim which makes it difficult to contest his shots. Streaky shooter, but once he gets going can knock down shots with range.
Evan Dumaine, Tallulah Falls, 2023, SF: Another one of those guys who has the ability to do multiple things on the floor. Has a great attitude and is willing to do whatever it takes to help the team win. A very unique skill to have in such a young player. Should continue to develop on the offensive end as he gets bigger, faster, stronger.
Giovanni Ekouie-Bia, Johns Creek, 2022, PG: The 5-foot-9 point guard was very coachable in this camp setting and thrived as a good team player. Ekouie-Bia has a great attitude. 
Austin Gusaeff, Johns Creek, 2020, PF/C: Big strong physical presence it's impossible to miss him while he is on the court. Has a motor that will be unmatched with other bigs and has the advantage of being a left-handed post player. Doesn't shy away from contact he actually seeks it out and is able to over power players in the paint. Needs to continue to improve his offensive game, but can be a potential game-changer on the defensive end as he will make players think twice before entering the paint.
Brookes Kahlert, St. Pius, 2021, PG: This kid has more swag in his game than 2 Chains at an award show. He has elite vision and passing ability and a handle that is 2nd to none. He has the ball on a string and has the rare ability to shoot a very high percentage from range off the dribble. He has an advanced layup package as he is still developing his athletic ability. He plays at his own pace which is hard for defenders to gauge. He is one of the best floor generals in his class in the state and should continue to develop over the next few years.
Andrew Phillips, Whitefield Academy, 2022, SF: Long and rangy athlete that needs to put on some weight and continue to gain confidence. Thrives in the open floor and has the mindset and ability to dunk on any and everybody. Has the potential to be a very good defender once he gets stronger, and more reps on the court. He is definitely a prospect to keep your eyes on as he continues to develop.
Jathan Williams, Loganville, 2020, PG: The 6-foot guard is a good athlete who can fly. He's a tough defender and a good finisher in the paint. Williams was very coachable at the camp. 
RELATED: Team 1 | Team 2 | Team 3 | Team 4 | Team 5 | Team 6 | Team 7 | Team 8 | Team 9 | Team 10 | Team 11 | Team 12