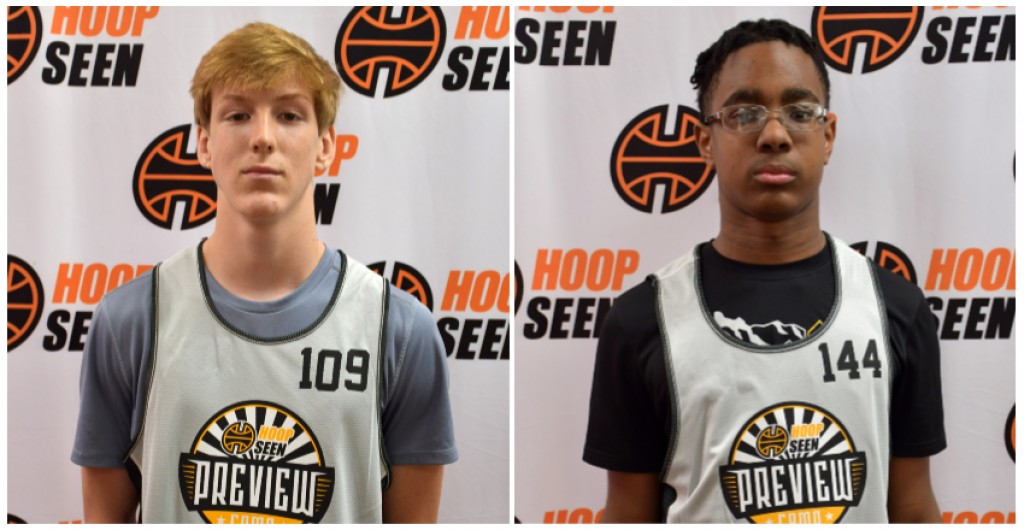 The first session of our Georgia HoopSeen Fall Preview camp is in the books and our staff of evaluators and coaches have gone through their notes of every player in the camp. Every. Single. One. Today we look closer at Team 5 from the camp.
Evan Brewer, Wheeler, 2021, SF: The 6-foot-4 wing brought great energy to the camp and shined with max effort on plays and in the drill work. His coach called him the best teammate on the roster.
Jalen Forrest, Greenforest Christian, 2022, SG: A big guard, Forrest was a tough player to guard in the camp. He is a capable shooter that you had to guard out to the three-point line but he was strong enough to power past defenders. His coach raved about his attitude on being a great teammate. 
Lionel Harris, Milton, 2020, PG: The senior guard was very good with the ball in his hands and used his speed to separate himself from defenders. He has a great change of direction and pace. At 5-foot-7, bigger defenders did give him trouble on offense.
Ayush Karnik, Johns Creek, 2021, PG: Karnik hit open threes and was very coachable throughout the camp setting. The 5-foot-11 guard finished at the rim against size and showed that he can get clever and creative with the ball. 
Marcel Mauge, Lambert, 2021, CG: The 6-foot-1 guard is a good interior passer and played well in the open floor. He has good vision and showed that he can hit open three. An uptick in energy and effort will help his game grow. 
Eli Murray, Buford, 2022, CG: When it came to making three-pointers, Murray was an absolute specialist in the corner. The 6-foot guard had a great day in that space and was a reliable option from the corner. As he gets better as a creator off the bounce, he will only improve as a scorer and a passer. 
Arius Porter, Northside, 2021, CG: The 5-foot-11 guard is a good utility guy. In this setting, he shined as a ball-screener, got on the floor for loose balls and did all of the dirty stuff to help his team compete and win. 
Robert Reisman, Gainesville, 2021, SG: The 6-foot-1 guard knocked down his three-point shots and showed that he can be quite shifty with the dribble. Reisman is very crafty with and without the ball. The lefty showed that is can also be a good catch and shoot guy and someone who creates well off the dribble. 
Brendan Rigsbee, North Gwinnett, 2021, SG: The lefty drew good reviews from coaches and evaluators on Sunday. The 6-foot-3 guard is a quality shooter who shined as a catch and shoot guy. He's a good player above teh rim and surprised some defenders with his ability to soar above. Defensively, Rigsbee used his bounce to challenge shots at the iron. He is making strides in his game and should be primed for a big year at North Gwinnett.  
2020 CG Jaden Walker was one of our top overall performers from the camp. Read more about his day of work HERE.