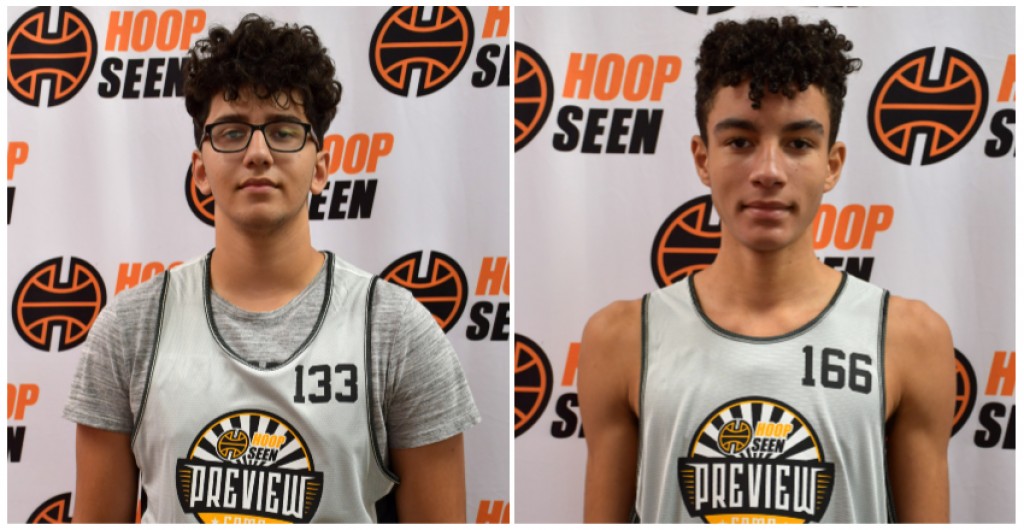 By Derik Williams 
The first session of our Georgia HoopSeen Fall Preview camp is in the books and our staff of evaluators and coaches have gone through their notes of every player in the camp. Every. Single. One. Today we look closer at Team 7 from the camp.
Xavier Ali, South Gwinnett, 2020, SG: A fast and shifty guard that can break you down off the dribble one-on-one. The 6-foot-2 guard shoots it well from the outside, but his speed sets him apart from the rest. His length caused problems on the defensive end of the floor. Had several eye-popping plays should have a successful upcoming senior season.
EJ Brown, Lanier County, 2022, SF: A young player still looking to figure it out, Brown shows flashes of being a really good player. Should he continue to develop and refine his skill set, Brown could turn out to be an interesting prospect long term. He's a good straight-line driver. 
Grant Erickson, Marist, 2023, PF: The undersized post (6-2) is a flat out competitor. He has good footwork in the low post and he did a great job of getting to the free-throw line in this setting. Although he lacks athleticism, he was always in the right spot. His coach said he was a "joy to coach". 
Jermontae Hill, Tucker, 2020, SF: On a number of occasions you could find Hill dragging defenders on his way to some tough and-one finishes. From a scoring standpoint, there were very few players that could produce in the same way, as his strength would allow him to bully defenders downhill. His size and blend of size and skill allowed him to occupy several positions offensively and let him be equally effective. Hill remains one of the most intriguing players in Georgia's 2020 class. 
Xander McAteer, Landmark Christian, 2021, PG: The 5-foot-8 guard is a capable shooter but needed time and space to get a good shot up. When he did, he was able to convert. 
Ezekiel Pettway, Woodstock, 2021, SG/SF: The 6-foot-4 wing has really good size and skill that allows him to play on the inside as well as step out and play the role of a big guard. He plays hard every second he is on the floor and is an ultimate competitor. Can shoot it consistently with range and has the ability to get his shot off over the top of defenders.
Nathan Rodriguez, North Paulding, 2023, PF: While some of his peers may have a size advantage, there may not have been a more productive freshman post player than Nathan Rodriguez. Pinning players under the rim was a common occurrence as Rodriguez would carve out a nice piece of the paint. Even as a crowd of taller defenders stood around him, Rodriguez would often out muscle and outwork them for tough rebounds. His game may not be pretty or cause many highlights but team wins games with players like Rodriguez.
Jaylon Taylor, Buford, 2022, SF: One of the most explosive athletes of the camp, Taylor dazzled those in attendance with several rim-rattling dunks. The 6-foot-6 sophomore runs the floor like a deer and has good hands in the open court for a young guy. He showed the ability to step out and knock down jump shots, but has the potential to be an elite defender both on the perimeter and inside. Taylor contested every shot at the rim and has good timing which helps him stay out of foul trouble. He is definitely a player to watch over the next few years.
Zak Thomas, Fellowship Christian, 2023, PG: The 5-foot-11 guard played hard throughout the camp. He'll attack right to the rim and was a good passer in the half-court. More time and experience should help develop his overall decision-making and confidence. 
Trashawn Wilson, New Manchester, 2020, SF: The definition of a high volume shooter. Can get up shots at a high clip from anywhere on the floor. Good size for a guard and once he gets going can really fill it up. A fierce competitor who wants to win at all costs. Should put up big numbers this upcoming season. Is not a line watcher meaning he has unlimited range and is able to make difficult shots look routine. Would like to have seen his motor rev a little harder in the camp. 
RELATED: Team 1 | Team 2 | Team 3 | Team 4 | Team 5 | Team 6