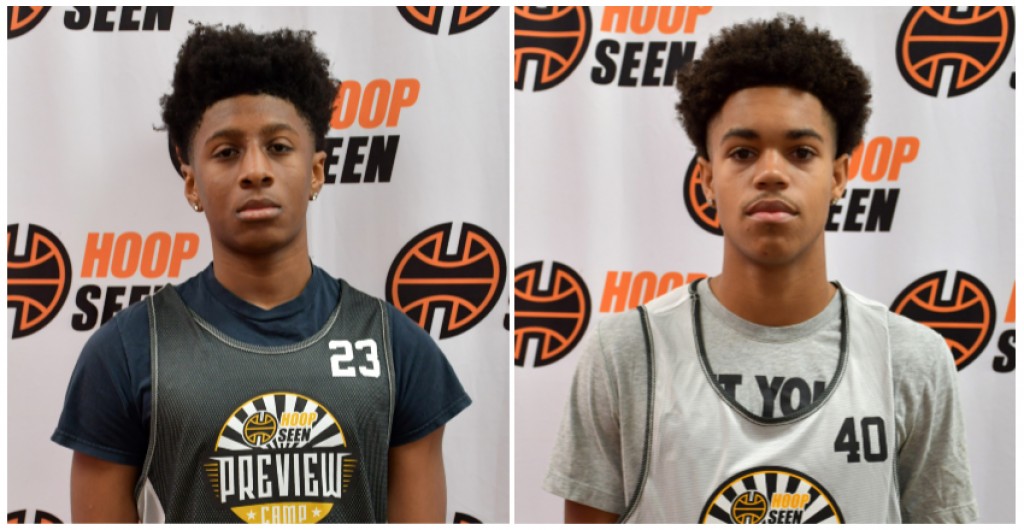 The first session of our Georgia HoopSeen Fall Preview camp is in the books and our staff of evaluators and coaches have gone through their notes of every player in the camp. Every. Single. One. Today we look closer at Team 12 from the camp.
Chase Alderman, St. Pius X, 2023: The 5-foot-9 guard is a really good shooter off the catch and used his quick release to get buckets in the clutch. Alderman plays within himself and didn't do things he's not capable of doing. 
Braxton Beaty, Lambert, 2020, SG: The senior has been to the Preview camp before and understood the value of being a vocal and engaged leader. He is anchored in competitiveness. Because of his physical strength, he got into the paint whenever he wanted. Beaty is a good athlete who shined as a dribble-driver. His IQ is high and you can tell he's been well-coached over the years. When he was loose, he produced. Our staff loved him as an offensive rebounder. 
Tyson Brown, Lovett, 2021, SG: The 6-foot-2 guard has a nice pull up three-point shot. He also showed that he's an effective player as a catch and shoot scorer. Brown is engaged and is solid defender on the wing. 
Lee Dorsey, Osborne, 2020, SF: The 6-foot-5 wing has really nice length for his position and is a quality athlete. Dorsey is still quite raw but he has a solid motor and desire to be a mismatch problem. He stepped out and hit some three-pointers and created mismatch problems throughout the day. 
Dequan Hawkins, Central Gwinnett, 2021, PG: The 5-foot-10 guard is shifty and his handles allowed him to get into space in the halfcourt. He plays bigger than he is and is a flat out competitor. 
Andrew McConnell, Lanier, 2021, PG: The 6-foot guard was one of the best point guards in the camp on Sunday. He kept the ball on a string and showed great poise throughout the event. He is a great passer who controls the tempo very well. McConnell is strong to the rim but patient when it comes to playmaking. He wants to be the alpha male on the court and showed that he's a quality shooter from three. His court vision was excellent. 
Christopher Newell, The Walker School, 2020, CG: Newell was always in attack mode at the Preview camp. He is a good shooter from all three levels and really good scorer at the rim. The 6-foot-1 guard gets into the paint with ease and has a good change of pace off the bounce. He looked to pull up on three and converted several times. Newell, in our opinion, is one of the best sleepers in the state of Georgia.
Aaron Oh, Mill Creek, 2021, SG: The 6-foot guard is crafty and played the entire camp with a high IQ. Defensively, he made a lot of plays on the help side. Oh drew nice reviews from our coaching staff for his understanding of the game and how to play within his own skillset.
Jacob Woods, Landmark Christian, 2021, SF: The 6-foot-3 is an intelligent player who found ways to make an impact in other facets outside of scoring. He rebounded well from his wing position. 
RELATED: Team 1 | Team 2 | Team 3 | Team 4 | Team 5 | Team 6 | Team 7 | Team 8 | Team 9 | Team 10 | Team 11