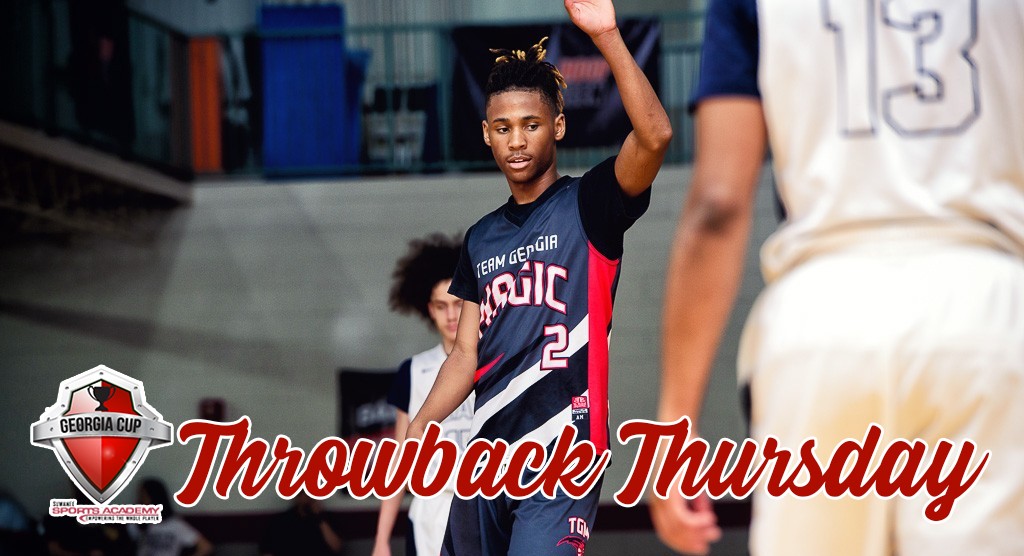 Every Thursday, we will feature some true Throwback moments from our HoopSeen platform. We've been running top-end tournaments since 2011 and we've seen some terrific players come through during that time. 
As we close out the 2018 calendar year, we thought it would be a great idea to look back at the players that dominated our HoopSeen circuit this season. 
A quick view at our cumulative data on HoopSeen.com for the year, Devin Butts was one of the five most visited player profiles on our site for the year. If you followed along this season, this shouldn't come as a big surprise. 
Butts was the anchor on Team Georgia Magic. His journey from Middle Georgia sleeper to signing with Mississippi State started at the beginning of our HoopSeen journey. 
NOTABLE LINKS: 2019 Georgia rankings | 2019 HoopSeen circuit
Back in March, Butts and TGM came to the Georgia Cup I circuit stop to start the season. From there, things just continued to grow for Butts and his teammates. The next stop was the 2018 Atlanta Jam during the NCAA Live Period. We knew it was coming and wrote: "Don't be surprised to see him be a player of significance this month." 
That's when things really blew up. 
On Saturday at the Atlanta Jam, Butts may have had the most important game of his travel ball career. He went off in front of dozens of college coaches. Garrett Tucker wrote: 
2019 Macon (GA) Stratford Academy shooting guard Devin Butts (pictured) has had a phenomenal spring this season so far at our HoopSeen events and this weekend is no different. In fact, the junior may have been the most impressive prospect in the building on Saturday. At 6-foot-5, Butts is an intriguing prospect with his ability to stretch the floor with his shooting ability. He filled it up from outside throughout the day, including seven three-pointers in a 27-point performance during the afternoon.
Team Georgia Magic made it to the championship game, playing Nashville-based powerhouse EAB for the second time during the weekend. EAB won the title but the statement was made by Butts. He was here and he was here to stay. He was one of our top overall performers. 
Butts became one of the hottest names in the Southeast thanks to his play. His perimeter scoring carved out of a space for himself and colleges from all levels began to notice. His recruitment really took off after the Atlanta Jam. Butts told Tai Young that "Georgia State, Winthrop, and Georgia Southern are showing me the most love. They call and text me every day." 
After a strong showing at the loaded 2018 Bob Gibbons Tournament of Champions, things really started to take off for Butts. 
His recruitment moved from mid-major NCAA tournament teams to schools from the high-major conferences. South Florida, Georgia, Mississippi State and others jumped into the fray. Coaches from all levels made sure they saw him at the Best of the South. Team Georgia Magic loaded up with games and had plenty of games for coaches to see him in action. 
Butts once again was named a top performer from one of our events. He was an easy choice for such an honor at the Best of the South. 
His recruitment rolled into the end of the summer and beginning of fall. Ultimately, Butts picked Mississippi State. 
"I felt like that was the best fit for me athletically and academically. And I just had a relationship with coach (George) Brooks and coach (Ben) Howland that I just couldn't pass up," Butts told Tai Young. 
Not bad for a guy who didn't have an offer a year prior to his commitment. He finished his recruitment with nearly two dozen offers to play in college. 
His journey started on this stage. He earned his spot. 
THROWBACK THURSDAY SERIES 
November 8, 2018: Davion Mitchell
November 15, 2018: Ryan Greer
November 29, 2018: Luguentz Dort
December 6, 2018: Ephraim Tshimanga