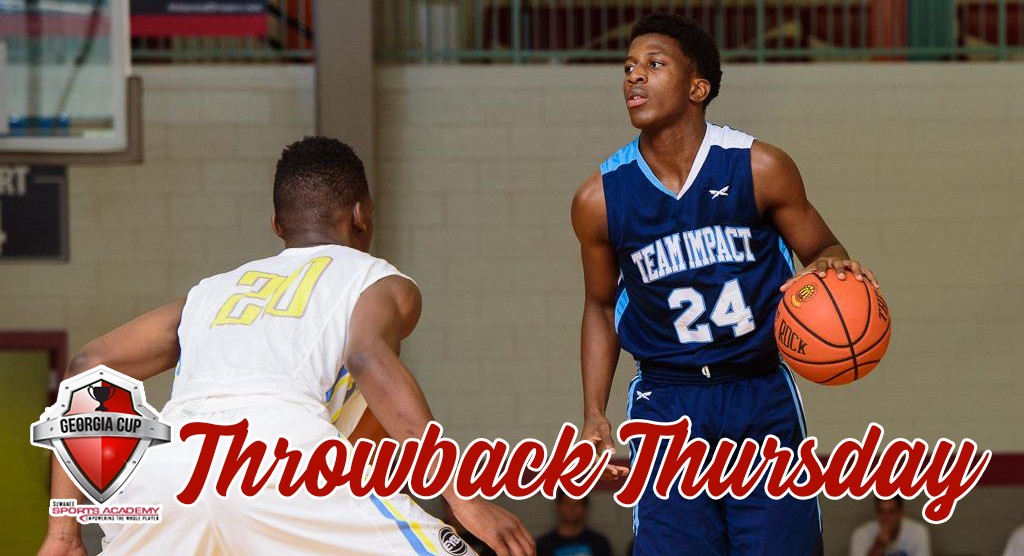 Every Thursday, we will feature some true Throwback moments from our HoopSeen platform. We've been running top-end tournaments since 2011 and we've seen some terrific players come through during that time. 
Ephraim Tshimanga, now the starting point guard at the University of North Georgia, earned his scholarship to the Peach Belt Conference school thanks in large part to his play on our circuit. The Allatoona (GA) High School graduate was one of the most decorated players to ever suit up for our HoopSeen events.
His Team Impact squad won multiple events and Tshimanga was named all-tournament and/or a top performer at the Georgia Cup (three times), the Best of the South (two times), Bob Gibbons Tournament of Champions, Norman Parker Showcase and the Lake City Classic. He was also a no-brainer All-State selection his senior year. He was also a multiple Preview camp attendee. 
Suffice it to say, Tshimanga played and shined on every stage we have to offer. 
North Georgia assistant coach Josh Travis is a regular at HoopSeen events and brought his head coach Chris Faulkner to a Georgia Cup event in 2015 and knew they had the point guard of the UNG future in their recruiting focus. 
"One of the special things we got to see about Ephraim was his performance on a lot of different stages and in a lot of different roles. He has always prided himself in being the best at whatever role he's given," Travis said. 
"Ephraim was always that special player who seems to be better every time we saw him. We always loved watching him play for Allatoona High School and coach Markus Hood, but the Georgia Cup series gave us an opportunity to evaluate him more when we were out of season." 
Tshimanga and Team Impact won a Georgia Cup and Atlanta Jam championship in a matter of 10 days. North Georgia was there for both of those runs. They won three events in the spring of 2015. You could make an argument that Tshimanga was the MVP of the 2015 Georgia Cup season. 
"Ephraim is a winner. When you watch Ephraim play once, you know he's good. But the more you watch the more you see all the little things he does to help his team," Travis said. "I think we had a huge advantage over some higher level schools because we got to see him play as much as we did."
The Georgia Cup circuit is open for non Division I coaches all season to find the next Tshimanga. 
THROWBACK THURSDAY SERIES 
November 8, 2018: Davion Mitchell
November 15, 2018: Ryan Greer
November 29, 2018: Luguentz Dort