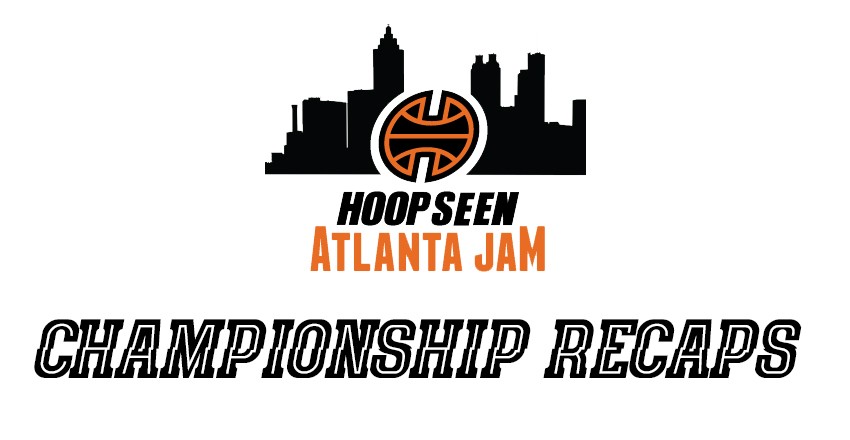 17 AND UNDER
ORANGE: EAB 86, Team Georgia Magic 77
To get to the 17U Orange championship, teams had to go through the ringer to get to the final stage of the spring NCAA Live Period. EAB and Team Georgia Magic did just that, winning 86-77 in a high-paced, three-point heavy contest. 
The two teams met up on Friday night in a match-up game and EAB stole the show, winning by  83-60. But this game on Sunday afternoon? Well, it was much different. This was a back-and-forth offensive slugfest. The game was tied up at the half 40-40 but a three-point barrage from EAB broke the game open. 
Reese Glover hit three threes and scored 11 of his 16 points in the second half. Julius Dixon pumped in a team-high 22 points in the win. Keon Johnson scored 12 while KJ Johnson scored 10. 
Devin Butts scored 22 points, capping off his brilliant weekend. Kylan Hill added 19 points in the game. 
EAB won the Bama Jam last weekend and had to fight for the championship this weekend. The Nashville-based squad went undefeated in the NCAA Live Period this spring. - Justin Young 
BLACK: SBC 63, Carolina Pressure 58
In a nice back and forth battle, the second half was won by SBC and held off a surging Carolina Pressure squad to claim the Black bracket championship. 
Donnell Nixon, II controlled the pace for SBC all game long, and owned the second half of the contest. He scored 16 of his game-high 21 points in the second half. The Buford (GA) point guard set the tone with his patience and poise by throwing the ball inside to Grant Van Beveren and finding Jarontrez Garrett for buckets. 

Van Beveren finished with 18 points and was the best big man on the floor. He was a consistent force the paint for SBC all weekend. Jarontez Garrett finished 17 points.
Carolina Pressure was balanced and was led by 2019 forward Dajunate Williams, who had 16. Guard Zachary Dunlap was a rim attacker all game long. -  Justin Young
WHITE: TNBA South 53, SC Focus 46
TNBA South (FL) won the battle in the White Championship over SC Focus (SC) 53-46. Joe French 6-4 '18 SG The Masters Academy (FL) connected on a jumper and was fouled with :58 seconds remaining for a 50-44 lead. He then connected on the free-throw for the 7 point cushion and TNBA held on for the win.
Rodney Lubin 6-3 '18 PG Apopka HS (FL) lead the way for TNBA with 17 points. Dakevias Bracy 6-8 '18 C Boone HS (FL) powered his way to 9 points while Bryan Nunez Rivera 5-8 '18 G Colonial HS (FL) and French chipped in 8 apiece.
For SC Focus, Trevez Caldwell was the top scorer with 12 points while Jalon Roberson added 10. -Jeff Roberts
GRAY: Memphis Prep(Black) 66, BJBC 52
The 17U Gray Championship between Memphis Prep and BJBC was filled with intense moments as both teams battled in the first half but in the end Memphis Prep was just too much. The first game between the two ended in a 66-52 win for Memphis Prep but BJBC came into the game having put that behind them. 
BJBC was coming off a game-winning shot from the night before while having their last 2 games decided by 4 total points. Memphis Prep was on a roll, winning 2 out of their 4 games by double digits. 
One of the more notable players in the game was unsigned Memphis Prep wing Ced Henderson Jr.  In the first half, there was a stretch in which he was simply unguardable.  The opposing coached cycle various defenders on him and he got to his spots regardless of who was in front of him. All 10 of his first-half points came in the paint or from 15 ft.
The second half belonged to the Memphis Prep as they pulled away and never looked back by outscoring BJBC 35 to 15. Joshua Kelly and Kavious Newsom played well down the stretch and made several timely shots that ignited runs. Memphis kept hot-shooting guard Lior Berman as he totalled 3 threes for BJBC. Memphis Preps brought a tough-nosed team down to Atlanta and walked away undefeated in the ATL JAM. - Tai Young 
RED: Broward County Cougars 71, First Coast Elite 44 
The Broward County Cougars (FL) rolled this weekend and didn't show any signs of letting up with a  71-44 win over First Coast Elite (FL) in the all Florida Championship game. The Cougars completed the Atlanta Jam weekend going 5-0 with a winning average of 70-46 over their opponents.
Leading the way for the Cougars was Dallas Graziani 5-7 '20 SG Cooper City HS (FL). The electrifying guard continued to amaze the onlookers on his way to a 33 point performance. He connected on 5-6 free-throws and dropped 6 Curry-like trey balls. Tremaine "T.J." Major 6-3 '18 SG Cypress Bay HS (FL) racked up 14 points while Ryan "R.J." Taylor 6-1 '19 PG Saint Thomas Aquinas HS (FL) chipped in 11 with 3 three's.
Brody Boyer 6-3 '19 SG Bayside HS (FL) was the high point man for FCE with 17. He connects on two long balls and was perfect on three attempts at the free-throw line. -Jeff Roberts
16 AND UNDER
ORANGE: EAB 53, Chattanooga Elite 33
EAB ended another April Sunday with the championship trophy. The Nashville based squad put away in-state foe Chattanooga Elite to gather the Orange title game. 
In a physical, hard-fought game, shooting won out for EAB.  Mason McKnatt finished with 13 points, including three three-pointers. Dalton Marsh finished with 10 points. 
Chattanooga Elite Gray made it to the championship game with toughness all weekend and had a balanced attack throughout the tournament. — Tai Young 
BLACK: AC Georgia 55, Mobile Hornets 46
AC Georgia wins the 16u Black Championship 55-46. It was an all around effort for AC Georgia with Ayres leading the pack with 13 points. The Mobile Hornets started the game off quick with an early 7 point lead. AC Georgia's perimeter shooting is what kept them neck and neck and eventually able to take over the game. The Mobile Hornets forward Adarius Oliver lead all scorers with 15 points but it wasn't enough to get his team the W. - Cameron Neysmith
WHITE: East Coast United 64, Atlanta Express 54
What was once a one-point game at the half ultimately stretched to ten by the end of the 16U White division championship game between East Coast United and Atlanta Express. It was the Express that clung to a one-point lead at the break behind nine points from Daryl Rice and seven from Kameron Hobbs. ECU's Kevin Chandeller had seven first half points and Ajjay Plain managed six. The second half was when most of the scorers really got going. East Coast United had taken the lead and pushed it to ten with three minutes left to play. Express pulled within five with 90 seconds on the clock but ECU hit free throws late to secure the win. Kevin Chandller and Reggie Hall put up 20 and 19 points respectively in the win. Kameron Hobbs and Daryl Rice finished with 21 and 16 for Express. - Bre Singleton
GRAY: Warner Robins 63, Upward Stars Nashville 40
In the 16U Gray Championship, the Warner Robins All Stars defeated the Upward Stars Nashville by a score of 63-40.
In a game that was competitive until about midway through the second half, the All Stars pulled away with their ability to get stops and get out in transition for easy points. Anthony Dillard led the way offensively with 19 points, finishing strong around the rim and being active on the offensive glass. Greg Lawson chipped in 9 with a couple pull up jumpers and floaters in the lane while Keshun Houser added 7.
For Upward Stars, Clay Holmes scored 10 points on line drives by his defender and knocked down a 3 as well. Sean Casey scored 7 points in the loss. - Zach Altany
SILVER: TNBC 48, Team Impact 46
TNBC wins the 16u Silver Championship 48-46 over Team Impact in a down to the wires finish. 
Anthony Hardy Jr has been the guy for this team throughout the weekend, but with Tram Impact stifling zone it was difficult for Hardy to get good looks. 
TNBC looked to somebody else to handle the scoring load. Insert Cody Kaplan, a sharp shooting guard who couldn't be left open. Cody lead all scorers with 18 points including 3 big three balls. Hardy impressed with his patience. He didn't score a whole but always tried to make the right play. 
Team Impact didn't go out quietly. In fact, they had a chance to tie or take the lead with 4 seconds left before a turnover occurred. Freddy Woods led his team with 14 points in a great effort. - Cameron Neysmith 
15 AND UNDER 
ORANGE: Team TUFF 67, EAB 57 
When the two best teams in the age division match-up for the second time in three days and play for a championship, you better believe things will be fun. That's exactly want happened in the 15U Orange championship game between Team TUFF and EAB. 
The battle went back and forth for the majority of the game, ultimately with Team TUFF pulling off the win 67-57 to claim the trophy. 
Bretner Mutombo was a problem in the middle, blocking shots and protecting the rim. Garrison Powell capped off his brilliant weekend, scoring 17 points. Kowacie Reeves scored 16 points and knocked down three three-pointers in the win. Broc Bidwell controlled the pace, scoring 14 points in the game. 
Matthew Schneider was a sniper on the perimeter for EAB, hitting five three-pointers en route to 17 points. Zion Swagger got to the rim, and made big plays in the clutch. He finished with 10 points in the title game. - Justin Young
WHITE: Comets 61, SI Kings 58
The 15U White division championship would come down to the last shot in a game that was close all throughout. SI Kings guard Jai Ellingham set the tone early, scoring a bucket and immediately grabbing the steal for another quick score. He finished half one with 11 points. Jimmie Jackson and Dyshawn Cooper helped out with eight and seven respective first half points. The Comets got early buckets from Orell Brooks and Terrance Card who both put up six points. However, it was the SI Kings who would take a six point, 30-24 lead into the half. Card had an absolutely dominant second half, scoring twelve points to bring his total to 18 points to go along with 15 boards. Ukuru Kojo also came alive and scored 12 of his 14 in half two to give the Comets some cushion. Pierce Martin went bananas from beyond the arc in the second half for the Kings, hitting 5 threes. The game would be tied with four minutes left to play but the Comets quickly gained a four-point lead. Jimmie Jackson hit a layup with a minute left to bring the Kings within two. A free throw put the Comets back up three and Martin couldn't hit another three at the buzzer to tie it up. Ellington finished with 14 for the Kings, Martin put up 17 and Jackson ended with 12. Chris Henry of the Comets put up 13, while Brooks finished with 9. - Bre Singleton 
BLACK: Charlotte Court KY 53, Jax Storm 39
The 15U Black division championship game was a tight one through the first half. Neither Charlotte  Court KY not Jax Storm could really find its groove offensively. Jalen Sellers of Charlotte Court has seven points at the break and Nicklas Rice managed to score six for the Storm to give them an 18-15 halftime lead. In half two, Mikaleb Coffey had it going for the team from Charlotte. He went on a 6-0 run by himself to give Charlotte a lead that they would never again relinquish. With just over seven minutes left in the game, Jax Storm found itself down 40 to 28. Rice added seven more point to bring his total to 13 points for the game. Kaleb Newman managed seven points but that wouldn't be enough to secure the win. Coffey finished with 12 points and ten board for a nice double-double while Sellers had six rebounds to go with his 17 points. Elias Morones added eight points and four boards in the win. - Bre Singleton
14 AND UNDER 
Cherokee Legacy 2022 70, Tallahassee Comets 8th Navy 62
The Cherokee Legacy 2022 (GA) gradually built a lead and was able to hang on for the 70-62 victory over the Tallahassee Comets 8th Navy (FL). The Comets managed to come back from an 18 point deficit but fell short in the end. The Legacy avenged a previous 65-57 loss to the Comets from Friday night.
Leading the way for the Legacy was DeJuan "DJ" Potts-Heard 5-10 '22 SG Freedom Middle School (GA) with 24 points. DJ was 8-10 from the free-throw line while draining 3 three's. Robbie Roper 6-1 '22 SF Freedom Middle School (GA) and Sean Lamour scored 15 points apiece while Ezra Milton added 10.
Zavier Singleton 5-10 '22 SF Griffin Middle School (GA) was the high man for the Comets with 11 points. Deyon Bouie 6-0 '22 PF Bainbridge Middle School (GA) hustled his way to 10 points while connecting on two three's. Perry Fisher 6-2 '22 F/C Swift Creek (FL) was also a key contributor with 4 points and double-digit rebounds. -Jeff Roberts