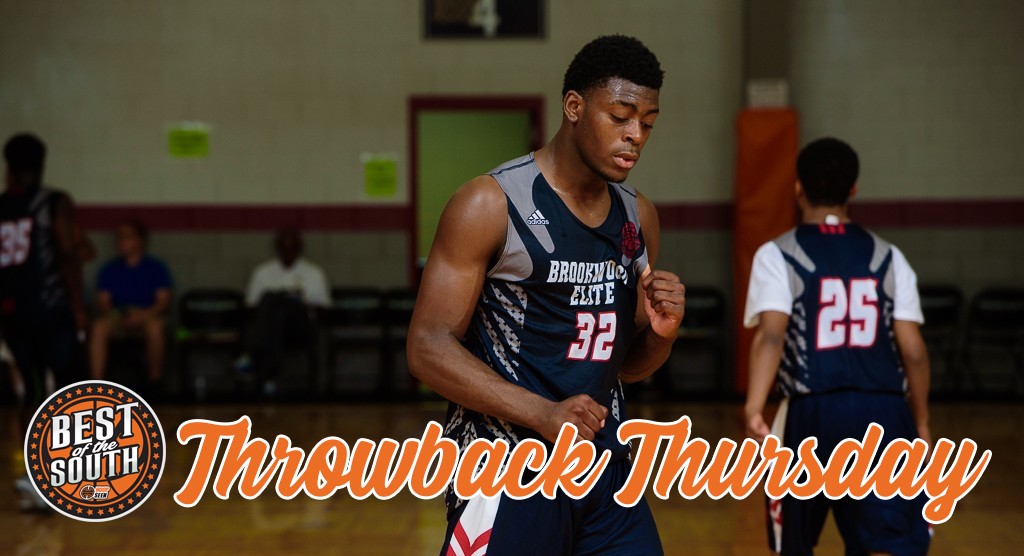 Arizona State freshman Luguentz Dort finished No. 22 overall in our final class of 2018 rankings and truthfully, that may have been too low. 
He's been one of the best players in the early college basketball season. Dort is averaging 22.3 points, 7.3 rebounds, 2.7 assists and 2.3 steals a game for a 6-0 team. 
Now Dort is a likely NBA first round draft pick. He could be a one a done player. He could be a lottery pick. He could be a major scorer in the NBA. He could be all of these things. 
But how did the native of Montreal, Quebec, Canada find his way to Arizona State and when did his profile begin to shine at the prep level? 
We look back at his dazzling showing at the 2015 Best of the South with the Brookwood Elite 15 and under team.  
One of my favorite guys at #BOTS this week has been @Bwoodbsktball 2018 SG Luguentz Dort of their 15U team. Mini Rawle Alkins.

— Justin Young (@JustinDYoung) July 12, 2015
In scouting, sometimes you just know. With Dort, we knew from the first time we saw him play. Dort was an easy choice for our top performers from the event. Our Carter Wilson wrote: 
The first question that comes to mind when watching Dort play: He's just a rising sophomore? The 2018 Quebec guard has a rare combination of size, strength, speed, and skill that will make for a very special prospect. He did everything he could to put his stamp on games at Best of the South: he scored it from multiple levels, rebounded, handled the ball, and defended with tenacity. He will have a lot of high major coaches very interested in him and rightfully so.
Dort scored a last-second bucket in overtime to help push his Brookwood Elite team to the championship game of the 2015 Best of the South. Brookwood evenutally lost to a Khavon Moore-led Atlanta Xpress team in the title game. 
.@Luguentz Dort of @BrookwoodElite was the best overall guard I saw at #BOTS. 2018 guard from Montreal QC. Monster. pic.twitter.com/YofG3r2HZo

— Justin Young (@JustinDYoung) July 13, 2015
His stardom grew from there, shining with Brookwood Elite on the adidas circuit. He was recruited nationally, ultimately picking Arizona State over Baylor and Oregon. 
A huge game on Friday, Dec.7 against Nevada awaits. ASU's schedule after that is no walk in the park. A game at Georgia then Vanderbilt and match-up against Kansas. Just how good is Dort from a NBA perspective? He's about to go through the most competitive stretch of his young college career. 
A big chapter of his story happened at our Best of the South. Who is next in 2019?
THROWBACK THURSDAY SERIES 
November 8, 2018: Davion Mitchell
November 15, 2018: Ryan Greer