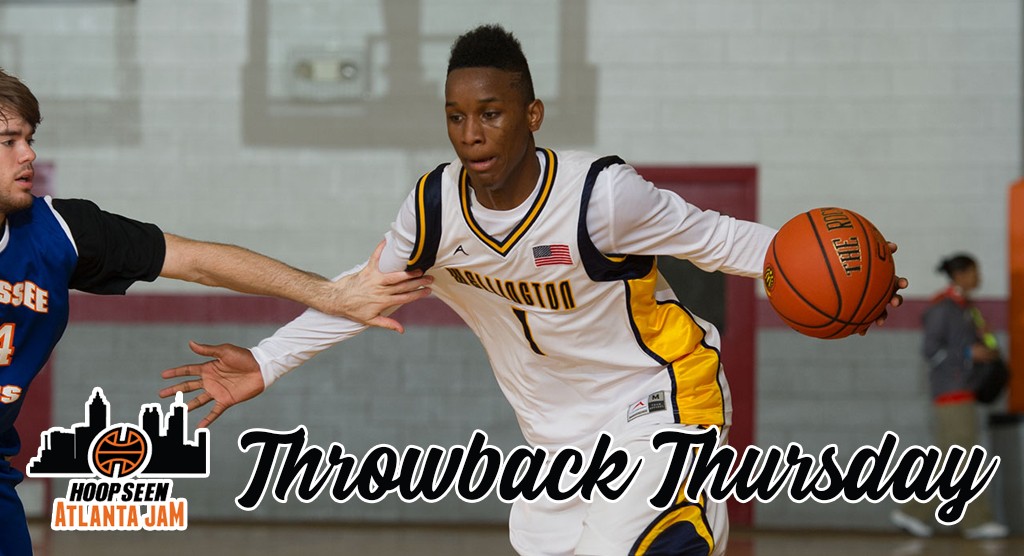 When we launched the Atlanta Jam in 2015 for our April NCAA Live Period event, we knew the weekend was going to grow into something special. At the inaugural Atlanta Jam, the trendsetters stood out. Now they are doing their thing at the college level. 
Let's take a look back at the top performers from the 2015 Atlanta Jam in this week's Throwback Thursday.
Anthony and Avery Brown, Team Speights Blue: The class of 2015 guards went on to Wisconsin Green Bay out of high school but both transferred after a season. Anthony went to Indian River Community College and had a good season, posting 15.6 points, 7.0 assists and 6.8 rebounds per game. He's now a starter at Division II power house Lincoln Memorial and averaging 12 points a game. College profile
Alston Davis, Charlotte Aces: Few players jumped off the pages quite like Davis did at the inaugural Atlanta Jam. His play was so good that he picked up an offer from Cincinnati after the Bearcats watched him play. Currently at Cape Fear CC in North Carolina, Davis is redshirting. He could be a nice steal next season as an athletic defensive stopper. College profile
Brandon Gonzalez, Team Speights: We wrote this after watching him this Live Period weekend: "How do you play your way into scholarships? By shooting the lights out. The 6-foot-6 wing averaged three three-pointers a game and hit 21 over the course of five games. He defended the post well, rebounded strong and showed the ability to put the ball on the deck and attack. Terrific weekend for him." Southeast Louisiana jumped in soon after and eventually signed the Floridian.  College profile  
Trent Frazier, Wellington Wolves: One of the all-time greats to play at our HoopSeen events over the years, Frazier was at a stud at the 2015 Atlanta Jam. Garrett Tucker wrote:
Frazier made a huge statement all weekend with his scoring ability and swagger. In fact, it is fair to argue that no other player at the Atlanta Jam embraced the stage more than the talented Florida native. The 6-foot-2 guard exploded for a couple of big scoring outings, including a 37-point performance on Saturday. The southpaw has a nice mixture of speed and ball skills that make him hard to handle for defenses. He can put the ball on the floor and attack the rim, but his perimeter shooting is impressive. When he gets hot, he is hard to stop from the outside. Frazier has plenty of coaches at the mid-major level excited to see what he brings during the second evaluation period in a few weeks. 
Frazier is Illinois's leading scorer this season and one of the best players in the Big Ten Conference. Averaging nearly 15 points a game, Frazier is the night in and night out go-to player for the Illini. He was named to the Big Ten All-Freshman Team College profile | HoopSeen profile
Ebuka Izundu, Charlotte Aces: Without a doubt, Izundu was the hottest high-major prospect at the 2015 Atlanta Jam. Coaches from all over the country came to see the big man from North Carolina play after his re-opened his recruitment from Charlotte from a coaching change. Miami beat out the rest of the suitors for his services. He's been a four-year player and a senior starter for the Hurricanes. At the event, Izundu was a player who could have been named MVP of the event. He's averaging career highs for minutes, scoring (11.1 ppg), rebounds (8.8), blocks (1.5) and assists (1.2). College profile  
Christian Keeling, Team Power: Of all of the players who stood out in the 17U division of the 2015 Best of the South, Keeling may be the most accomplished. Keeling has been one of the most productive players in the Big South conference since his arrival to the school, already scoring over 1,400 points in his career. He was second team All Big South as a sophomore. He set a CSU freshman scoring record with 537 points, becoming the sixth player in Big South's 33 years history to over the 500-point mark as a freshman. College profile | HoopSeen profile
Nico Oliver, Florida Tarheels: The Sunshine State native was a scoring machine at our events and a no-brainer selection for our Top Performers list after the Atlanta Jam. Oliver is now having an amazing season at Ridgewater College in Minnesota. He's averaging 18.2 points a game and shooting 45.9 percent from the floor and 38.5 percent. College profile
Preston Parks, PG, South Carolina Raptors Elite: An absolute winner with the Raptors, we can't say we are surprised he's having success at the collegiate level. He played at The Citadel for two seasons, scoring over 600 points at the Charleston, SC school. Now a starter at UT Martin, Parks is posting 11.6 points, 4 assists, 3.9 rebounds and 1.4 steals a game. College profile 

Andrien White, PG, Carolina Reign: The strong-bodied guard came to the Atlanta Jam and dominated the field. He was so good in fact, UNC Charlotte went hard after the Richmond, VA native and signed him shortly after the event. He went to star for the 49ers and was a 1,000-point scorer and a three-year starter for coach Mark Price. White is now at Wake Forest and sitting out due to transfer rules. He should be a major player for the Demon Deacons next season. College profile

Javien Williams, Birmingham Storm: In 2015, few guards were as hot as Williams was. He was a highly sought after prospect. The Birmingham native signed with UAB out of high school. Now a sophomore at Tallahassee Community College (FL), Williams is doing what he does best - put the ball through the basket. The 6-foot-4 guard is averaging 16.8 points a game. He was also named to the Honor's List during his time at TCC.He scored 33 points against NW Florida earlier in the season. College profile | HoopSeen profile
THROWBACK THURSDAY SERIES 
November 8, 2018: Davion Mitchell
November 15, 2018: Ryan Greer
November 29, 2018: Luguentz Dort
December 6, 2018: Ephraim Tshimanga 
December 13, 2018: Devin Butts
January 17, 2019: Ja Morant
January 24, 2019: Grayson Murphy, Tevin Brown, Caleb Hollander