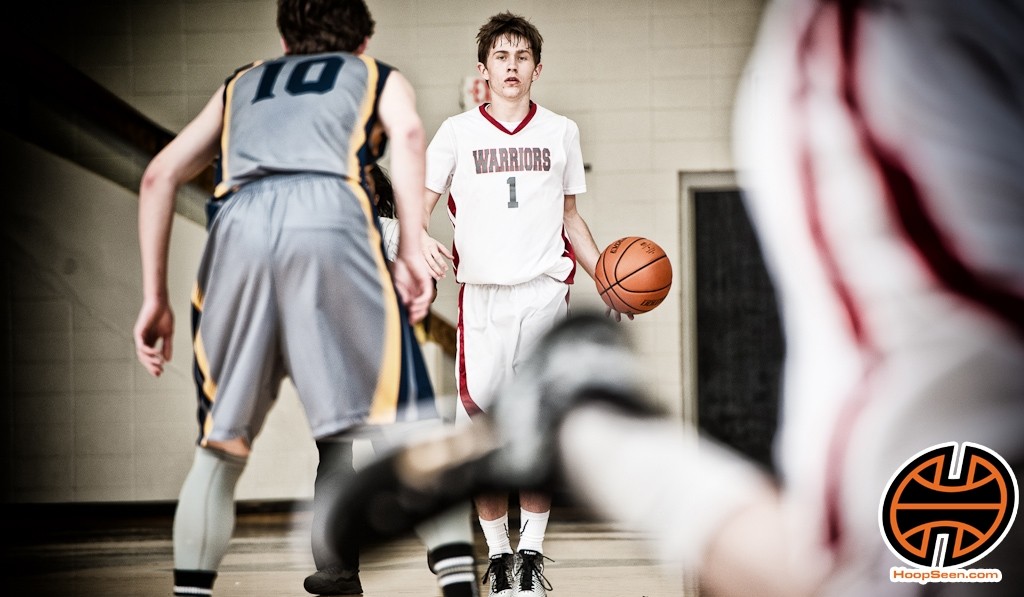 The Georgia Cup saw a number of big-time players come through the 17U division that could leave a big imprint on the upcoming high school season. Here are a few guys to keep an eye on moving forward:
Ephraim Tshimanga, Team Impact: The Team Impact and Allatoona guard was great in every event that Impact participated in, making plays all over the floor. Tshimanga has established himself as a guard to watch in the coming July period and subsequent high school season. 
Andrew Melms, Warriors (pictured above): Melms was a relative unknown coming into the spring. However, his play on the circuit has been nothing short of fantastic. Melms is a point guard who can shoot the cover off the ball and is very crafty off the bounce. He was one of the top scorers of any age group in the Georgia Cup. 
Kevon Tucker, Dacula Elite: Making his appearance at the Georgia Cup Finals, Tucker showed that he is a force when the ball is in his hands. He has a knack for scoring the basketball and possesses great leaping ability. He reports a number of MM and LM offers, and that list could expand through the rest of the summer and into the high school season. 
Derek St. Hilaire, Dacula Elite: Also making his appearance in the Finals, St. Hilaire proved that he should be mentioned with the top point guards in 2016. St. Hilaire showed an elite level athleticism and a fantastic scoring ability. Do not be surprised if he picks up a considerable amount of Division I interest heading into July. 
Darrian Brown, North Atlanta Orangemen: Gaining our attention earlier this spring at Georgia Cup Cobb, Brown put himself onto our radar with his play. A big point guard standing at 6-foot-3, Brown has a quality handle on the ball and is a great distributor. He could be a big sleeper in Georgia's 2016 class. 
Colby Leifson, Reach Higher Kings: The North Gwinnett shooting guard began the spring by filling it up at the first Georgia Cup events. Leifson is a sniper from deep and has range well outside the three-point line. The way he shoots the ball, it wouldn't shock us to see him put up quality numbers at North Gwinnett in the coming season.