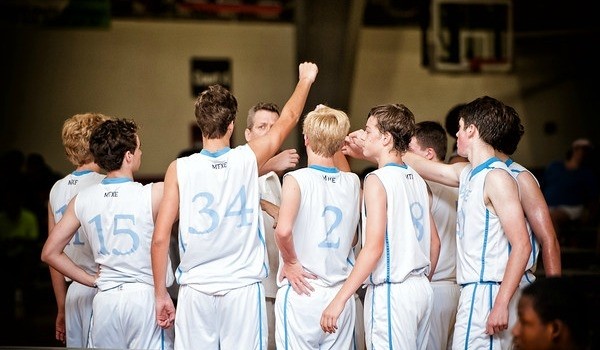 SUWANEE, GA — Championship Sunday was, once again, loaded with action and tons of competitive action. Here's a look at all of the championship games in the high school division. 
ANOTHER CHAMPIONSHIP FOR TEAM IMPACT
Team Impact won their 3rd HoopSeen event of the year and second Georgia Cup. 
This weekend they were led by their backcourt of Ephraim Tshimanga, Dylon Ramsey, and Darius Thrower. 
They took on the Warriors and great guard Andrew Melms in the 17U championship. However, Impact's backcourt was too much for the Warriors to handle. Thower and Chris Cottman led the team with 15 a piece with Impact getting good play from Tshimanga and Ramsey, winning 64-42. 
Melms led the Warriors with 16 in the loss.
EOTO HOLDS STRONG FOR 16U ORANGE TITLE
The loaded 16 and under Orange bracket was a tough battle to the finish on Sunday afternoon and EOTO stood strong when the final buzzer rang on court 4. 
EOTO beat Team Heat 80-43 to win the 16U Orange bracket. Thanks to JaQuan Morris, who scored 17, and Ken Stanceil, who scored 14 points, EOTO took control early and never looked back.
North Gwinnett point guard Adam James hit three threes and finished with 11 points while Jamal John added 10. A big dunk from Michael Joseph helped spark the crowd, too.
Team Heat had 15 points from J. Scott while J. Bridges added 10 in the defeat. 
GEORGIA PHOENIX 15U PLAY UP AND CLAIM 16U ORANGE TITLE
The Georgia Phoenix 9th grade team beat the Georgia Mavericks 53-47 and brought home the 16U Orange tournament championship. 
KJ Jenkins used his speed and athleticism to get to the foul line and take care of business all the while stroking it from deep, connecting on three three-pointers. Jenkins finished with 20 points in the title game and was named MVP of the 16U Orange tournament. 
Trevin Wade pumped in 15 points in the title game for the Phoenix, capping off a productive weekend of work. The Georgia Mavericks had 12 points from Jawun Brown in the defeat. 
EOTO SWEEPS UP 15U ORANGE TITLE
EOTO possesses a combination of size and athleticism that is very impressive, especially from a team made up mostly of freshmen. They used that size and athleticism to their advantage all weekend. 
They played a very well rounded game all weekend, getting great games from a number of players. They beat Active Elite 69-51 to take the 16U Orange Bracket. Shamari McLeod was named the MVP.
TEAM MTXE WIN 15U BLACK
Team MTXE and TNBC Gold played a very physical and defensive brand of basketball in the championship game. The game was closely contested going, going into overtime. 
In OT, MTXE kept their defense up and got some big shots from Everett Lane, who was named MVP, taking the 15U Black Bracket. 
In the loss, Drew Stimpson played very well for TNBC, scoring well from the point and distributing very well.