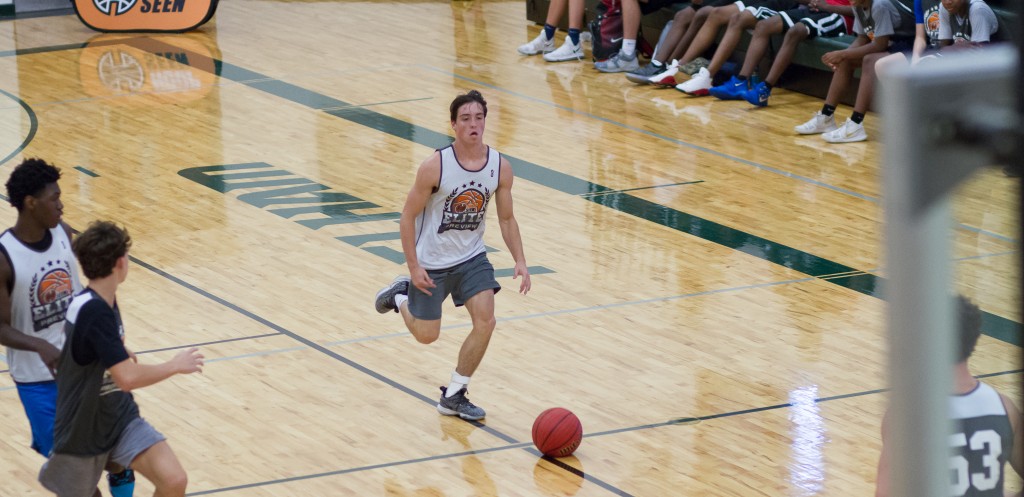 The 2018 Alabama Fall Preview is officially in the books and we begin our team-by-team evaluations from our loaded day of action at Pelham High School.
RELATED: Team 1 | Team 2 | Team 3 | Team 4 | Team 5 | Team 6 | Team 7
Tommy Murr, 2020 PG, Lindsay Lane (AL): Murr was one of the most entertaining players on Sunday. He was named to our top performers list. 
P.J. Jackins, 2019 SF, John Carroll (AL): Jackins has some impressive tools as a 6-foot-3 wing man. The senior is a long, rangy wing with very good ball skills, as he showcased throughout the day at Pelham. He thrived at getting to the rim but showed off some range with his shooting, too. Jackins is a deceiving athlete and was able to make some big plays at the rim.  
Ben Lowman, 2019 SF/PF, Haleyville (AL): Lowman is the epitome of a blue-collar work horse on the floor. While he isn't the most athletic player around, the 6-foot-2 forward was one of the most productive players from camp. The senior is an efficient rebounder and uses his high IQ to put himself in good situations each time out. He is skilled in the post and made some nice moves throughout the day. 
Tavion Williams, 2020 PF, Parker (AL): If there's one thing I learned with Tavion's older brother, Xavier Williams, it's this - be patient and take your time with young big men. Williams has some nice tools as a 6-foot-8 4 man. He has a good set of hands and feet and moves extremely well around the floor. Williams even showed some nice touch around the basket and made some shots from 15 feet and out. I wouldn't be surprised to see the younger Williams make a big jump at Parker this season and emerge as a Division I recruit as he heads into his senior campaign. 
Blake Floyd, 2021 PG, Pelham (AL): It's always easy to see when Floyd is on the floor. Despite only being a sophomore, the 5-foot-11 guard was one of the most vocal guys at camp. His feisty approach and motor caught the eyes of many coaches in attendance, as everyone noted his ninety-to-nothing attitude and intensity. Floyd made plays throughout the day, but, more importantly, he was an extension of the coach on the floor. 
Jamel King, 2020 SF, Paul Bryant (AL): King made some big plays on the defensive end of the floor and was named as one of our top performers from the day. Read what out staff had to say about him here. 
Grayson Long, 2020 CG, Haleyville (AL): Another hard-nosed guard, Long made the most of his minutes on the floor with his motor and intensity. The junior was one of the hardest playing guys in attendance and even left camp with a busted nose that occurred at the end of his final game. At 5-foot-10, Long plays bigger than he is, as he rebounded well for a guard. He mixed in some jump shots and tough finishes at the rim, too. 
James Goston, 2021 PG, Hueytown (AL): Goston was a nice surprise and find from the day. The 5-foot-10 guard is a quick, stout guard, but he did the most damage on Sunday from behind the three-point stripe. The sophomore torched the nets and probably should have been included in our top shooters from the day. Goston was a tough assignment for opposing defenses because of his quickness and speed. When defenders laid off, he had plenty of room to pull the trigger and make shots.  
Kevin Brown, 2020 SG, Greenville (AL): Brown was an intriguing prospect from the day of action. The 6-foot-1 guard has length and some impressive ball skills. He handled the basketball well and hit some shots throughout camp too. With his long, skinny frame, Brown will be an interesting guy to track this high school season. 
Evan Pate, 2021 SG, Pelham (AL): Pate doesn't have a loud game by any means, but the sophomore caused some problems throughout the day because of his shooting ability. The 6-foot guard was dangerous when left open, as he drained a handful of shots over the course of game-play. He was also one of the most fundamentally sound players we had in camp.