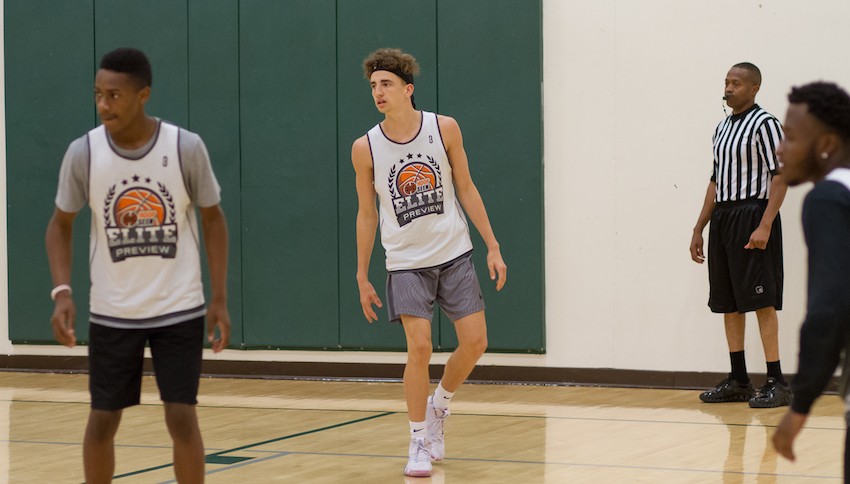 The 2018 Alabama Fall Preview is officially in the books and we begin our team-by-team evaluations from our loaded day of action at Pelham High School.
RELATED: Team 1 | Team 2 | Team 3 | Team 4 | Team 5 | Team 6 
Cole Maddox, 2020 SG, Good Hope (AL): Cole's long arms got his out of tough situations when he was attacking the rim. His ability to use both hands effectively proved beneficial as he was able to change directions effectively. He guarded his position by bodying him up on straight line drives. Maddox has the ability to contribute at both ends with the way he competes.
Colby Jones, 2020 SG, Mountain Brook (AL): Jones was voted as a top performer by our coaches and staff. He had an impressive day and was one of the most skilled and proficient scorers in attendance. 
Darrel Brown, 2019 CG, Lee-Montgomery (AL): When team 8 needed a basket, Living our Dreams guard Darrel Brown was there to deliver. His ability to slash to the rim and score from the perimeter made him a dual-threat guard. Brown's energy also geared his production as he rebounded very well for a guard. A winning attitude helped him on the court as a few tough-minded plays helped carry his team.
Kenton Steele, 2021 SF, Hamilton (AL): Kenton Steele's skill set blended nicely with his team as a long-range threat. Movement without the ball showed his unselfishness as some timely cuts opened up his teams spacing. When a shot wasn't there, his decision to routinely find the open man spoke more about his high IQ play. A couple of shots from the mid-range and behind the arc makes Kenton Steele an attractive prospect going forward.
Dallas Howell, 2020 SF/PF, Enterprise (AL): Howell tied with Keshawn Murphy with the most votes from our staff as a top performer. Read what we had to say about him here.  
Miles Hunt, 2021 PG, Auburn (AL): This cat-quick point guard routinely kept defenders on their heels with his burst of speed. When given the opportunity to use a high ball screen, Hunt drove hard and effectively to get to the paint. In transition, he excelled as well by using 2 or 3 dribbles to get down the court. If there was a scorer in front of him then he used the advanced pass to get the ball ahead.
Terence Mickles, 2019 CG, Sidney Lanier (AL): Terence Mickles played with great pace as one of his teams lead point guards. His court vision and IQ allowed him to keep teammates involved throughout the day's games. Mickles quickness made him stand out offensively as most defenders had trouble containing his advances. His understanding of pick and roll action was stellar as he scored at a high rate out of those situations. A few shots from behind the arc made defenses play him tighter and he took full advantage of it.
Demearius Horton, 2020 CG, Sparkman (AL): Some tough-nosed finished from Alabama Elite guard Demarius Horton showed off his strength at the rim. A quick first stepped coupled with some good upper body strength made for some good finishes amongst the trees. He uses both hands well at the rim to the point that it was hard for some bigs to lock in on some of his attempts. Horton scored in a number of ways but overall his energy brought a lot to the table.
Micah Boone, 2020 CG, LAMP (AL): Throughout three games, there wasn't a moment where Micah Boone took a play off. If there was an all effort award he would be in contention as one of the best at camp.  The offense hummed with the ball in his hands as his instinctual play lead to some well-timed passes to others. Defensively, Boone found himself on an island several times. During those times he took on the challenge and held his ground well.
Clay Blanton, 2020 SG, Haleyville (AL): A couple of team seven's transition breaks started by some tough rebounds from Clay Blanton. Despite his size, Blanton did not shy away from contact with bigs as he wrestled down some 50/50 rebounds. He shot the ball with great accuracy despite not having much of the same volume as others.