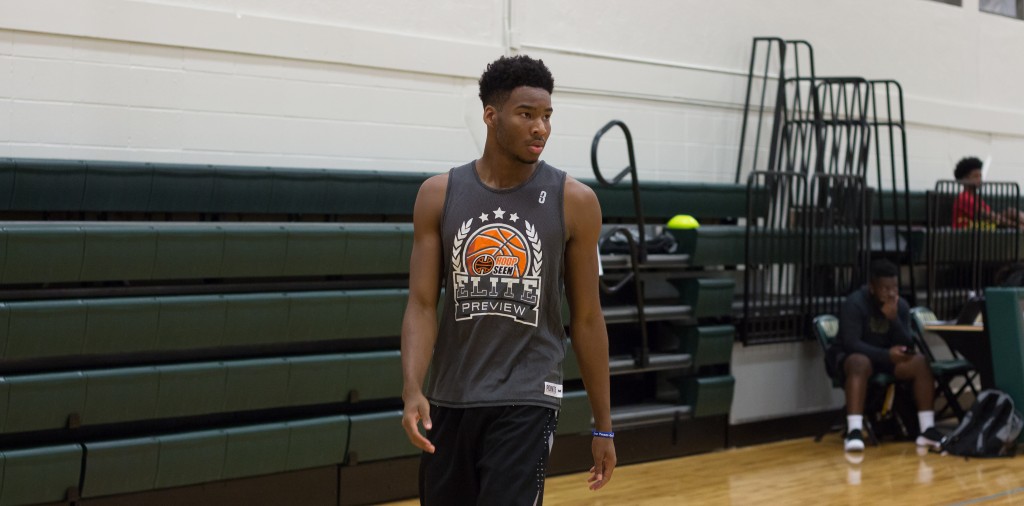 The 2018 Alabama Fall Preview is officially in the books and we begin our team-by-team evaluations from our loaded day of action at Pelham High School.
RELATED: Team 1 | Team 2 | Team 3 | Team 4 
Jeremiah Johnson, 2019 SF, Hewitt Trussville (AL): Some tenacious defensive possessions raised eyebrows as Jeremiah Johnson made it a point to guard the other plays best ball handler. His pressure was often disruptive and caused several players to re-think their attack. A few 3's were counted in from deep as Johnson displayed his ability to shoot off the bounce. His two-way production didn't go unnoticed as Johnson played well on both ends of the court. 
Keshawn Murphy, 2021 SF/PF, Ramsay (AL): Murphy tied with Dallas Howell with the most votes from our coaches and staff as a top performer. Read what we had to say about him here. 
Ja'Shavius Perdue, 2019 PF Jeff Davis (AL): Ja'Shavius Perdue had an impressive body of work, especially on the offensive side of the ball. Standing at 6'6", Perdue used his length and size to craft his way into the paint vs. similar sized defenders. If a move or two didn't work then he would shift to a physical style of play and bully his way into the paint. He's a good athlete that can put the ball on the floor and should only continue to get better going forward. 
Sam Youngblood, 2020 SG, McAdory (AL): Youngblood came in and made a statement with his day. We named him as a story starter from the event. 
Wilder Evers, 2022 PG, Oak Mountain (AL): What popped out at me immediately was the high-level passing instincts that Alabama Fushion guard Wilder Evers possessed. As one of his teams primary ball-handlers, Evers put guys in the right positions to show off their skill. Accompanied by a solid 1-2 dribble pullup, his shot dropped at an efficient rate from the mid-range. Evers has the makings of a guard that wont put his team in bad positions and will deliver when his number is called. 
Stone Evers, 2021 SG, Oak Mountain (AL): One of our columnists, Austin Smith, identified Evers as one of the top shooters at the Alabama Fall Preview. See what Austin had to say about him here. 
Kennedy Holland, 2022 CG, Evangel Christian Academy (AL): If you were low on energy before watching Kennedy Holland play then I can assure you that soon after seeing him I was fired up. His energy radiated throughout the gym from start to finish. Even in drills you could tell that he was poised for a great day as he shifted from drill to drill with a purpose. Defensively he excelled as well by rotating to the right spots and anticipating any mistakes. Bringing energy and effort are to skills that Holland has mastered. 
Chance Spears, 2021 CG, Mobile Christian School (AL): Spears was recognized as one of the top shooters from the event, according to our own Austin Smith. Read what he had to say about him here. 
Joey Kahn, 2021 SG, St. Paul's Episcopal (AL): Team 5 was probably our best overall shooting group when you look at guys like Keyshawn Murphy, Sam Youngblood and Dane Harding, but Joey Kahn made the most of every attempt. When squared up an open from the perimeter, Kahn made defenses play with a couple of made threes. Being a defender on the other end provided his team with a productive piece that made the most of his opportunities. 
Dane Harding, 2020 CG, Albertville (AL): One of the more intriguing prospects from Team 5 was Pro One guard Dane Harding. His length and ability to score from the perimeter are valued tools that will suit him well at the next level. His IQ was shown in glimpses as his shot selection and ball handling didn't miss a que. He's a decent enough athlete that doesn't get exposed and his competitive nature makes sure of that. As noted for much of team 5, Harding sprinkled in a few nice looking jumpers from deep.