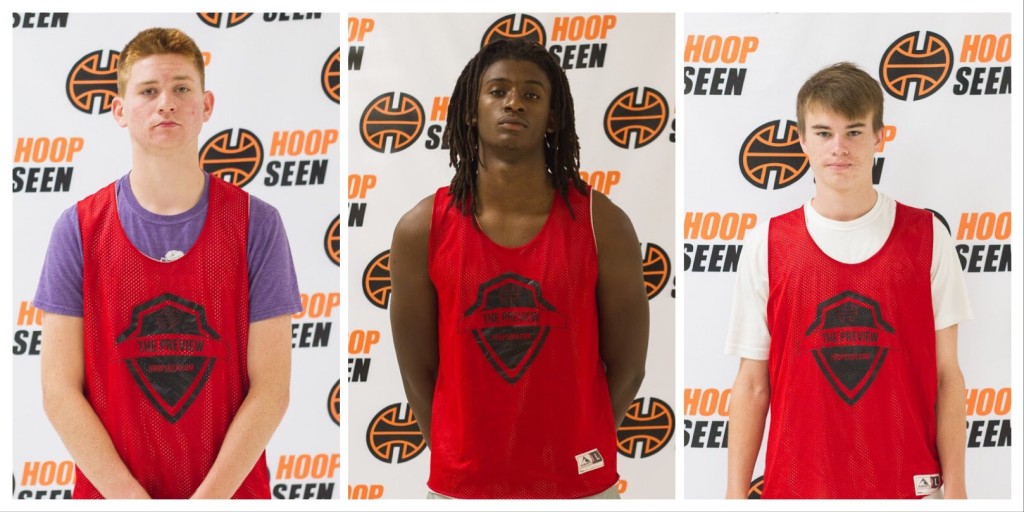 The 2018 Alabama Fall Preview is officially in the books and we begin our team-by-team evaluations from our loaded day of action at Pelham High School.
RELATED: Team 1 | Team 2 | Team 3 
Charlie Champagne, 2019 CG, Florence (AL): There aren't many guys that play harder and bring the energy that Champagne does each time out. The 6-foot-2 guard is a vocal leader on and off the court, as he was constantly instructing teammates throughout the day. While his outside shot continues to improve, Champagne was a quality scorer from all three levels. He drew several charges throughout the day, too.  
Trent Freeman, 2019 SG, Fairfield (AL): Freeman wasn't his usual self and struggled shooting the basketball on Sunday, but the senior guard did what he could to help out his team. He did a nice job of acting as a secondary ball-handler and rebounding well for his position at 6-foot-2. He has also improved his game off the dribble.  
Luke Couch, 2019 CG, Vestavia Hills (AL): Couch matched the intensity and motor of Champagne, as the two players created a solid backcourt for the team. He brings versatility on the perimeter. The 6-foot-1 guard has a quick first step and handles the basketball well while also being an efficient finisher at the rim. Couch should be a focal point for Vestavia this season. 
Caullin Bracy, 2020 PG, Hueytown (AL): Bracy shot the basketball fairly well from 3 for his team. His coach also mentioned that Bracy was one of the hardest workers he saw on Sunday. The 5-foot-10 guard provided plenty of pressure when guarding the basketball and was a difference maker on that end of the floor.
Wren Cole, 2020 CG, Danville (AL): No matter the situation, Cole's demeanor and attitude never changed: cool, calm, and collected. The junior is capable of playing both guard positions effectively, as he is a heady guard with the ball in his hands and a dangerous shooter when playing off the ball. 
Andrew Wheeler, 2019 PF, Ariton (AL): Wheeler was one of the most intriguing prospects we had on Sunday. Hailing from Ariton High School, the 6-foot-8 senior was an unknown coming into camp, but he left an impression wanting to see more. The athletic big man excelled in transition with his high motor and rim-running ability. He rebounded inside and outside his area well, as well as finishing at the rim. He has the ideal look of a guy that could go to a JUCO program and blow up in the JUCO game. 
Jordan Holloway, 2022 SF, Pelham (AL): At first glance, Holloway has good size and a nice frame for his age. The 6-foot-2 forward used it to his advantage with his rebounding and defense. The youngster was a bit timid at times, but he showed a high IQ and didn't rush himself into any bad decisions. 
Josh Price, 2022 CG, St, John Paul II Catholic (AL): Price had a nice stay shooting the basketball and was named to our top shooters list from the event. Read what out staff had to say about him here.
Timothy Thompson, 2021 PG, Houston Academy (AL): Quick and shifty is the best way to describe Thompson, who consistently made plays with the ball in his hands. The sophomore kept defenders on their toes with his change of pace and direction. Thompson made sound decisions and was also a reliable threat from behind the arc.  
Graham Martin, 2021 SF, Handley (AL): Martin is as skilled as they come on the court. The 6-foot-2 wing showcased his fundamentally sound game while also making a splash with his shooting ability. Martin, a high IQ player, thrived in pick-and-pop opportunities with over-playing defenses. There's a lot to like about his game as a sophomore.