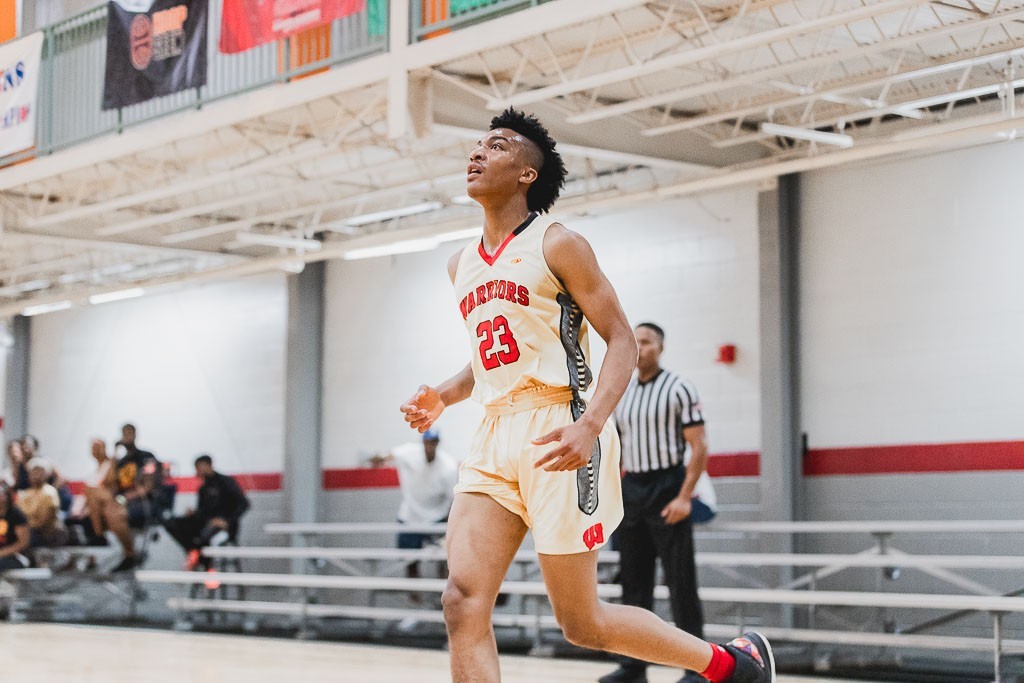 A look the big week from Winthrop, Shakeel Moore sets visits, Flowers cuts list, Asheville School adds big man and more.
Big Week for Winthrop
How about the job Winthrop has been doing recruiting the Southeast? Pat Kelsey and the Winthrop Eagles secured their second commitment of the week with the addition of 6-foot-7 forward Kelton Talford from Great Falls (SC). He was a top performer at several HoopSeen events this spring and summer including The HoopSeen Tip-Off, The Atlanta Jam and The Best of the South. This latest commitment falls on the heels of Toneari Lane announced his commitment to Winthrop earlier this week.
The Eagles' assistants Brian Kloman and Justin Gray have done a great job of recruiting regionally and grabbing undervalued prospects and keeping them home.
Flowers Announces Top Three
Shooting guard Ahmil Flowers announced his top three schools yesterday. Western Carolina, Radford and High Point. The 6-foot-5 shooting guard was named a top performer at HoopSeen's Bob Gibbons Tournament of Champions. The Greensboro Warriors guard has college-ready size for his position and is a consistent shooter with an ability to get into the lane and make plays. His style of play and scoring ability matches up with the Big South and Southern Conference.  
Western Carolina was the first to offer and his relationship with the staff may be the best of the three, Radford Head Coach Mike Jones loves shooters and Flowers is what he likes to recruit, High Point should still be an option for the scoring guard and the campus is right in his neck of the woods.
Garner Road Point Guard Recruiting Heating Up
Garner Road Point Guard Marcus Elliott had one of the best June scholastic evaluation periods of anyone I saw at Queens University in Charlotte. The 6-foot speedster is a consistent shooter from outside and has a strong change of pace that allows him to easily blow by defenders.  He tells HoopSeen that he will unofficially visit VMI on September 3rd and is in the process of setting up visits to Lipscomb and Fairfield. Elliott was named to the HoopSeen Tip-Off All-Tournament Team at the start of the travel season.
Shakeel Moore Sets Visit Dates
The HoopSeenNC #4 ranked prospect in the class of 2020, Shakeel Moore has scheduled official visits to NC State (September 20-22) and Providence (September 13-15). Moore recently announced he would transfer to Moravian Prep in Hickory, North Carolina to form one of the more lethal one-two punches in the state with Josh Hall. Moore said a visit to Pitt has been scheduled and needs to reaffirm the dates.
The Carolina Corner
Asheville School Hauls in German Big-Man
Asheville School has landed 7-foot German center Phillip Kreile. With new head coach Nick Whitmore arriving in Asheville back in May, The Blues get some much-needed front court presence and have a coach that spent time at New Hampton School in New Hampshire, and he is the son of former Vermont University head coach Bill Whitmore.
Petree Signs with Young-Harris
Deante Petree, a 6-foot-5 wing who played on the HoopSeen stage with Team Phoenix has committed to Young-Harris College. Petree is a do-it-all wing that played this past season at Liberty Heights Athletic Institute in Charlotte. College basketball runs in the family, his uncle is former North Carolina Tar Heel Terrence Petree.
Gray Collegiate Brings in New Jersey Standout
Dion Bethea and the Gray Collegiate program have had a heck of a run in the 2-A division of the SCHSL. A handful of players have gone on to the next level and Bethea and staff are hoping to add to that with the addition of 6-foot-6 small forward Zaire Rogers of Immaculate Conception (NJ). Rogers is currently ranked 4th in HoopSeen's South Carolina 2020 rankings and played this spring and summer with The New Jersey Playaz on the Nike EYBL circuit.