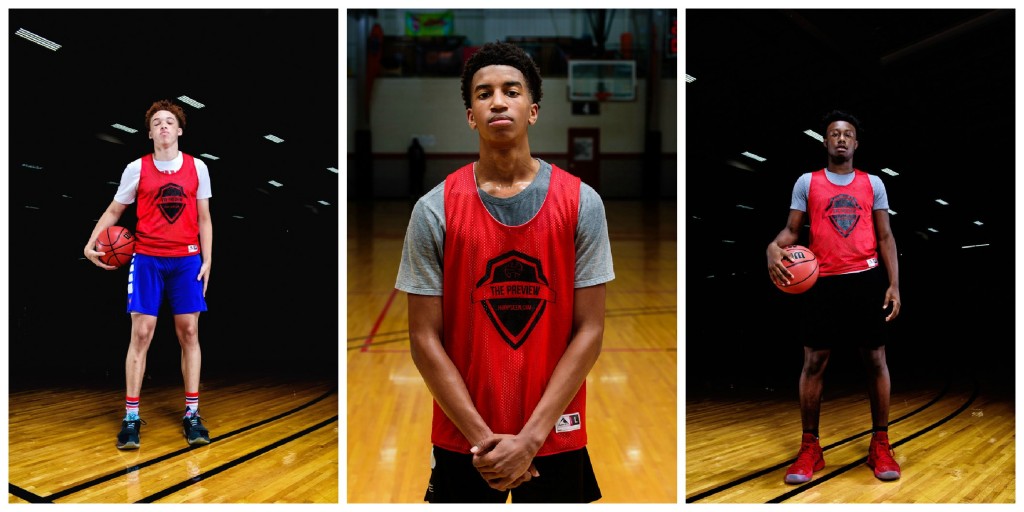 3 states. 4 camps. 375 players. Our preview camp series featured some of the top talent that South Carolina, Alabama and Georgia has to offer. We evaluated every prospect that played with us, but now that the smoke has cleared, its time to take the evaluations a step further.  
When you dump that much talent into a pot and try to come out with 5 players that stood out, well, that's a tough one to tackle. Our HoopSeen staff is up for the challenge as we name 5 players as the top prospects in their class. Today, we start with the freshmen.  
Bruce Thornton, 2022, CG, Milton, 2022: Much like any other prospect, you often try to look for the glaring weaknesses that may keep a player from fulfilling their full potential. That was a difficult tasks when evaluating Bruce Thornton as he was one of the more polished young prospects that participated in one of our camps. One of the better three level scorers at our camp, Thornton used every tool in his box to craft together a great performance at our Elite Preview. A ton of boxes are checked off in this freshman prospect as he shows an advanced feel of how and when to use them. 
Dillon Hunter, 2022, PG, Westlake: It's almost as if Dillon Hunter came back from Colorado, changed clothes, and walked into our Elite Preview with the mindset of leaving his mark yet again. From the USA mini-camp to our camp featuring some top 2021-22 prospects, Hunter has made more than enough rounds to become a very popular name. For a player his age, Dillon Hunter has elite level ball skills that let him prosper as both a scorer and facilitator. High majors have started extending offers to the 6'3 playmaker as he enters his first high school season. A resume that already rivals that of a lot of seniors shows the talent that Hunter possesses. 
Joyful Hawkins, 2022, F/C, Brunswick High School: A highly regarded player in his class, Joyful Hawkins entered our Elite Preview with an SEC offer already under his belt.  It's not hard to understand why from the minute he walks to the jump circle. Rim protection and floor running is the Brunswick big man's current calling card although there's more that is starting to shine through. At our Elite Preview, his developing ability to take defenders off the bounce prompted our camp director Darryl Labarrie to name him a top performer.  Hawkins potential as an elite defender makes him a more than intriguing prospect for the elite programs across the country. 
Robert Cowherd, 2022, SG, Holy Spirit: Walk into a Holy Spirit game this season and play a game of spot the freshman with someone unfamiliar with Robert Cowherd. Size, poise, and feel are just some of the reasons why Cowherd wouldn't be the first name you would assume is a freshman. Some of those traits Cowherd displayed are often reserved for the elite and the experienced. Being named a top performer at our Elite Preview is a minor accomplishment in a career that projects to receive a ton of awards and praise. Such a well-rounded prospect should thrive as he continues to gain valuable experience at a position that needs it. 
Will Shaver, 2022 PF, Oak Mountain (AL): Looking back at it, Will Shaver's rise seems like a rapid one. A more than productive fall made him one of our top performers at the CP3 Rising Stars camp and a top performer at our Alabama Preview camp. Despite the high expectations going into our camp at Pelham high school, Shaver didn't disappoint. Both inside and out, his skill shined through as a 6'7 big man that drips with potential. There's a lot to love in this one. Bloodlines, size, skill, and the ability to stand out amongst the elite. Garrett Tucker believes that he may one day draw comparisons to current Alabama big man Alex Reese. Could he be better? For now, we will name him one of our top '22 prospects and watch him going forward.