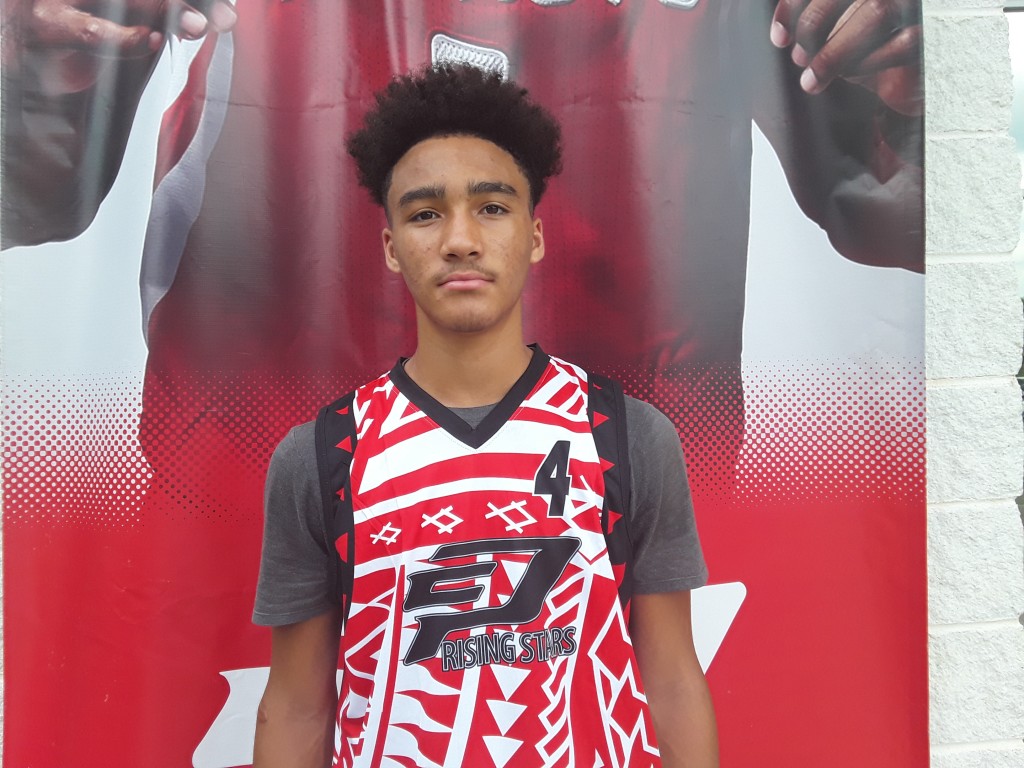 The CP3 Rising Stars camp gave a glimpse into the future as many of the top prospects in the 2022 class were under one roof. All of the players had their moment to shine but there were some that stood out over the rest. 
Tyrell Ward, 6-3 G, Team Durant-DeMatha:Tyrell Ward has a right to left crossover that left many defenders leaning on his way to some nice points in transition. This long, athletic wing excelled in an up and down game due to his ability to play as both a ball handler and a slasher. Ward was able to show his worth as a 3 level scorer with enough athleticism to make a difference on the opposite end.
Jalen Duren, 6-9 F, Team Final-Roman Catholic: Whenever Jalen Duren was on the court it felt like we were moments away from a rim-rocking highlight dunk. Whether it was 5 on 5 or the dunk contest, this Team Final big man made his best efforts to tear down the rim every chance he had. In the post, he displayed hook shots, drops steps and other moves that showed the great footwork and feel he possess. He plays like he's angry. A monster in the paint that seemed to take offense to those that would attempt layups in his presence. Jalen Duren is a name that we will see amongst the best bigs in the 2022 class.
Will Shaver, 6-7 F, Pro One-Oak Mountain: What does Will Shaver have going for him? He's 6'7 now, still 2 inches short of his father that was an All American at Birmingham Southern. Will has the makings of a big that can take care of business inside while also keeping a defense honest from the perimeter. In the early action he was effective in doing dirty work, but as time went on I saw a lot of his skill shine through. There's a lot of promise in the makeup of this Alabama big man.   
Jalen Hood-Schifino, 6'3 G, Team Charlotte-Northside Christian(pictured above): One of the standouts in the top 20 game, Jalen Hood Schifino is the next Team Charlotte guard poised to break out onto the scene. Once downhill there wasn't much to be done as a good series of moves kept his defenders off balance. Hood-Schifino used his silky smooth jump shot to carve up defenses from both the perimeter and midrange. One man runs aren't out of ordinary for this 6'3 scorer that can get hot at any time. His play in the top 20 game was superb.
Jordan Walsh, 6'5 F, Drive Nation-Faith Family Academy: My award for the best defensive player at the camp would easily go to this high motor forward from Dallas Texas. There wasn't a moment in which I felt like he took a play off which is saying a lot when you're talking about an upcoming freshman playing amongst his peers. His passion for defense constantly showed as he would put his body on the line for plays in the first few minutes the same as he would in crunch time. Offensively he carried the same mentality as he would crash the glass for putbacks to give his team an extra possession. His length allowed him to pull off some crafty finishes around the rim, many of which coming after he took the ball coast to coast. Walsh may not have the flashiest game out of the top performers but his production was a constant as any ones. Jordan Walsh is going to win a lot of games one day.