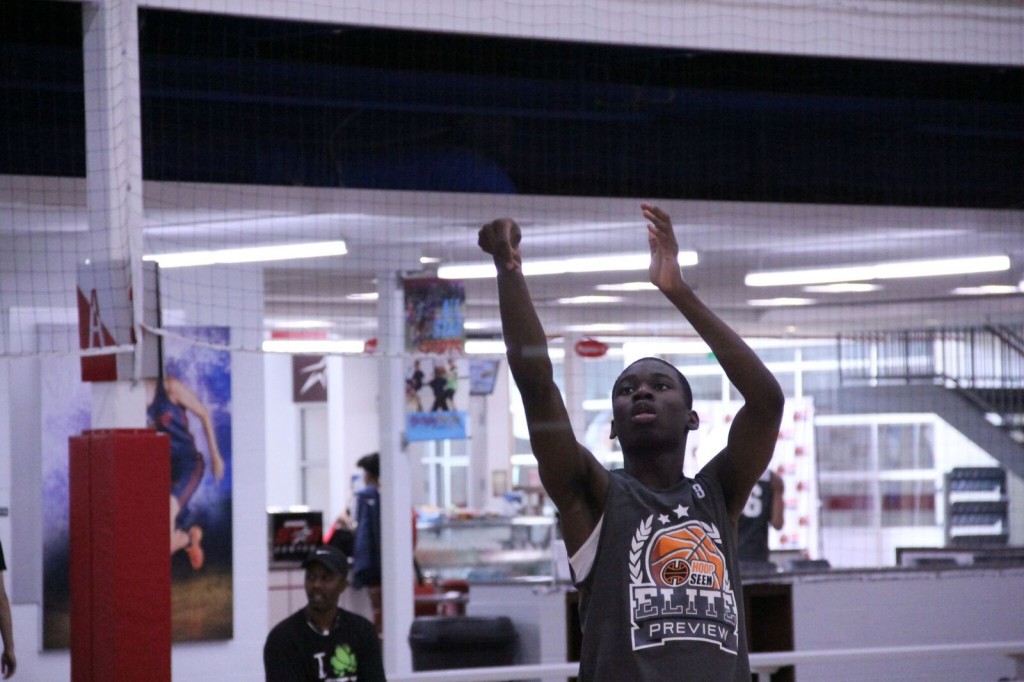 Our first Carolina Preview camp had a ton of the state's top players under one roof. After reviewing our notes, here's a breakdown of everyone on Team 2
Related: Top Performers | Team 1 | Team 2 | Team 3 | Team 4 | Team 5
Isaiah Caldwell, 2020 G, Heathwood Hall- Upward Stars SE
One of the high upside guards in attendance, Upward Stars SE guard Isaiah Caldwell made his mark in our Carolina Preview camp. Our staff named him one of our top performers. Read more here. 
Cross Gibson, 2020 G, AC Flora-Carolina Pressure
Some good ball activity turned defense to offense for his Carolina Pressure guard. Gibson played with a fire to him, treating his matchup and switches with the same priority. His quickness was disruptive and he understands how to curve his size in his favor.
Harold Johnson Jr, 2020 G, Denmark-Olar-Upward Stars
Among the loaded group of 2020 prospects in attendance, Harold Johnson Jr was one of the few that past the eye test. This solid body guard has a good frame that he used to get many to the front of the rim. There were times that him and his defender were neck and neck but some nifty shoulder work shifted him to a step ahead. Johnson understands what makes him productive and how he can get to his spots.
Chase Harris, 2023 G, Dawkins Middle- SC Team Sixers
Back to back threes got Chase Harris on our radar as he broke out of a minor slump. The 2023 guard seemed to have a steady stream of energy despite having an active motor through 3 long games. His play in the third game kept his team's pedal to the metal as he had a good feel for when to advance the ball in transition. Overall, Harris understands the value of high energy even when his offensive numbers aren't sky high.
Alex Archie, 2022 G, South Pointe-Upward Stars York
One of the hardest playing prospects on Team 6, Upward Stars York guard Alex Archie made it a point to chase down as many loose balls as possible. With a developing skill set, Archie showed his value by providing extra efforts in places that some others shy away from. Some improvement in his jump shot will continue to make him viable going forward as he already boasts some solid intangibles. A lot of freshmen don't grasp how small plays can earn them minutes early on but that's certainly not the case with Alex Archie.
Cody Cowan, 2020 F, Greer-Upward Stars
Some undervalued plays flew under the radar as Cody Cowan did a little bit of everything. Cowan boxed out well on his way to some rim level rebounds that he snatched down with two hands. He has tremendous size at 6'6 and used his length well enough to guard several positions. His size lends him to guard 3-5 as he has the lateral quickness to contain guards for a few bounces. Sprinkle in a couple of 3's here and there and Cody Cowan can turn himself into a solid prospect going forward.
Hector Rodriguez, 2021 G, Easley-Team SC
Finishes with either hand allowed Hector Rodriguez to pull of some very crafty finishes around help defense. Early on when his shot didn't drop, Rodriguez shifted gears and worked his way to the rim by using a nice left to right crossover. A capable shot from behind the arc made Rodriguez a good dose of inside-out production.