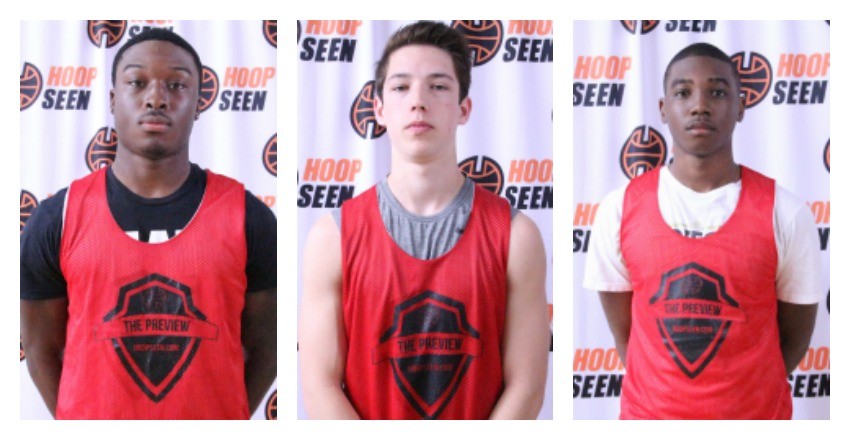 Our first Carolina Preview camp had a ton of the states top players under one roof. After reviewing our notes, here's a breakdown of everyone on Team 2
Related: Top performers | Team 1 | Team 2
Jalen Roberson, 2019 G, Spring Valley-SC Ballers
Team 3 had their fair share of guys that you had to close out hard on but Jalen Roberson led the pack. The 5'10 guard sparked a run or two with his shot making ability. Roberson had a strong contingency of guards around him and he made sure to keep them involved.
Xavier Thorton, 2021 G, Westside-Carolina Hawks
This long athletic lefty looked the part and luckily for us, he brought his game along with him. Xavier Thorton used his athleticism well to rebound and finish amongst the trees. A crafty finish or two was enough to open eyes as to his athleticism and uniqueness. There's a lot of upside to like in this one. At 6'3, Thorton has the size that will make a difference for him going forward.
Garrett White, 2020 G, Mauldin-Anderson Knights
Garrett White's ability to change speeds with the ball in his hands didn't bode well for defenders looking to contain him. Once he received the outlet he did a great job of putting pressure on the opponent's transition defense. Instead of tossing up a highly contested layup, White would often penetrate just deep enough to draw the help. His offense wasn't predicated on the ball going in as much as it was to bring out the best in others.
Levi Leard, 2021 G, Seneca- Upward Stars Upstate(white)
Sometimes the three first steps in after a rebound can make the difference between an easy layup or a team that constantly has to set up an offense. Levi Leard seemed to understand this concept as he ran in transition like he was shot out of a cannon. This 6'4 guard used a long, quick stride to get himself ahead of a defense that was close to being set. Leard showed a good ability to finish, something that should only get better as the clock continues to turn.
Dylan Mathis, 2020 G, Travelers Rest-Upward Stars
It took some time for Dylan Mathis to get going but once he did he made some plays that stood out for his team. Defensively he held his own by challenging shots after that times his team was in a scramble. His efforts on ball screens didn't go unnoticed as he chose not to melt after getting bumped around by the big forwards. Despite not having a ton of offensive production, Mathis provided effort from the start.
JaVon Anderson, 2019 G, Ridge View-Team SC
As coaches, scouts and even fans of the game we've all done it before. You've talked someone up and moments after the player either turns the ball over or rattles off a big basket. That was the case with scoring guard JaVon Anderson. After coming over to watch the Team SC guard rattled off the quickest 9 points that I saw all day. Anderson made defenders bounce off of his wide shoulders one minute and drained a 3 the next. He came into the building with the reputation of a scorer and he held up to the label. He will be a scorer at a 4-year school very soon.
Loren Boyette, 2020 G, Queens Grant-Upward Stars SE
Players with a great feel for the game may not always standout unless you pay attention to the decisions they make. Team 3 benefited greatly from Loren Boyette's decisions from the guard spot. The 6'3 guard made shots and set up others as he showed some good combo guard skills. By using subtle moves and changing his speeds, Boyette shifted players around to where he needed them to go.
Keondre Shippy, 2020 F, Dorman-SC Bucks
Another Dorman prospect that made sure to make his mark in moments was 2020 forward Keondre Shippy. He bounced around on both ends and chipped in a few shots late in the day. For a 2020 prospect, he has good size at 6'4 and used it to his advantage. Shippy rebounded well at his position as he didn't shy away from contact.
Ethan McCutchen, 2019 G, Carolina Knights
One player that knew how to manipulate a defense to open up better passing lanes was Carolina Knights guard Ethan McCutchen. When it came to finding open teammates, McCutchen understood how to collapse the defense to make his guy's lives easier. He used some good shooting early on to make defenses overreact to his touches as he started to drive. McCutchen made some solid plays.