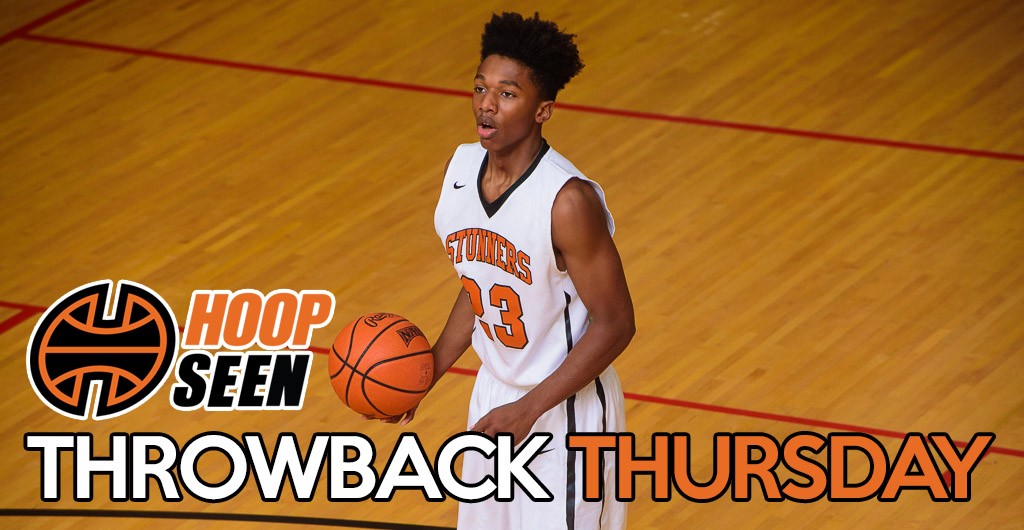 Every Thursday we look back at players who have come through the HoopSeen platform and played their way into a scholarship. We see stories start year after year. The journey to the collegiate spotlight isn't an easy one. It takes work. Kane Williams is today's player to dive deep into. 
The current starting point guard at Georgia State played for the Georgia Stunners program for travel hoops and logged hundreds of minutes on our national platform. 
We had a chance to see Williams compete on a number of levels. Based on his play during the high school season and as a rising junior on the travel season, he earned an invite to our prestigious invite-only Elite Preview camp. While there, he shined as a top 10 performer for the day. We wrote:
Williams was a top ten player from the Elite Preview. He is a big combo guard, at about 6-foot-3, and is extremely difficult to keep from getting into the paint, where he can finish and find teammates for open looks. He plays the game with a lot of physicality and uses his size and strength to his advantage. He also rebounds well from the guard position. A major improvement in his game is the development of his right hand, which makes him even more dangerous off the bounce and with finishes around the rim.
History has proven that top 10 Elite Preview camp performers usually have a great career in college and beyond. Williams falls into that theory to a T. 

At the 2016 Best of the South, Williams was one of our top overall performers at the event. We wrote:
Heading into the BOTS, Kane Williams had been an intriguing name with nice upside within the state borders of Georgia. Intrigue still remains but current day production is in line with the prospering 6-foot-3 lead guard. While he has been knocked in the past for his inability to make jumpers, the rising senior showed off much improved mechanics on the mid range attempt along with range now extended out to beyond the arc. Graced with a strong physique and excellent passing skills, Williams was heavily watched by a plethora of the top mid major programs throughout the south and was able to leave with a new offer in hand from Georgia State. 
Williams was vastly under-recruited from our point of view when he was a high school player. Chattanooga was the only real player for Williams in the recruiting process. But ultimately his connection with Georgia State and then assistant coach Sharman White played a big role in his decision. 
White coached against Williams in high school. From the story we wrote when Williams committed to the Panthers: 
Georgia State assistant coach Sharman White stood opposite of Williams in March when he was the head coach of Miller Grove High School and faced off against South Paulding in the Final Four. Williams scored 25 points in that game and made quite the impression.

When White took the job at Georgia State, Williams became a priority. That relationship and familiarity paid off. The Panthers fought off Chattanooga for the commitment.
We also thought he was a clutch recruit for then head coach Ron Hunter and staff. So much so that we said he was the commitment of the week for a non-major program. Our Corey Evans wrote:
"At the end of the day, Kane Williams' commitment might not get all of the dues that in-state peers Reggie Perry and Darius Perry had received this past week, but in three years, when Williams is a catalyst for the Panthers' run deep into March, all of the attention will be warranted just as it is now following Georgia Stunners product's commitment."
Now that Rob Lanier is at the helm, he's getting great upperclassman leadership from Williams. He's second in assists (4.8) in the Sun Belt, top 10 in steals and assist/turnover ratio and in the top 16 for scoring. 
Georgia State has been to the tournament twice since Williams has been on the roster. They've been to the tournament just five times in school history. This year's team is a contender for the Sun Belt championship once again.
RELATED: Jonathan Isaac TBT
Our HoopSeen stage is designed to provide the best exposure opportunities for top independent programs. Tons of coaches, social media exposure, and elite competition are some of what you'll find at our events. For more information on our 2020 events, visit our events page, or call our hotline at 470-266-8862.