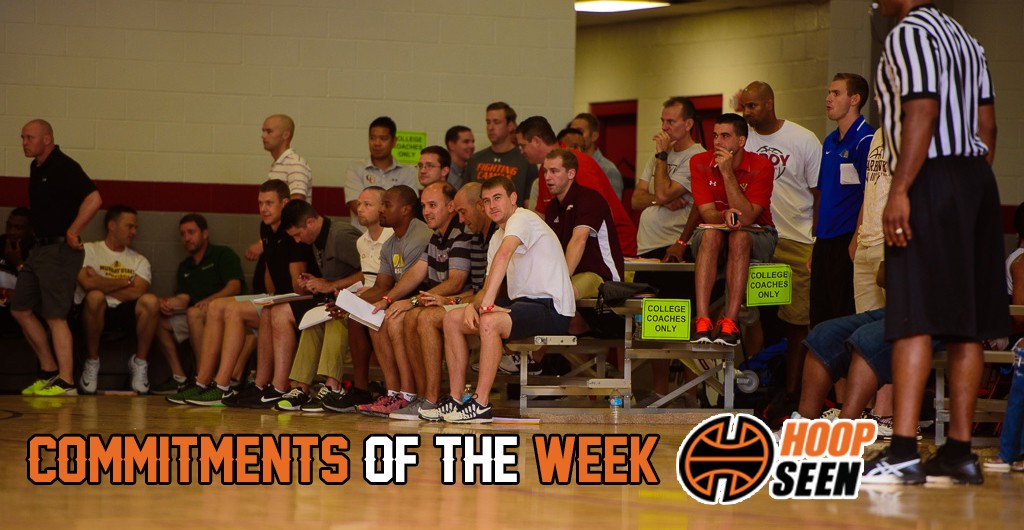 Things are beginning to pick up on the recruiting front where, whenever official visits take place, commitments usually follow. We began our first of many On the Trail and Fastbreak Friday articles last week and with it, we will publish the first Commitments of the Week article, a piece that will be created every Monday for the next few months recapping all of the commitments that have taken place the prior week. Along with it, we will further highlight the top power conference commitment right next to the non-power conference commitment.
This past week, a few top-100 recruits came off the board but no one laid down the foundation for future success better than Arkansas and St. Louis as each secured an immediate producer and someone that can be a go-to option on the offensive end of the floor.
POWER CONFERENCE COMMITMENT OF THE WEEK
REGGIE PERRY, DESI SILLS CREATE A STIR FOR ARKANSAS
Most of the time, we are going to highlight a commitment that is received from a member of the 2017 class. However, it would be hard not to call out the week, or really, the month that the Arkansas men's basketball program has had. They began August by receiving a verbal from 6-foot-4 shooting guard Isaiah Joe, but it wasn't until this past week that things picked up quickly for the SEC program.
The week ended with the commitment of Desi Sills, a 6-foot-2 combo guard from the state and a travel teammate of the already committed Joe and of our commitment of the week, Reggie Perry. A 6-foot-9 power forward and a five-star one at that, Perry is now the top recruit to come off the board from the 2018 class as he sits within our top-15. While many across the nation were just beginning to get accustomed to the 15-feet and in big man, Perry, if he would have waited, would have become a blueblood recruit, one valued greatly by the likes of Kentucky, Kansas, UNC and others. Instead, he chose Mike Anderson's program and should immediately produce from the day he steps foot onto the Fayetteville campus. He plays angry, has a college ready body, and is going to be an unbelievable fit as he will create a killer tandem alongside 2017 top-50 commit Daniel Gafford.
NON-POWER CONFERENCE COMMITMENT OF THE WEEK
KANE WILLIAMS STAYS HOME, GEORGIA STATE FINDS ITS GUARD
There is always talent brimming from the borders of the Peach State. Furthermore, the city of Atlanta and the suburbs surrounding it is one that has never lacked for talent. Regardless of which level one might be competing on, there is always enough to go around that enables for a plethora of programs from differing conference affiliations to mine the area. That being said, Georgia State has always sat in a premium spot and while others have left for higher levels before transferring back to the Sun Belt program, Kane Williams cut the middle man out of it and made his commitment to the Panthers on Friday.
A 6-foot-3 lead guard out of South Paulding High School in Georgia, the facilitating senior is an excellent pick-up for Ron Hunter's crew. The recent hiring of super successful Miller Grove High coach Sharman White paid off in a big way. Due to past connections with the competitive guard, Williams, who gave a quick visit to UTC on Friday, felt just right being at home as he will now play out his four years of ball at GSU. He should bring an immediate chip onto the floor, is someone that can make others better, and has improved drastically in recent months in showing that he can make shots when allotted to him, but just as well, carry his team to wins.
At the end of the day, Kane Williams' commitment might not get all of the dues that in-state peers Reggie Perry and Darius Perry had received this past week, but in three years, when Williams is a catalyst for the Panthers' run deep into March, all of the attention will be warranted just as it is now following Georgia Stunners product's commitment.
2016 CLASS
MISSOURI VALLEY
EVANSVILLE
Silas Adheke – 6-foot-8 center – Hamilton Heights Christian Academy (Tennessee)
PAC 12
WASHINGTON STATE
Arinze Chidom – 6-foot-9 center – Sunrise Christian Academy (Missouri)
2017 CLASS
AAC
CINCINNATI
Eliel Nsoseme – 6-foot-8 center – Clarkson Secondary School (Canada)
ACC
LOUISVILLE
Darius Perry – 6-foot-2 guard – Wheeler High School (Georgia) – NATIONAL RANKING: 88
BIG 10
ILLINOIS
Trent Frazier – 6-foot-1 guard – Wellington High School (Florida) – NATIONAL RANKING: 123
BIG 12
TCU
Kevin Samuel – 6-foot-9 center – Redemption Christian (Texas) – NATIONAL RANKING: 120
BIG WEST
UC SANTA BARBARA
Marcus Shaver – 6-foot-2 guard – Shadow Mountain High School (Arizona)
MAC
WESTERN MICHIGAN
Michael Flowers – 6-foot-1 point guard – Southfield Senior High School (Michigan)
MISSOURI VALLEY
BRADLEY
Ryan Stipanovich – 6-foot-5 wing – De Smet Jesuit High School (Missouri)
DRAKE
Teyvion Kirk – 6-foot-1 point guard – Joliet West High School (Illinois)
OHIO VALLEY
BELMONT
Caleb Hollander – 6-foot-7 forward – Nashville Christian School (Tennessee)
EASTERN KENTUCKY
Peyton Broughton – 6-foot-4 shooting guard – North Laurel High School (Kentucky)
PATRIOT LEAGUE
ARMY
John Scully – 6-foot-2 guard – Flower Mound High School (Texas)
SOUTHLAND
LAMAR
Jordan Foster – 6-foot-8 power forward – Corneaux High School (Louisiana)
NORTHWESTERN STATE
CJ Jones – 5-foot-10 point guard – Wossman High School (Louisiana)
SUN BELT
GEORGIA STATE
Kane Williams – 6-foot-3 guard – South Paulding High School (Georgia) – STATE RANKING: 24
SOUTH ALABAMA
Joseph Thompson – 6-foot-8 power forward – Alfred Bonnabel High School (Louisiana)
WAC
CAL STATE BAKERSFIELD
Justin McCall – 6-foot-4 shooting guard – Ridgeview High School (California)
2018 CLASS
BIG 12
WEST VIRGINIA
Jordan McCabe – 5-foot-10 point guard – Kaukauna High School (Wisconsin)
SEC
ARKANSAS
Reggie Perry – 6-foot-9 power forward – Thomasville High School (Georgia) – NATIONAL RANKING: 13
Desi Sills – 6-foot-2 guard – Jonesboro High School (Arkansas)