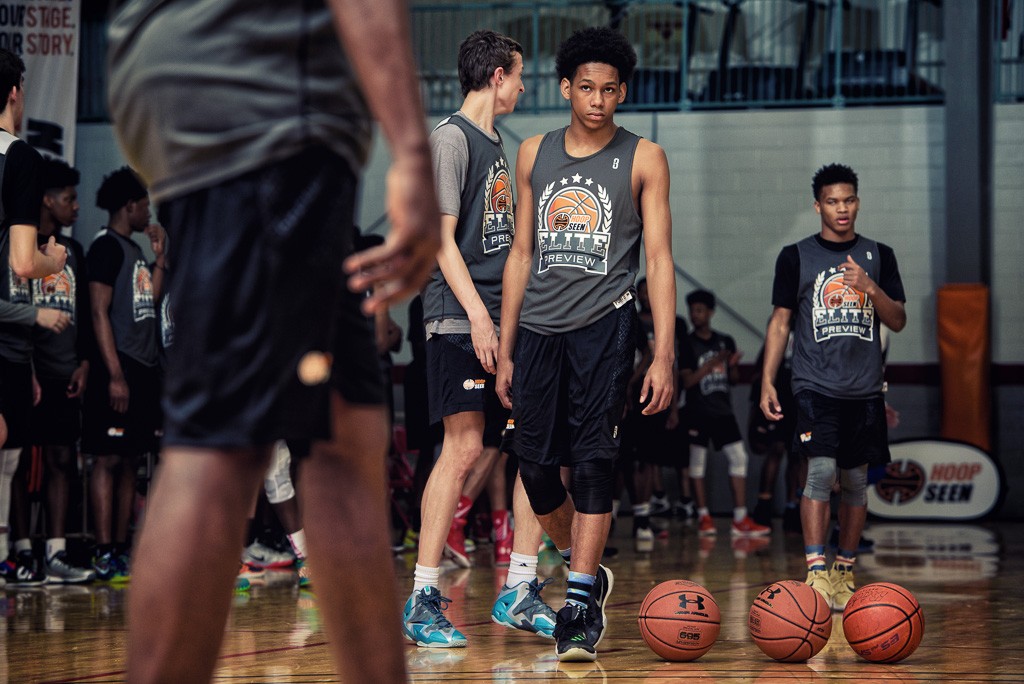 The Georgia Elite Preview was jam-packed with talent this year. We look back on the top players from the event. Our Georgia Recruiting Analyst Carter Wilson rolls out his top players from the camp.
DAVION MITCHELL, PG, LIBERTY COUNTY, 2017: Mitchell came into camp well known to everyone in the building. The athleticism, the quickness, the understanding, the pace, the toughness; it was all there for the junior Auburn point guard commit. Mitchell should get a lot more attention with the Georgia Stars this spring and could end up as a top-30 player in the class of 2017 when it is all said and done. He is certainly a really fun and exciting player to watch.
JAMIE LEWIS, PG, WESTLAKE, 2018: Lewis was arguably the top player that we had at the Elite Preview. He had a great season at Westlake after coming back from an injury the year before. He is a very strong point guard that uses his physicality to his advantage, knowing how he can use his body to put the defense at a disadvantage. He gets into the lane, where he finishes with short-range jump shots as well as with both hands around the rim. He could also be a big eye opener this spring.
ISAIAH HART, PG, WHITEFIELD ACADEMY, 2017: A contributor at Whitefield since his freshman year, Hart has often been labeled at "too small". After Elite Preview, some of his labels could include "tough", "leader", and "scorer". Hart excelled in ball screen situations, making great reads: scoring when he needed to and finding teammates when the situation called for it. He also excels on the other end of the floor, defending very physically, as we should expect from any Whitefield prospect. LM's should be all over this one.
KANE WILLIAMS, PG, SOUTH PAULDING, 2017: Williams was a top ten player from the Elite Preview. He is a big combo guard, at about 6-foot-3, and is extremely difficult to keep from getting into the paint, where he can finish and find teammates for open looks. He plays the game with a lot of physicality and uses his size and strength to his advantage. He also rebounds well from the guard position. A major improvement in his game is the development of his right hand, which makes him even more dangerous off the bounce and with finishes around the rim.
TJ MASSENBURG, PF/C, SHILOH, 2017: The Shiloh big man was one of the breakout players from the camp and will continue to make a name for himself as his career continues. At 6-foot-7 with great length, Massenburg is an elite level rim protector and rebounds his position very well. Offensively, he has shown that he can shoot the ball consistently in the midrange and can also finish at the rim with a lot of athleticism. As his back-to-the-basket game develops, Massenburg could become a high level prospect in the Peach State.
BEBE IYOLA, PF, GREENFOREST CHRISTIAN, 2017: With all of Greenforest's great players, Iyiola can often get lost in the shuffle and become known as an "energy guy" because of the fact that he plays hard. In reality, while he does play very hard, he has a good skillset from 15 feet and in. He can score the ball in a varety of ways, including a fantastic turnaround jumper that has become his go-to move.
EVAN COLE, PF/SF, SOUTH FORSYTH, 2017: Another one of the breakout players from the Elite Preview, Cole is a big, strong forward with a solid skillset and athleticism. Cole held his own among the state's best big men and was able to make some very eye-opening plays, including a game-winning tip slam in the first session of games. The ceiling is extremely high on him and he could become one of the more closely watched forwards in the junior class. This will be a name that you hear a lot more of as the spring goes on.
JACORI WILSON, SF, SOUTH PAULDING, 2017: Wilson was one of the most interesting players at the Elite Preview and left a lot of onlookers asking, "Who is he?". Wilson is an above average athlete with great size at 6-foot-7 with a lot of length. Where the South Paulding product's game really stands out is in his shooting. The lefty can knock down shots from all over the floor, making him a matchup problem for most defenses. Watch for him to be a breakout player in the travel season and into the next high school season.
ZACK COOKS, PG, BERKMAR, 2017: Cooks is a player who has always been tagged as being too small. However, the Berkmar guard is loaded with toughness. His point guard skills continue to develop. He is much more vocal on the floor and makes great reads in ball screen situations. Combine that with the shooting ability that he has always shown throughout his career and you have a point guard that is worthy of Division I looks.
JUSTIN FORREST, PG, GREENFOREST CHRISTIAN, 2017: Forrest had a breakout year with Greenforest, who finished as one of the top teams in the nation. He was arguably the best scorer for the Eagles, and really excelled as a lead guard. He continued to show his development at the Elite Preview, scoring both around the rim and from three. He also has point guard skills that continue to improve and his IQ is coming along with it. When that fully comes around, he could be a very special player.
TAE HARDY, SG, MILLER GROVE, 2017: Hardy might have gotten lost in the shuffle this season with Miller Grove, as they had loads of guards that were big time contributors. Hardy showed that he can be leaned on next year for the Wolverines as a scorer. He is very smooth with the dribble and knows how to put the ball in the basket. He has craftiness and savvy about him that allows him to get by defenders and get into the paint, where he can finish at the rim. What he does better than most guards is getting to the line, where he scores a lot of points as well.