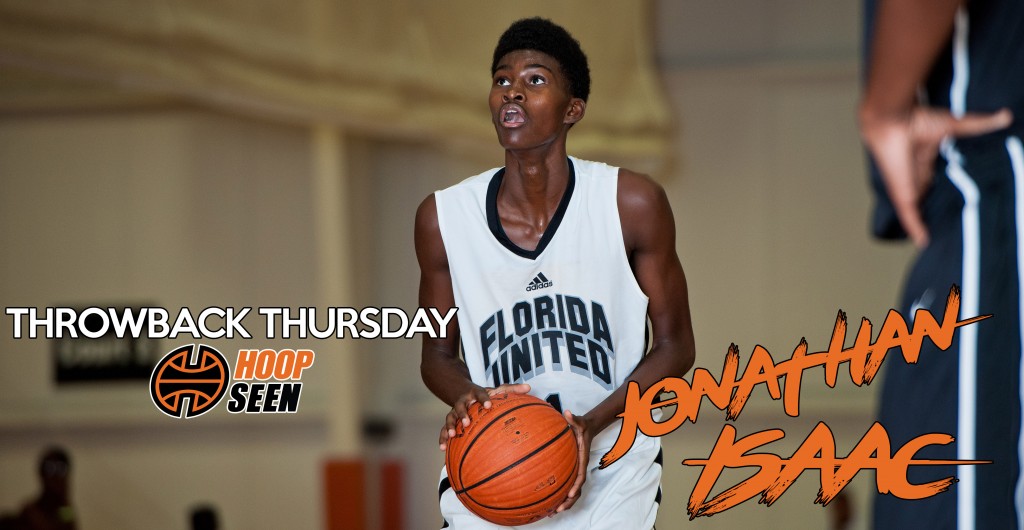 "You're going to want to come and watch us." That's one of my most favorite things to hear from a travel coach. they know what they have and they are excited for someone to come and see for themselves. That was the case back in 2014 when Johnny Fleming told me about a young man named Jonathan Issac. 
When you walked into the gym you instantly knew who the young prospect to watch was going to be. That was easy. Isaac was an all-arms and all-legs forward who ran the floor like a long-lived kid named Kevin at the same age. Isaac, much like the man know known as KD, was rain thin but super interesting. He hit shots, he blocked shots and he ran the floor with energy and purpose. That was something to see. And he didn't have a clue to just how good he was at the time and what kind of player he could become down the road. 
Isaac was the must-see player for Florida United. Paired against Game Elite, Isaac caught everyone's attention. 
He played at a school so small that when I asked my most trusted Florida contacts about it, they asked if I had the right name. No one had heard of International School of Broward. No one that I knew. 
And Isaac was there. He was a student there that just so happened to grow quickly and now he was thrust into the big stage of summer basketball. Isaac didn't know any better. He just balled off of instinct. 
I called every high-major school in the state of Florida with two things to talk about. 1. Do you know about this Isaac kid? No, they all said. Every one of them. 2. Then, you need to recruit this guy. Hard. And now. 
Isaac instantly became a prospect that the best of the best wanted to know about. And from there, the young man did the rest. He put in the work and he just kept on getting better and bigger.
Eventually, Isaac would end up signing with Florida State. And, eventually, he ended up being drafted by the Orlando Magic with the No. 6 pick of the 2017 NBA Draft. Now in his third year in the NBA, the 22-year-old is one of the most promising young players in the game. 
Five years prior to that, he was just a skinny kid from South Florida. 
Few guys have stories like Isaac's. It was fun to watch it all play out on the HoopSeen stage. Who is next in 2020? 
Our HoopSeen stage is designed to provide the best exposure opportunities for top independent programs. Tons of coaches, social media exposure, and elite competition are some of what you'll find at our events. For more information on our 2020 events, visit our events page, or call our hotline at 470-266-8862.