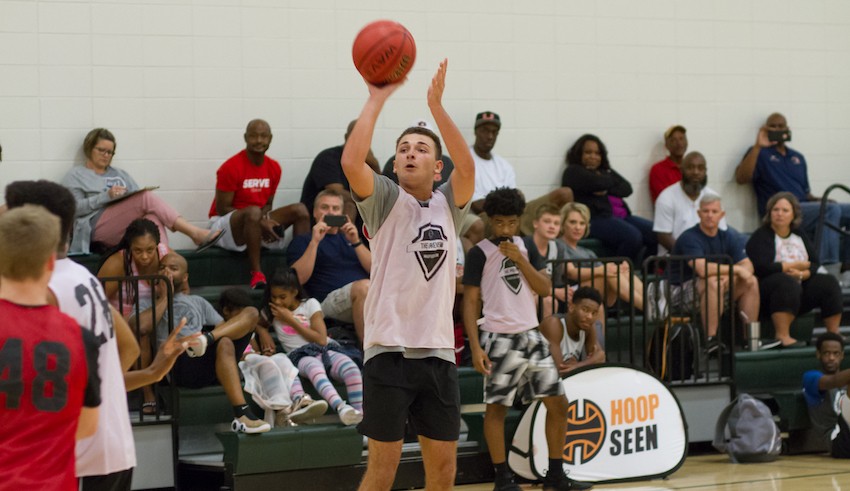 By: Austin Smith
There were tons of eye-opening talent at the Alabama Fall Preview camp. In fact, our longtime coach and evaluator, Douglas Byrd, even made the remark that this may have been the best group of shooters he has ever seen in the Preview camp setting. That's a major compliment to the group we had in the building on Sunday.
RELATED: Alabama Fall Preview Story Starters 
Justin Webb, 2019 SG, Hamilton (AL): Webb was a familiar name heading into the Fall Preview camp due to his consistent shooting performances throughout the HoopSeen summer circuit. On Sunday, Webb was true to his sharp-shooting ways. He knocked down the 3-point shot with ease from all areas regardless of contesting defenders. He wasn't hesitant to put the ball on the floor and knock down shots off the bounce as well. His shooting versatility made him a key scorer in the 5-on-5 team matchups. During game-play he racked up points in a hurry, including 16 points and 18 points in the first half of his final two games.
Chance Spears, 2021 CG, Mobile Christian (AL): Chance didn't let his underclassmen status deter the confidence in his shooting ability. He was on a mission to showcase his skill-set. He excelled in making shots beyond the perimeter due to his constant off-ball movement. He frequently did a great job of sprinting to open spots on the floor for easy looks. Spears has quick release and a high follow-through with his form.
Jonah Williams, 2022 SG, Plainview (AL): Despite being one of the youngest players in attendance, Williams wasn't shy about letting it fly. The 5-foot-10 guard left a lasting impression during the last game of the day, as he rattled in six three-pointers. Williams showed no fear and wasted no time getting his shot off with pressing defenders. He will fit right in at Plainview, where the program has generated quite a reputation within the state with their potent and high-scoring offense. 
Stone Evers, 2021 CG, Oak Mountain (AL): Efficient is the word used to describe Evers's shooting touch. He mostly made his living on spot-up jumpers with range extending to the college three-point line. His teammates continued to feed him, and he did what he does best. Stone mentioned that he typically makes 1000 shots per week and it was clearly evident this weekend. His shot appeared to have no wasted motion, and it aided him in converting his shot attempts.
Josh Price, 2022 CG, St. John Paul II Catholic (AL): Another scrawny youngster, Price impressed with his ball skills and shooting ability. The 5-foot-7 freshman showcased tight ball-handling ability and the ability to shoot off the dribble with ease. Price was also able to play both guard spots effectively. At either place he was able to shoot off the catch or the dribble.