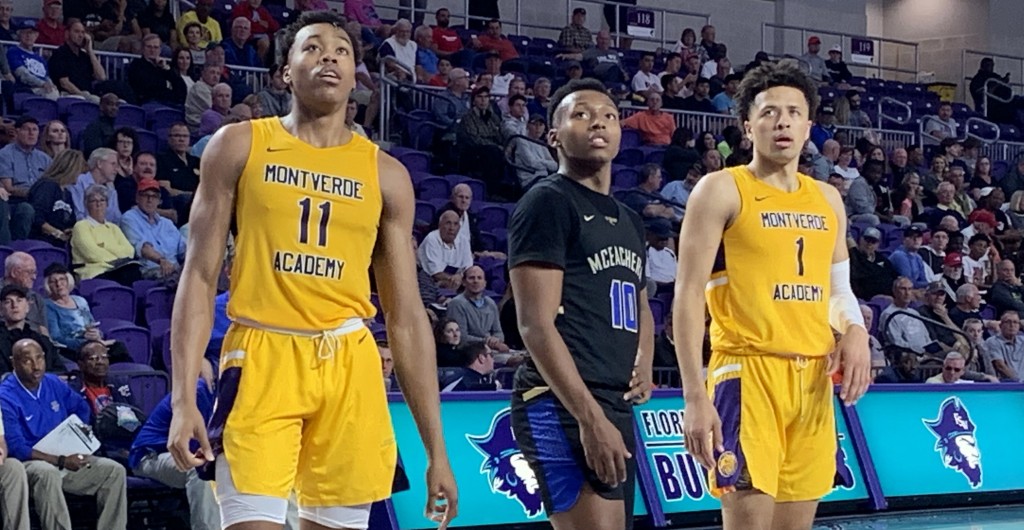 We travelled all over the country in the month of December and saw so much high-level basketball. We asked our staff to roll out their Best of from the month of travel. 
I went coast-to-coast for several events and didn't come away disappointed in what we all saw on the road. My stops included the HoopHall Classic in Scottsdale, Arizona, the Hawks Naismith Holiday Classic in Norcross, Georgia, the City of Palms in Fort Myers, Florida, the Pete and Jameer Nelson Classic in Philadelphia and the Slam Dunk to the Beach in Lewes, Delaware. 
The best PRO PROSPECT I saw in December was… 
Scottie Barnes. Honestly, I could write this same blurb for a number of players after a busy month of seeing the very best players in the nation. But the player Barnes is now compared to where he was a year ago is something to behold. The future Florida State forward was named MVP (again) of the prestigious City of Palms as he played a major role in Montverde's championship run and subsequent victory over IMG Academy in the title game. Barnes is noticeably bigger and stronger since he's enrolled at Monteverde. That's a scary thing. He was already one of the most gifted physical prospects in the country. A multi-postional wizard, Barnes can impact the game in so many ways. Looking ahead to his likely one-and-done season in Tallahassee, Barnes will certainly become an even better defender under the tutelage of NBA player maker Leonard Hamilton and his staff. Barnes looked outstanding and should only get better moving forward. 
The best PRO PROSPECT I saw in December was (ya, there's another one)… 
Cade Cunningham. The Monteverde point guard is our No. 1 player in the nation here at HoopSeen.com and every time we see him play, we feel stronger and stronger about that claim. The future Oklahoma State point guard is the modern-day version of Brandon Roy. There isn't a wasted movement or decision in Cunningham's game. He's so smart and effortless when he plays. On Montverde's ridiculously stacked team, no one is going to post eye-popping numbers. But at the end of the game, Cunningham will have a positive impact in every category. He's Mr. Efficient. His game has a pro flavor to it and we are seeing it develop even further in his skill development. 
The best SINGLE GAME PERFORMANCE I saw in December was… 
Jaden Hardy's effort at the HoopHall Classic West. The five-star guard from Coronado (NV) High School scored 40 of his team's 96 points, had 11 assists and grabbed nine rebounds against Shadow Mountain (AZ). Hardy was awesome in the second half and played in a manor that made you just believe that everything he was putting up was going in. He was brilliant. Hardy has fun when he plays and knows how and when to fall into attack mode. The class of 2021 is looking like a terrific class and Hardy's position inside the top 10 is pretty safe. He's been brilliant all season long. Hardy is also the best underclassman I saw in December. 
The best UNSIGNED SENIOR I saw in December was… 
Cliff Omoruyi. Just Mr. Triple Double at the Slam Dunk to the Beach. The 6-foot-10 big man from Roselle Catholic (NJ) is the only guy to stake that claim. Like, ever. He was awesome on the final night of action at the Slam Dunk, ripping down rims and rebounds along the way. The available senior has an active recruitment and no stranger to the high-major ranks. Danny Hurley and his UConn staff were on hand to see him. Patrick Ewing and Georgetown was also at his games. Arizona State was in to see him. Kentucky, Auburn and Memphis are also actively in the mix. 
The best BREAKOUT GUY of December was… 
Malik Reneau. The 6-foot-7 sophomore from Mater Academy (FL) was outstanding in his one game at the City of Palms. The hoop mavens of the area have said he's the dude that has next. They weren't wrong. Reneau looks like a top 50 national prospect and certainly made a great first impression with his versatile and production-heavy game. There is a Scottie Barnes flavor to the way Reneau plays. Hard to not get excited about that kind of ceiling. 
The BEST ATMOSPHERE of December was…
The Hawks Naismith Holiday Classic at Norcross. The holiday event is booming quite the holiday tradition in metro Atlanta. The Grayson 83-57 win over McEachern was the most impressive win I saw this season. The victory was a straight up dismantling of the previously undefeated power house from Powder Springs. The entire city of Atlanta was there. All of the hoop heads came out and there was a standing room-only crowd for the heavyweight pairing. The crowd wanted to see Deivon Smith (Mississippi State) of Grayson played Sharife Cooper Auburn) of McEachern. Smith and his mates didn't disappoint. 
RELATED: Justin Byerly's Best of December

Our HoopSeen stage is designed to provide the best exposure opportunities for top independent programs. Tons of coaches, social media exposure, and elite competition are some of what you'll find at our events. For more information on our 2020 events, visit our events page, or call our hotline at 470-266-8862.