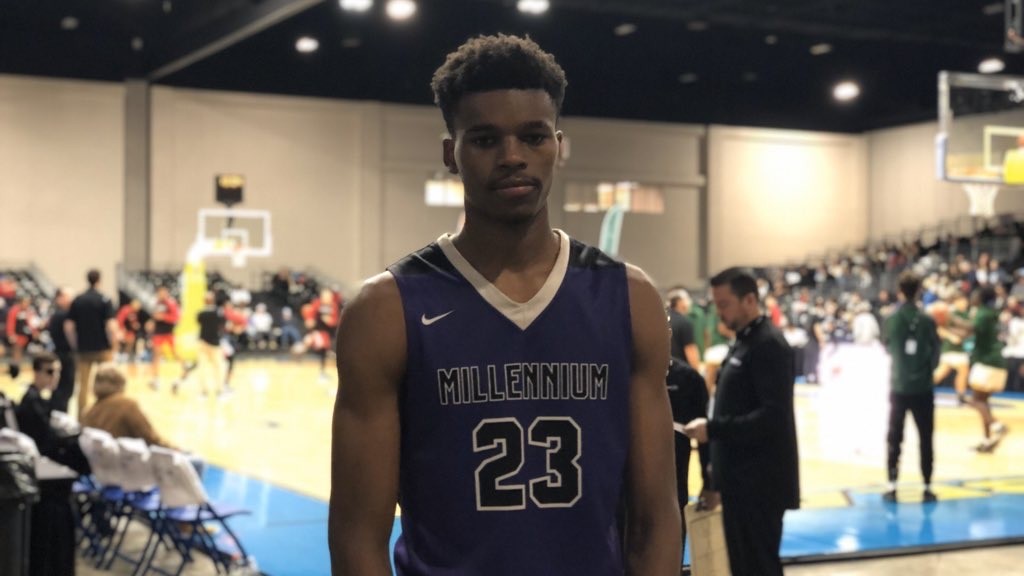 Our HoopSeen team spent time all over the country before and after Christmas this season. Justin Young was in Arizona, Florida, Pennsylvania and Delaware. Tai Young was in Washington, D.C., North Carolina and Georgia. I was in North Carolina and South Carolina covering events. Here is a look at the best players I saw from the busy month of December. 
The best underclassman scorer I saw in December was Jaden Hardy of Coronado (NV). Justin Young told me that I would be impressed with watching Hardy. Was I ever. He missed his first eight shots on the night but then he turned it on late in the first half and into the second half, finishing with 41 points and tying the record at The Beach Ball Classic with nine three-pointers in the game. He is able to get his shot off with his ability to create space and he let's the game come to him never getting hurried. 
The best team I saw in December was Dorman (SC) or Moravian Prep (NC). I saw Dorman High School at all three events I covered in December, The Bojangles Bash, The Chick-Fil-A Classic and The Beach Ball Classic and each time they impressed. Clemson's PJ Hall is a guy that will make an impact from the moment he steps on campus. Lead guard Myles Tate is one of the best point guards in the nation and can do the other things that are needed at the college level besides score. He is headed to Butler. Forward Justin Amadi is one of the more athletic players in the country and recently picked up an offer from North Texas. Junior guard Jalen Breazeale is the "floater king" and is steadily on the rise as one of the best juniors in South Carolina. Moravian Prep from Hickory, North Carolina is two NC State signees deep with Josh Hall, a future NBA player and Shakeel Moore, a bulldog point guard that can carve up defenses and make plays. Those two guys coupled with Jamahri Harvey, a tough as nails shooting guard that can score from all spots on the floor and Javarzia Belton, a big shouldered, college ready forward that thrives on rebounding and blocking shots Moravian Prep was one of the most talented teams I saw from top-to-bottom in December. 
The best scorer I saw in December was Cam Thomas at The Bojangles Bash in Columbia, South Carolina. The LSU-bound guard scored almost 70 points in two games for Oak Hill Academy (VA) with wins against Ridge View (SC) and Keenan (SC). He stands at 6-foot-4 and can score against anyone in the country. Does a really super job of creating space to get his shot off. Should be able to come in and make an impact for Will Wade at LSU as soon as he gets on campus. 
The best unsigned senior at the mid-major level I saw in December was KJ McClurg of University (WV). The 6-foot-3 guard has previously committed to Niagara before the coaching change and has recently picked up an offer from Navy. He plays hard and plays the game the right way. He doesn't make mistakes and can get hot from beyond the three-point line. He does a good job of rebounding and in the last game I watched at The Beach Ball Classic, he scored 21 points including going 3-7 from three and grabbing 10 rebounds. 
The flashiest player I saw in December was Jalen Green of Prolific Prep (CA) at The Chick-Fil-A Classic. A fierce athlete that can score from all spots on the floor, Green is considered by many to the best shooting guard in the 2020 class and during every game I saw, national media and the "Mixtape Mafia" held down the baseline trying to get a shot of Green doing what he does. He is a guy that can break down defenders and attack the rim with such force that it leaves the crowd on it's feet when he throws one down. 
The best underclassman forward that I saw in December was DaRon Holmes of Millennium from Goodyear, Arizona. The 6-foot-8 forward is considered a top-25 recruit in the country and displayed a skilled back-to-the-basket game, length and some rim-rattling dunks at The Beach Ball Classic. Holmes told HoopSeen that Arizona, Arizona State, Kansas, Gonzaga, Wake Forest and Texas Tech are the schools that are staying in touch with him the most. He scored 25 points and pulled down 10 rebounds for Millennium in a win over University (WV) at the Beach Ball Classic. 
Our HoopSeen stage is designed to provide the best exposure opportunities for top independent programs. Tons of coaches, social media exposure, and elite competition are some of what you'll find at our events. For more information on our 2020 events, visit our events page, or call our hotline at 470-266-8862.