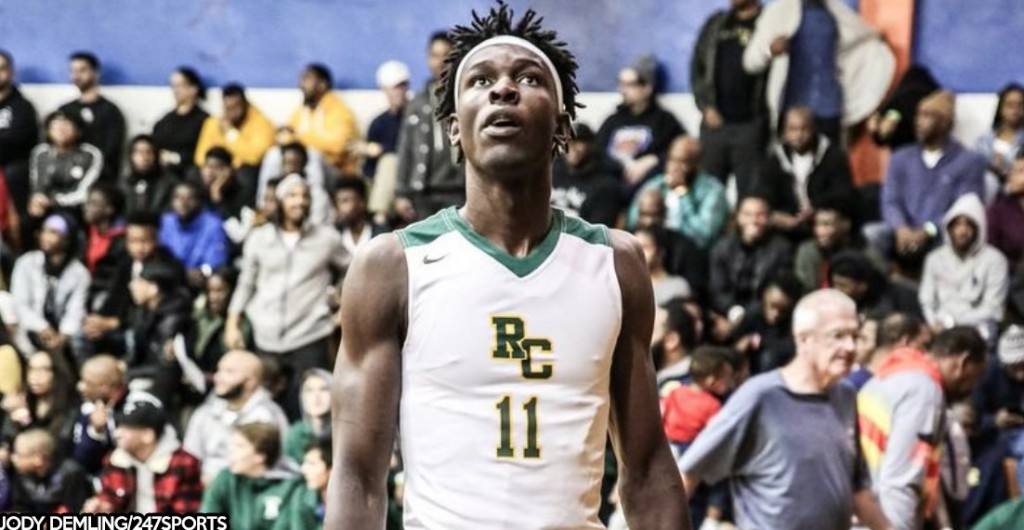 Our post-Christmas coverage is in the books and now that we've been back from a busy East Coast road trip, it is time to hand out some superlatives from the action. Our Justin Young was in the Northeast, checking out a pair of events. Here are the players that jumped off the page to him from his seat on media row. 
The best player I saw after Christmas was Cliff Omoruyi of Roselle Catholic (NJ). Allow me to speak with a flavor of hyperbole for a moment. He was simply brilliant over the two-game stretch at the Slam Dunk to the Beach and was as productive as any big man I saw this busy month of basketball. The uncommitted top 50 senior big man ripped down 19 boards in a big win over First Love (PA). He was in full beast mode in the first ever recorded triple-double in the event's storied history. There are some players who play with a level of confidence and intimidation that other teenagers just don't know how to handle playing against. Omoruyi played with such an attitude in Lewes, Delaware. 
The most productive player i saw after Christmas was RJ Davis of Archbishop Stepinac from White Plains, NY. The North Carolina bound guard pumped in 21 points and nine rebounds to help lead his team to a big-time 70-64 win over top 5 nationally ranked Paul VI out of Fairfax, VA. In high school hoops, we talk so much about recruiting and where players are going or who is actively in pursuit. We talk about rankings. We talk about individual comparisons and expectations. Debate the health of that sort of psychology all you'd like but let's not lose sight of the end goal of the moment - playing to win the game. That's what all of the practices are for. That's what the training is for. That's what the tournaments, match-up games and circuits are for. The end goal is winning the game. For Davis, he competes with that in mind. There is a competitor's spirit to him that you can't ignore. And against Paul VI, a team with an inventory-rich lineup of high-level guards, Davis was the man of the hour in one of the biggest game of the post-Christmas holiday run. Davis is playing as well as any guard there is in the country from the class of 2020. He was outstanding in Fort Myers at the City of Palms and at the Slam Dunk to the Beach, he was equally strong. Productivity paired with winning - hard to beat that combo. 
The biggest sleeper I saw after Christmas was Anquan Hill of Archbishop Carroll (PA). The 6-foot-7 forward was an eye-catcher at the Pete and Jameer Nelson Classic and was my biggest takeaway sleeper from the Play-By-Play event. He's a versatile inside-outside guy who has the size to really impress you as a long-term guy. He holds one offer - from Bryant - and interest from regional mid-level programs. That's a great place for his recruitment to be. And for all of the mid-level schools who had him on their internal "sleeper lists", I"m sorry he's in this category. Hill could be a guy that really takes off in the next 12 months of high school and travel ball as he continues to develop his skill, confidence and overall strength.  
The best already committed to a college player I saw after Christmas was Xavier-bound CJ Wilcher. Man, he's good. Like, really good. And he's going to a perfect situation at Xavier. Wilcher plays like an old Big East guard and like someone who grew up watching Joe Dumars game film. Travis Steele and his staff have a terrific trio coming to town in the 2020 class with Wilcher, Dwon Odom and Colby Jones. That trio is good enough to make a deep run into March Madness. Wilcher and Odom will have some battles in practice that will rival any me vs. you moment in those great private settings. Wilcher is a high-end competitor on both ends of the floor and has an attitude and spirit to him that should allow him to be a contributor from the outset when he gets to college. 
Our HoopSeen stage is designed to provide the best exposure opportunities for top independent programs. Tons of coaches, social media exposure, and elite competition are some of what you'll find at our events. For more information on our 2020 events, visit our events page, or call our hotline at 470-266-8862.