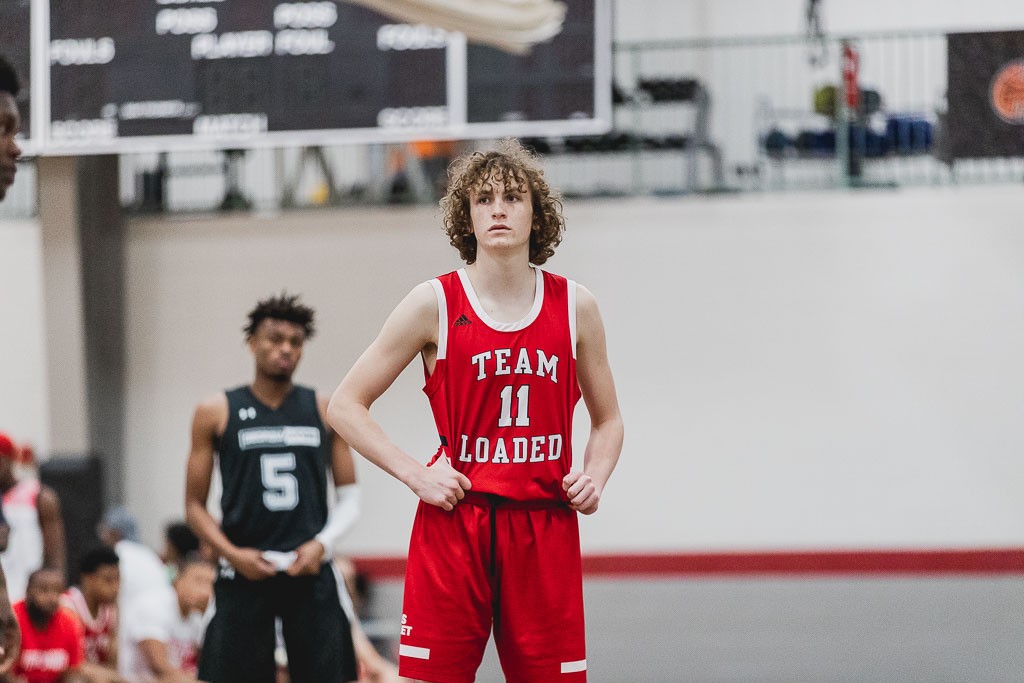 Looking back on our season up to this point there have been a lot of great teams and players who have come through the doors of our HoopSeen events. Now that we are in the first week of summer, we take a look back at some of the best of the best.
Who were the best guards that I saw on our stage?
Kario Oquendo, Team Parsons
There is a lot to like about the 6-foot-5 guard out of Astronaut HS in Titusville, Florida. He is one of my favorite players that I saw over the spring on the HoopSeen platform. What's the difference in Oquendo and other guards? His toughness, size and his mantra of not backing down against any opponent was what set him apart in this category for me. His athleticism is second to none as he thrives in finishing plays above the rim that always bring the crowd to their feet. In every game when Oquendo had the ball in his hands there was a level of excitement about what he would do next.
The shifty guard drops defenders and has an extra burst of speed in transition. His offer list includes Wake Forest, TCU, North Florida, Florida Atlantic and Florida Gulf Coast. He told me that Georgia has been recruiting him as of late. He, in my opinion, is an SEC/ACC level guard with his ability to break down defenses and his work on the defensive side of the ball. I expect other programs in the ACC and SEC to get involved with the sunshine state product.
Deashun Ruffin, MEBO
The level of intensity and scoring prowess that comes along with Ruffin's game is off the charts. The 5-foot-9 guard plays his high school basketball at Callaway High School in Jackson, Mississippi. Ruffin will play his college basketball in the SEC, choosing Auburn as his college destination. Ruffin chose the Tigers after visiting this past weekend.
My first time seeing Ruffin could have been just dumb luck. I had heard of the name but wasn't sure about a 5-foot-9 guard playing at the highest of travel ball levels. I was wrong. He scored 23 points including making four straight three-pointers well beyond the line. No defender could stay in front of him and his quick-release couldn't be stopped. He was in one word, electric. His energy oozed out of his smaller frame and was a must see with crowds spilling out of the bleachers to watch.
Carter Whitt, Team Loaded NC
Another class of 2021 prospect playing up in the 17U division, Whitt impressed with his basketball IQ and decision making. I saw some other guards that could have easily made this list but the fact that he is a year behind made my decision to add him easier.
The bottom line with Whitt is that he doesn't make mistakes and controls the game with his ability to read defenses. He plays much older than he is and makes his teammates better. The 6-foot-3 point guard kills opponents with high fundamental set and his sneaky ability to get by defenders and set up his big men. Florida, Boston College, Clemson, Xavier, NC State, Wake Forest, Virginia Tech, and defending national champ Virginia have offered the Leesville Road High School rising junior.
As we make our way through June, each of these topics will be taken on: 
ALL-GEORGIA CUP TEAM
BEST OVERALL PLAYER: Day'Ron Sharpe, Garner Road
BEST OVERALL PLAYER ON SHOE CIRCUIT: Cade Cunningham, Texas Titans
BEST OVERALL NATIONAL RISER
BEST PLAYER FROM ALABAMA
BEST PLAYER FROM FLORIDA
BEST PLAYER FROM GEORGIA: Matthew Cleveland
BEST PLAYER FROM KENTUCKY
BEST PLAYER FROM MISSISSIPPI 
BEST PLAYER FROM NORTH CAROLINA
BEST PLAYER FROM SOUTH CAROLINA 
BEST PLAYER FROM TENNESSEE 
GEORGIA CUP RISERS
SPRING STORY STARTER TEAM
THREE BEST GUARDS: Justin Byerly
THREE BEST WINGS
THREE BEST BIG MEN 
I will mix in some more topics along the way and try to have fun with the month of June. Feel free to join the conversation on Twitter. Use the hashtag #HoopSeenSZN to let us know who you think fits the bill for these categories!