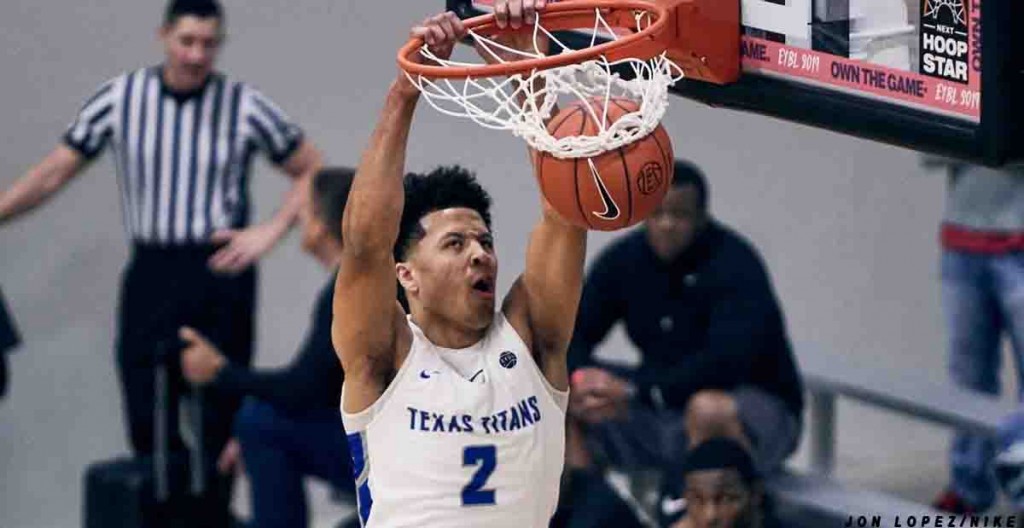 I have watched a lot of Ben Simmons over the last two years. I have a good reason to be actively engaged in what the Philadelphia 76ers do. Moreover, they are just a fun team to watch. 
Simmons is one of the most unique players in basketball. You know his game. So, explaining his value and uniqueness seems like a moot point for the point of this article. But when a player that comes around that has all of the unique skill of the former No. 1 high school player in America - and then some - you tend to take notice with great purpose. 
Texas Titans guard Cade Cunningham fits this mold. No one else in the amateur game does. And Cunningham is what Simmons is now but with an even more diverse skill set on offense. That's high praise, no doubt. Big point guards with big frames and big games are valued more and more at the next level. 
He has dominated the Nike EYBL this season. His team, the Texas Titans, are 12-1 on the regular season. That's better than anyone in the swish league. He's been nothing short of awesome every single session. Cunningham posted crazy numbers on the season - averaging 25.1 points, 6.6 rebounds, 5.3 assists, 1.5 blocks, 1.4 steals, 55.7% from the floor, 73.3% FT and 37.1% from three. 
Chew on that. 
He seems to be getting better and better every time he steps on the floor. Only Evan Mobley, an all-world 6-foot-11 do-everything forward, sits higher on our national rankings for the class of 2020.
Cunningham recently trimmed his list to 10. They are: Texas, Duke, North Carolina, Kentucky, Kansas, Washington, Memphis, Oklahoma State, Florida and Virginia. A true national prospect. And, of course, he is. 
Suffice it to say, he's the best I've seen on the circuit - ours or anyone's circuits. 
As we make our way through June, each of these topics will be taken on: 
ALL-GEORGIA CUP TEAM
BEST OVERALL PLAYER: Day'Ron Sharpe, Garner Road
BEST OVERALL PLAYER ON SHOE CIRCUIT: Cade Cunningham, Texas Titans
BEST OVERALL NATIONAL RISER
BEST PLAYER FROM ALABAMA
BEST PLAYER FROM FLORIDA
BEST PLAYER FROM GEORGIA: Matthew Cleveland
BEST PLAYER FROM KENTUCKY
BEST PLAYER FROM MISSISSIPPI 
BEST PLAYER FROM NORTH CAROLINA
BEST PLAYER FROM SOUTH CAROLINA 
BEST PLAYER FROM TENNESSEE 
GEORGIA CUP RISERS
SPRING STORY STARTER TEAM
THREE BEST GUARDS: Justin Byerly
THREE BEST WINGS
THREE BEST BIG MEN 
I will mix in some more topics along the way and try to have fun with the month of June. Feel free to join the conversation on Twitter. Use the hashtag #HoopSeenSZN to let us know who you think fits the bill for these categories!