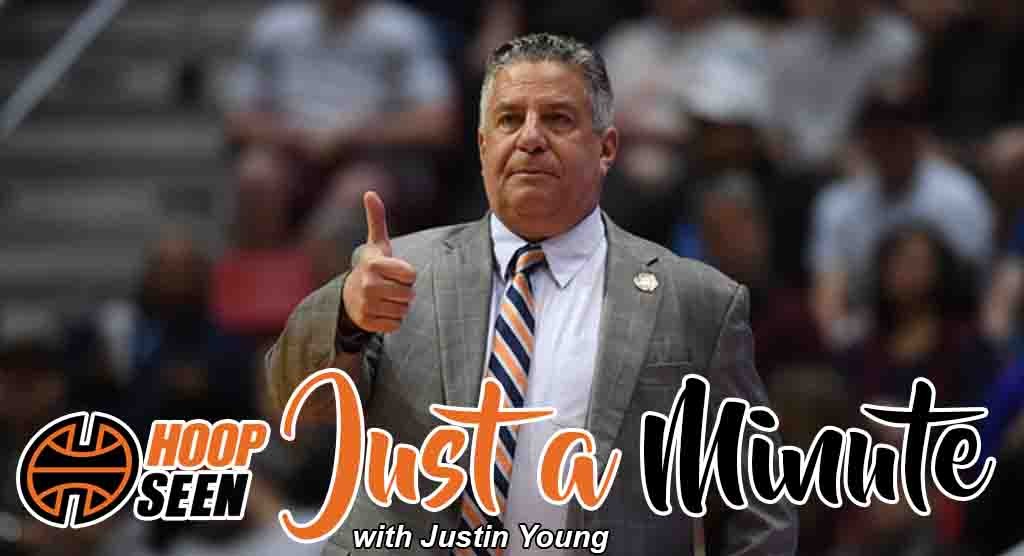 How has Auburn built the basketball program into a top 25 team in the country? Bruce Pearl started in Atlanta. He knew that's where he wanted to go and get players when he took the job four years ago. Which point guard should college programs take a look at from Georgia as we approach the early signing period this week? Meadowcreek and Wheeler have new looks on their roster. What should we expect from the powers this high school season? There are games everywhere in the Peach. We highlight two major events to check out. And, of course, we take a look at commitments you should know more about. 
AUBURN IS FEELING PEACHY

When Bruce Pearl was hired at Auburn as the school's men's basketball coach, he in 2014 was quite pubic about his desire to recruit Atlanta and the state of Georgia. That's nothing new for the Tigers. The proximity of the school has been attractive to South Georgia players and players from the south side of Atlanta for years. 
But no one has had quite the success in the Peach State from Auburn quite like Pearl and his staff over the years and that recruiting success is paying off on the hardwood. 
The Tigers, a top 15 program in the country, had a big win over top 25 program Washington last Friday night. 
Pearl and his Auburn program are having the success with Georgia players. 
Chuma Okeke, a Westlake grad, is off to a hot start. He may be the most versatile player Pearl has had since Tobias Harris. Jared Harper, a Pebblebrook grad, mixes his shooting touch from deep with pinpoint passing from the point guard spot. Bryce Brown, a Columbia grad, has been a consistent force from the backcourt since he came to campus. Former Worth County star Anfernee McLemore is one of the best defensive players in the SEC. 
All four players are starters for the Tigers. 
Pearl was on hand for the Georgia Elite Tip-Off Classic, watching 2019 commit Isaac Okoro. Former McEachern center Babatunde Akinbola is also committed to the program. Jaylin Williams, a 2019 forward from Brantley County, is also committed to the program.
Pearl is also heavily involved in five-star 2020 guard Sharife Cooper, too. The Tigers have been a player in this race for quite a while. 
We haven't seen an out-of-state program win in the recruiting circles and on the college hardwood with Georgia players quite like this run Pearl is on. He and his staff are hoping the success continues.

BEST AVAILABLE: Hunter McIntosh, Greater Atlanta Christian 
With early signing period beginning on Wednesday, we want to take a look at some of the best players still available in the Peach State. 
This week's spotlight focuses on Greater Atlanta Christian point guard Hunter McIntosh. He was a state champ last season and pilots a team that is capable of pulling off a repeat in Class AAA. 
McIntosh was one of the five best players I saw at our Fall Preview last month and think he has the tools to be a good player at the collegiate level. He was also an all-state selection last season, too. 

He played well against Meadowcreek in a scrimmage last week. 
Hunter Mcintosh finished with 18pts against Meadowcreek last night in the #BattleOfChampions.

Expect big things from one of the more underrated point guards in the state - despite last year's numbers & state title win @callmehunt_ @gachoops @GACSpartans#ABACE pic.twitter.com/nsPpIy5J33

— SUVtv (@SUVtv) November 8, 2018
NEW FLAVORS AT MEADOWCREEK, WHEELER 
It is going to be Interesting to see who Meadowcreek and Wheeler will be this season. The AAAAAAA teams locked horns on Saturday at the Georgia Elite 8 Tip-Off Classic at McEachern with Meadowcreek winning in convincing fashion. 
Both teams roll out talented starting fives but their rosters look much different than last year. Sure, there are some familiar faces on both rosters but the way each team plays has, and will need to, make some changes.  
Meadowcreek was a slowed down, half court, grind it out and win with their size kind of team last year. It worked so well, they won a state title with it. This year's team is much different. The Mustangs have shooters and scoring guards. Damian Dunn, a Temple commit, was brilliant and spear-headed a big season-opening win over Wheeler. 
UAB bound guard Jalen Benjamin is a quick scorer on from the wing and senior guard Emmanuel Collier came up big on Saturday, hitting five three-pointers. Of course, senior slasher Jamir Chaplin is still on board, too. 
This Meadowcreek team will be a lot of fun. And, truthfully, this Meadowcreek team will be even more fun against Norcross this season. 
Wheeler is going from a very different one than last year's EJ Montgomery-centric team. 
This year's team will be a balanced one. Bucknell bound Malachi Rhodes looked like the alpha dog on Saturday night in the paint but this is a club who will ask several players to be the go-to guy on any given night. Roscoe Eastmond (Denver commit), Charles Smith (Cal commit), Sam Hines and Darius Gaddy started on Saturday against Meadowcreek. 
The Wildcats are still figuring out who the go-to scorer will be in the clutch. They play at Norcross on Saturday then Holy Spirit Prep after Thanksgiving at the Hard in the Paint Classic and Greater Atlanta Christian at Holiday Hoopsigiving. That's a heck of a start to the season. 
WHAT TO WATCH THIS WEEKEND
The week before Thanksgiving means the Jared Cook Classic at North Gwinnett and now it also means the November session of the Hawks Naismith Invitational. 
We're excited to be at both of these events. Here is a peek at the two event schedules. 
Hawks Naismith Invitational 
Friday, November 16 (boys games)
7 pm Grayson vs Dutchtown
8:30 pm Jonesboro vs Newton

Saturday, November 17 (boys games)
10:00 am Duluth vs Holy Innocents'
11:30 am Hiram vs Stockbridge
2:30 pm Eagle's Landing Christian vs Mt Bethel
5:45 pm Tift County vs Campbell
7:15 pm McEachern vs Westlake
8:45 pm Maynard Jackson vs Miller Grove
Obviously, a lot of eyes will be on the McEachern vs Westlake match-up (two teams we saw last weekend at the Georgia Elite 8 Tip-Off Classic), but the gem could be Grayson and Dutchtown on Friday night. 
I raved about Grayson in my 64 things you need to know about the GHSA season story I posted last week. I love the Rams. 
Regarding Dutchtown…We're excited to see junior Cam Bryant, a player who we haven't seen in quite some time, and Kam Hobbs and Isiah Placide. Both of the juniors are multiple all-tournament player at our travel events in 2018. 
Jared Cook Classic
Saturday, November 17
2:55 pm Archer vs Lanier
4:30 pm MIlton vs Mill Creek
6:05 pm North Gwinnett vs Etowah
7:40 pm GAC vs Peachtree Ridge

Monday, November 19
2:55 pm Milton vs Lithonia
4:30 pm Douglas County vs Archer
6:05 pm North Gwinnett vs West Forsyth
7:40 pm Lambert vs Peachtree Ridge
9:15 pm Shiloh vs Mill Creek

Tuesday, November 20
2:55 pm Lithonia vs Cedar Shoals
4:30 pm Mt. Bethel vs Miller Grove
6:05 pm North Gwinnett vs Milton
7:40 pm Dacula vs Meadowcreek
9:15 pm Peachtree Ridge vs Grayson
The JCC always has the match-ups metro Atlanta wants to see. The Milton/Mill Creek game should be a fun one. Keep an eye on the Lithonia and Cedar Shoals game, too. Eric Gaines of Lithonia is a player that we can't wait to see and evaluate for our 2020 Georgia rankings.
COMMITMENT SPOTLIGHT: Morehead State's HoopSeen 1-2 punch
Morehead State spent a lot of time at our HoopSeen events in 2018, settling in at the Atlanta Jam and Best of the South events in April and July. The Eagles had a chance to see two of their future players up close and personal. And they saw their future players have great success, too. 
Julius Dixon of the talented EAB squad out of Nashville, Tennessee and Ta'Lon Cooper of the Upward Stars Upstate team from South Carolina both committed to the Ohio Valley Conference school. 
Dixon is the modern-era four man who can stretch the floor and knock down the three. Cooper was a hot name after his terrific showing with the Upward Stars Upstate program at the Bob Gibbons Tournament of Champions. He could be an all-league level player. Truthfully, I think he's one of the biggest recruiting steals at the non-major level for the 2019 class. 
Cooper is a multi-positional guard who can really fill up the scorer's column. He's a top 15 player in the state of South Carolina's 2019 class. 



Archived Just a Minute with Justin Young 
November 4, 2018