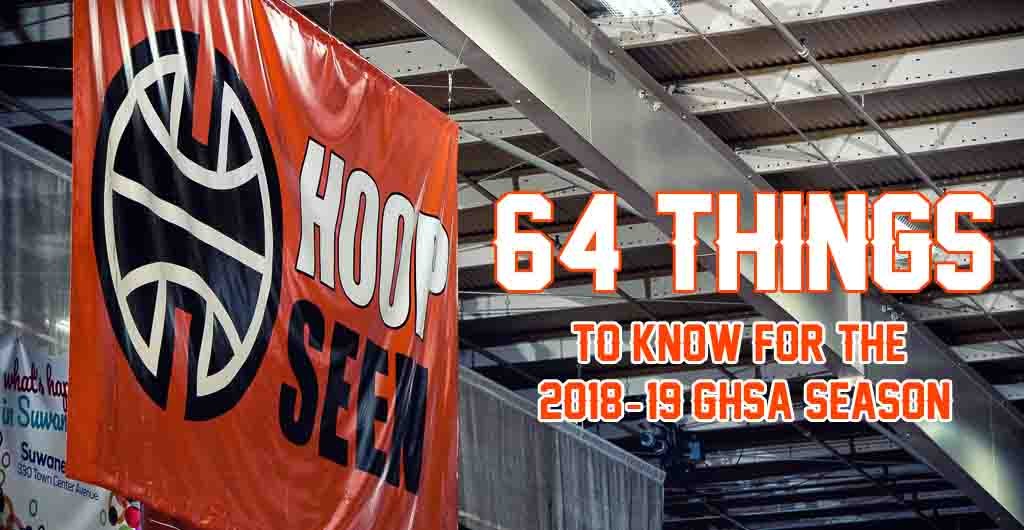 Welcome to the 2018-2019 high school basketball season in the state of Georgia. We've battled through travel ball, team camp in June, move ins and move outs and now we are back for another march to Macon. 
Exciting, right? 
Thought so. With all of the excitement of the season, we wanted to roll out some of the things regarding teams in the GHSA that stand out as we go into the schedule. And by "some of the things" we mean 64 things.
1. We have several nationally-recognized teams in the Peach State. Do the powerhouse continue to rise up at the top? In Class AAAAAAA they certainly will. Meadowcreek busted up everyone's brackets though, knocking out region foe Norcross for the title. Both Gwinnett schools are reloaded and ready for another March. But you better believe Cobb County powers of McEachern and Wheeler are chomping at the bit for their shot. 
2. So, if Meadowcreek did it last year - surprising everyone outside of the Mustang program - who can it be this year? How about Grayson? The Rams have been to the Final Four in back-to-back seasons. They graduated some studs, yes, but the cupboards aren't bare. Deivon Smith should be the next dynamic guard from the Grayson backcourt. The junior is explosive and one of the most exciting players to watch in Georgia. He has support from the likes of returning starter Reco Hallmon, Jr. Jevon Tatum (Tucker), Ashton Malone (Norcross), Josh Smith (Holy Innoents), and Xavier Ayres (Greensboro Day) are four important transfers to the rotation. Football stud Kenyon Jackson should return to the starting lineup after he puts his shoulder pads away. Big men Taje Kelly and Ian Schieffelin and junior wing Justin Bogard give the team options, too. 
3. But, let's be honest here. We've had nearly 20 teams from Georgia in national rankings over the last decade. Anyone can rise up and that's why this season is so exciting. The race for the biggest class is tight and then, the rest of the state is up for grabs. This should be a fun, and competitive, year.
4. I think this is the year where we see someone new win a state title, meaning a team that we haven't seen in the winner's circle before. I think that happens, potentially, in AAAAAA. 
5. Upson Lee has a 63-game winning streak coming into the season. The class AAAA powerhouse is without Tye Fagan, who is now making an impression at the University of Georgia. Can the Middle Georgia program continue their impressive streak? Coach Darnell Lockett and his team open up on Nov. 23 against Taylor County. The team travels to play Monticello, a team that won 20 games last year, on Nov. 27.
6. The best tournament/event in Georgia is Holiday Hoopsgiving. The two-day event after Thanksgiving has grown into a major national event. We've seen some dandies pack into the Holy Innocents gym. This year's field should be something else. The highlight of the event, at least from a Georgia perspective, pairs Norcross and SW Dekalb on Friday night. What a way to spend the Thanksgiving holiday season. 
7. Of the 15 players who were named All-State from last season in AAAAAAA, only six return. Meadowcreek's Jamir Chaplin, McEachern's Isaac Okoro and Norcross's Kyle Sturdivant were named 1st team last season. All three are anchors on their state-championship level teams this season.
8. Of the 15 players who were named All-State from last season in AAAAAA, seven of those players return. Mekhail Bethea (Dacula) and Jayce Moore (Coffee) were 1st team picks last season.
9. Of the 15 players who were named All-State from last season in AAAAA, five of those players return. There are two 1st teasers returning. Maurice Harvey was at Miller Grove but he's now at SW Dekalb, making him one of two all-state player returning to a different team. Marcus Watson, an Oklahoma State commitment, is back at Buford.
10. Of the 15 players who were named All-State from last season in AAAA, Woodward Academy's Walker Kessler is the only returning 1st teamer to the classification. He was also the class's Sophomore of the Year.
11. Of the 15 players who were named All-State from last season in AAA, there are two returning first teamers. GAC's Hunter McIntosh and Morgan County's Alec Woodard. Both are key seniors on their state-worthy level teams.
12. Of the 15 players who were named All-State from last season in AA, Ja'Queze Kirby of Jeff Davis is the only returning player coming back to the classification. He could be the Player of the Year this season, too.  
13. Of the 15 players who were named All-State from last season in A, St. Francis guard Dwon Odom is the only returning player to the classification. Malachi Rhodes was also a first time selection for ECLA but he has since transferred to Wheeler.
14. The best new coach is an old coach that we know and respect all too well in the state of Georgia. Pace Academy welcomes former Miller Grove maestro Sharman White back to the prep sidelines after a couple of years at Georgia State. White was an assistant coach for Ron Hunter.

15. Another new coach to keep an eye on is Starr's Mill's Charlemagne Gibbons returns back to the Georgia high school ranks after time at Florida Atlantic as an assistant. He help build a powerhouse at Morgan County. He has plenty of talent to win with at Starr's Mill, a contender out of Fayetteville.
16. There are currently 33 players committed to a Division I school in the 2019 class from the state of Georgia (includes all schools from all organizations).
17. The best senior in GHSA is McEachern's Isaac Okoro. The Auburn commit is one of the best defenders in the country and the physical anchor of a team that is hungry and looking to redeem their early exit from the playoffs last year at Norcross.
18. The best junior in GHSA is Norcross's Brandon Boston. He's the most versatile guy in the Peach State and could be the best player in the nation for the class of 2020. The improvement he has made from this time last year to now is remarkable. Boston has elite, elite, elite star power. 
19. And speaking of the juniors… Georgia's class of 2020 is as deep at the top as any class that I can recall. The Class of 2004 group featuring Dwight Howard, Josh Smith (who graduated at Oak Hill Academy out of state) and Randolph Morris were all top 20 national prospects and McDonald's All-Americans. Georgia's 2020 class has four players who could finish in the top 20 and be burger all-stars - Anthony Edwards (Holy Spirit), Brandon Boston (Norcross), Walker Kessler (Woodward Academy) and Sharife Cooper (McEachern).

20. The best sophomore in GHSA is up for grabs. Sorry. That's the easy way out of a hot take, right? But I don't think we have an exact answer for this right now. There are a number of players who could fit the bill, including Matthew Cleveland (Cambridge), Robbie Armbrester, (Therrell), Kaleb Washington (Pebblebrook), Tyler Shirley (Pebblebrook), Darreonte Gainer (Randolph Clay), Jaden Harris (Norcross), Garrison Powell (Holy Innocents), Brinton Wright (Perry) and Cole Middleton (Pace).

21. The best freshman in GHSA debate could be a two-horse race between Dillon Hunter (Westlake) and Joyful Hawkins (Brunswick). And because they are both freshman, the best freshman could be neither of them.
22. The best senior in metro no one talks about is Buford's Donnell Nixon. He's tremendous and steps into a full-time role for outbound All-State point guard Alex Jones, who is now at Lipscomb. Nixon was one of the best point guards we saw all travel season at our HoopSeen events. He's primed for an all-state level season for coach Eddie Martin. 
23. The biggest breakout star in the state of Georgia is Savannah Johnson's Brandon Harris. The 6-foot-6 junior could be the best player to come out of C-Port since Tim Quarterman. He's just as versatile as the current Houston Rocket was in high school. Remember, Quarterman helped his team win a state title in 2013. 
24. The biggest underclassmen that should break out this season is Cambridge sophomore Matthew Cleveland. We've had some intense discussion here in the HoopSeen offices about his long term potential and there is a consensus between Tai Young and I that he could be the best long term guy in Georgia's 2021 class.  
25. Region 2 is the best region in Class AAAAAAA. From top to bottom, six teams are capable of earning a bid to state. Yes, Wheeler is a relatively new roster but the Wildcats remain strong regardless. Pebblebrook and Westlake are young at key positions but no strangers to the Dance. Campbell can upset anyone, anytime. East Coweta may be one of the nice sleepers in the state and Newnan has some size and athleticism to contend. Region 7 has two state champion contenders with Norcross and Meadowcreek. But the region may just be too top heavy.

26. Region 5 is the best region in Class AAAAAA. The classification is a balanced one and drilling down a "best region" choice wasn't easy. But Alexander could be a state title contender this year. And let's not forget Langston Hughes has a pair of state championships under their belt over the last two seasons. Tri-Cities is long and back and experienced. They went to the Elite 8 last season. And we know Douglas County will get out and run with anyone. Creekside, Mays, South Paulding, Northgate and New Manchester always have a sleeper on their roster. 

27. Region 5 is the best region in Class AAAAA. That's been the case for a long time, too. Miller Grove has been the king of the kingdom but we may be seeing a changing of the guard. SW Dekalb is no joke and a favorite to win state in the classification. Keep an eye on Lithonia. They are consistently terrific but sometimes get lost in the shadows of their regional brethren. Columbia is no stranger to success, especially with Dr. Phil McCrary at the helm.

28. Region 1 is best region in Class AAAA. There is a lot of parity in this classification so the region with the toughest road games wins out. The South Georgia grouping boasts Westover, traditionally the team to beat in Albany, and Carver, traditionally the team to beat in Columbus. Mix in Americus-Sumter, Northside Columbus and other schools from Albany and Columbus and you have a hard place to win on the road. 
29. Region 7 is tthe best region in Class AAA. Locking into a region in this class wasn't easy. So here's why they get the nod - Greater Atlanta Christian. The Spartans are the defending state champs and they return some big time horses. Now mix in Dawson County, a team that should make some noise. New school Cherokee Bluff has former Gainesville head coach Benjie Wood at the helm. East Hall also has a new coach but should be a top 10 contender in the state.

30. Region 4 is the best region in Class AA. Have you ever been to a game in Augusta? The games are intense. Rivalries run deep in the CSRA and that's how it should be. Laney and Glenn Hills have repped the east Georgia region for quite some time but you better believe Butler or Josey or Westside won't let a team come into their house and walk out with a win. With 12 teams in the region, this is also a sub-region group.

31. Region 5 is the best region in Class A. It is also the deepest with 22 schools in two sub regions. Greenforest Christian, Holy Innocents', Eagle's Landing Christian, Drew Charter, Wesleyan, Trinity Christian, SACA, Mount Vernon, Paidiea, Landmark Christian and others load up this private school region. It's a monster. 

32. The semifinals are some of the best games in the GHSA state playoffs. The venues have already been decided on, too. For Class A Public, fans will go to Valdosta State. For Class A Private, fans will travel to Columbus State. Class AA will be at Georgia College in Milledgeville. Class AAA will be at Georgia Southern at Armstrong (in Savannah). Columbus State will also host AAAA. Class AAAAA will be treated to a fun weekend at Fort Valley State (one of the loudest venues for the semifinals). Class AAAAAA fans will head out to Carrollton to West Georgia. Finally, the AAAAAAA semi-finals will be at Buford City Arena.
33. The best place to watch a basketball game in Georgia is Crawford County. 
34. The nicest gym in Georgia is Buford's. And by gym I mean arena.
35. The best county in Georgia is Gwinnett this year. I think the county has the best shot at claiming the most state titles across the eight classifications in the state.

36. That being said, make sure you get to these games. Dec. 10 when Meadowcreek plays at Norcross and then the final regular season game of the year is Feb. 1 when Norcross plays at Meadowcreek. This is becoming the new Gwinnett County rivalry the state wants to see.
37. Sure, Atlanta has some of the best basketball talent in the country. We know this. But there are some studs at some smaller schools. Senior forward Jaylin Williams of Brantley County (only 18,731 live in the entire county) and junior forward Ja'Quez Kirby of Jeff Davis (4,154 people in Hazelhurst) are worth a fun road trip to watch. 
38. Like shooters? Me, too. Check out these snipers this year: Devin Butts (Stratford Academy), Ricky Knight (Douglas County), London Riley (Discovery), Matthew Davis (Northview), Jackson Greco (Sequoyah), Donovan Grant (Campbell) and Micah McAllister (Landmark Christian) just to name a few. 
39. I think preseason polls are dumb. I really do. We haven't even played a game and everything gets reset. Let the games play out first. That said, I do have some thoughts on the best teams in each county and I'll even pick my final fours and state champs. Maybe I'm dumb. 
40. The best team in Albany is Westover.
41. The best team in Cherokee County is Cherokee.
42. The best team in Clayton County is Jonesboro. 
43. The best team in Columbus is Carver.
44. The best team in Cobb County is McEachern.
45. The best team in Dekalb County is Southwest Dekalb.
46. The best team in Douglas County is Alexander.
47. The best team in Fayette County is Starr's Mill.
48. The best team in Forsyth County is Lambert.
49. The best team in Fulton County is St. Francis.
50. The best team in Gwinnett County is Norcross.
51. The best team in Hall County is East Hall.
52. The best team in Henry County is Eagle's Landing.
53. The best team in Macon is Northeast.
54. The best team in Middle Georgia is Upson Lee.
55. The best team in Paulding County is South Paulding.
56. The best team in Savannah is Sol C Johnson.

57. I think Wilkinson County will win A Public state title. 
58. I think St. Francis will win the A Private state title.
59. I think Woodville-Tompkins will win the AA state title.
60. I think GAC will win the AAA state title.
61. I think St. Pius X will win the AAAA state title.
62. I think Southwest Dekalb will win the AAAAA state title. 
63. I think Tri-Cities will win the AAAAAA state title.
64. I think Norcross will win the AAAAAAA state title.