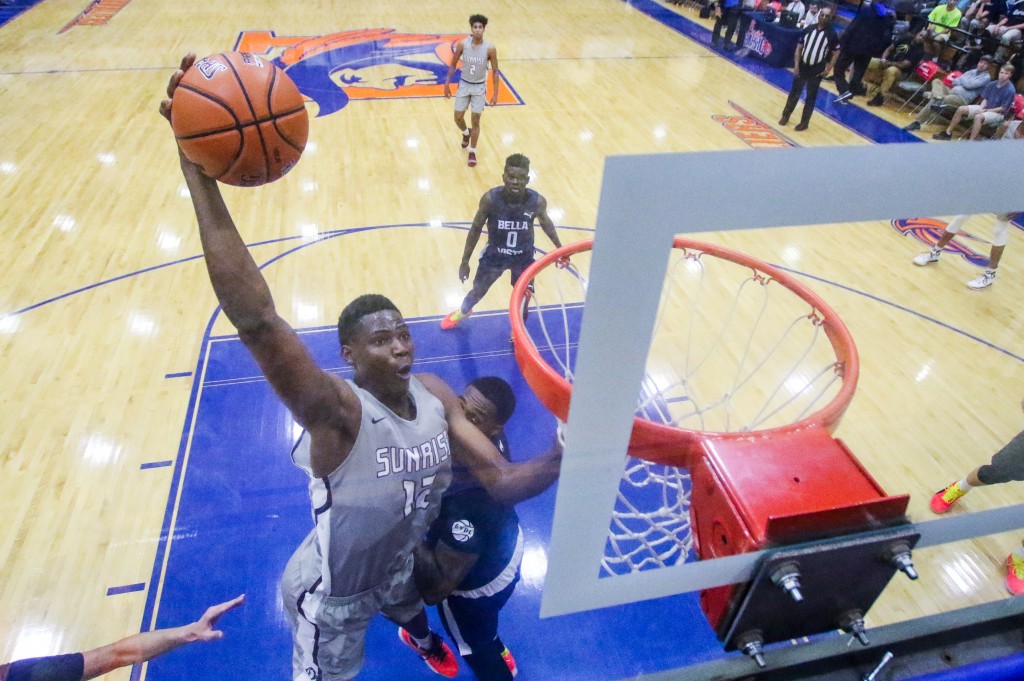 Columbia, SC - Day three of the Chick Fil A Classic unarguably featured the best aux gym talent across the country. Brandon Boston, James Wiseman, and Anthony Edwards took their talents to the second gym after losses coming from earlier in the event. With top 10 talents slated to play throughout the day, the usual theatrics of Columbia's premier event was par the course for what we've come to expect. After catching up on teams that weren't evaluated the first day, there were several prospects that shined above them all.
A matchup for the ages
A triple overtime game between Bella Vista Prep(AZ) and Sunrise Christian(KS) provided scouts, coaches, and fans with a second to last game finish to remember. Terry Armstrong and Grant Sherfield stole the show, as they swapped blow for blow throughout the games entirety. In the heavyweight bout, both players displayed what has granted their pass to the high major level as elite level talents in their classes. Two separate styles, but equally as effective, Armstrong being the high motor, athletic wing while Sherfields smooth approach is silent but deadly. Given their ability to go on self sustaining runs, Nico Mannion and Terry Armstrong will be fun to watch at Arizona given the up and down rhythm of the Pac-12. Sherfield gives UCLA a back court talent that can shift between roles of both the teams scorer and primary facilitator. It'll be fun to see the variety of ways his skill set can be unlocked going forward. Last note on Armstrong. His play back in 2016 earned him a top performer nod back at our Elite Preview camp. Our very own Justin Young saw the tools of a national talent.
"This was the first time the state of Georgia had a chance to see the Detroit, Michigan move-in up close and personal. Armstrong did not disappoint. The powerfully built 6-foot-5 wing made a strong first impression in the drill work and never let up from tip to finish. He has all of the tools the nationally-recruited players have. He was one of the few players that had a vote as a top performer from all of our coaches and all of our staff members. "

Other Chick Fil A news: Adrian Baldwin earns offers | Major duos shine as James Wiseman and Malcom Dandridge have a great showing 
Where's he at in the rankings?
Of all the talent that has come together this week at Richland Northeast highschool, the player that earned the "I would hate to have to guard him award" was Sunrise Christian forward N'faly Dante. From the low block his strength and feel was evident as he routinely buried defenders to then show off a smooth left shoulder hook. His dominance prompted me to ask the question of is he too low in our national rankings. Obviously, slots one through seven feature some of the most elite talent around, but the eighth spot didn't seem appropriate after watching Dante's performance. A player of Dante's caliber may prompt a slight reshuffling as he continues to put defenders underneath the charge circle. His recruitment is going to be interesting to watch as the countries best big man. 
Freshman Focus
After circling a name during the second day at Chick Fil A, I woke up on the third thinking that another viewing of St. Frances Academy(MD) was on my short list of priorities going forward. Of course Adrian Baldwin, and Jordan Toles name had been circled as well, but when a freshman has moments on a court that features several top 100 players, you tend to notice. Carlos Alexander is a name that mid to high major coaches are going to want to track as he progresses along the next 3 years of his high school career. I'll spend some more time talking about him soon.
South Carolinas sneaky good talent pool
Guys like PJ Hall, Myles Tate, and Dillon Jones are all established names here in South Carolina but a name that has been trending upward recently is Keenan forward Raekwon Horton. Rightfully so given his projection as a solid two way player that is still developing as a 6'6 junior. Wings with size, can guard multiple positions and keep you honest offensively aren't always easy to come by and yet Horton only remains with just one offer from Charleston Southern. The spring evaluation period is sure to produce more offers as he's not close to a final product. 
Quick thoughts: 
If there was an award for best on ball defender then Lakeside(GA) guard DyKese King would have to be in the running. His ability to turn ball handlers was second to none. 6'5 senior forward Tucker Gilbert could improve a NAIA programs backline skill. 17 points and 17 rebounds for the night. 
Murray State is going to pull all of the right things out of Independence forward Matthew Smith. And when they develop his perimeter game, watch out OVC. 
Baylor signee Jordan Turner has one of the smoothest games I've seen this month. Everything appears effortless but effective.
Salesian Prep just plays hard and smart. That's the highest form of a compliment I can give the team that just keeps grinding out wins. Watch them to see a throwback style game.
There have been talks of Addison Patterson reclassing to the 2019 class. Iowa and Ole Miss offered him during the event in what should be a highly contested recruiting battle regardless of which class he comes out in. A smooth scorer that has a ready made skill to contribute.