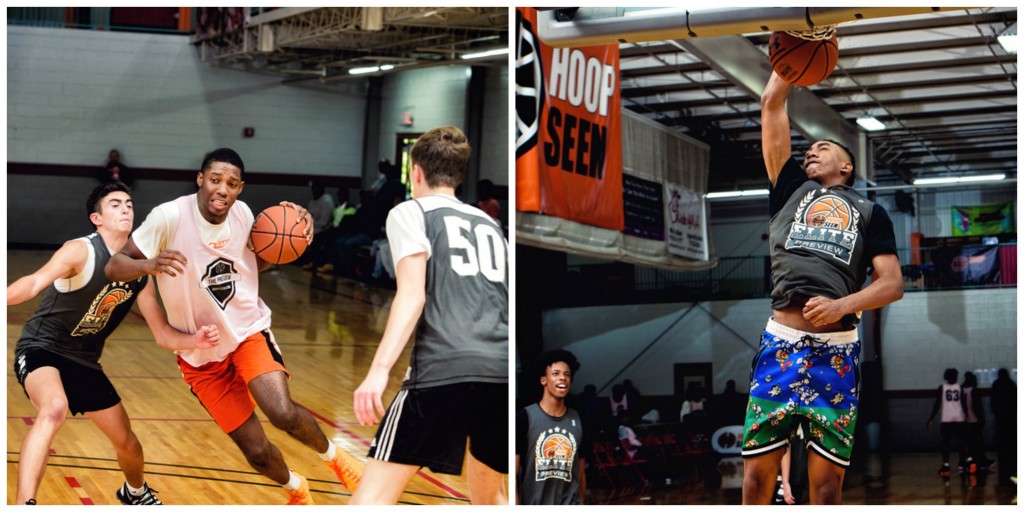 Three states. four camps. 375 players. Our preview camp series featured some of the top talent that South Carolina, Alabama and Georgia has to offer. We evaluated every prospect that played with us, but now that the smoke has cleared, its time to take the evaluations a step further.  
When you dump that much talent into a pot and try to come out with five players that stood out, well, that's a tough one to tackle. Our HoopSeen staff is up for the challenge as we name five players as the top prospects in their class. Without including some of the talented committed prospects that have played in our preview series, we now bring you the top 5 players in the 2019 class.  
Related: Top 2022 | Top 2021 | Top 2020
Justin Minter, CG, Wenonah (AL), 2019: There was a consensus amongst our staff in Alabama that Justin Minter was one of the more versatile guards in attendance. Shifting through multiple positions made him thrive in different roles without being pigeon holed. In transition, he mixed it euros, hop steps and aggressive finishes when he broke out in front of the defense. During those slowed down half court possessions, he was equally effective as a guard that could win one on one situations. Seeing all of the options on the floor allowed him to show off his gift as a passer. Schools from leagues like the ASUN and SOCON would be wise to get involved. 
Tay Watson, PF, Newnan(GA), 2019: In recent weeks, one of the more visited forwards by division 1 coaches has been Newnan standout Tay Watson. That's not surprising given his standout showing at our Fall Preview camp a few weeks back amongst a hundred of his peers. Athleticism, a high motor, and a good blen of skill were all wrapped up nicely in a 6'7 college-level body. Internally, our staff has compared him to a lot of division 1 forwards that have committed early in the southeast, and we often slide his name in front of theirs. A forward with such a high floor and good potential should no longer be overlooked.
Kamar Robertson, PG, Cambridge(GA), 2019: In both South Carolina and Georgia, Cambridge guard Kamar Robertson showed the feel of the point guard that we've all become accustomed too. Simple plays were made off of ball screens on a routine basis as even his flashy passes seemed necessary. Fundamentally he's sound regardless of the defense in front of him by not showing any lapses in his decision making. All fall his offensive prowess has been shown at a high level and his teammates have thrived off of his unselfishness. A coach at the Division 1 level will love this piece of the puzzle. 
Hunter McIntosh, PG, Greater Atlanta Christian(GA), 2019: Our Fall Preview camp was loaded with 2019 prospects that could greatly benefit a program at the next level. Hunter McIntosh fits that profile perfectly. A true team leader that has the skills to be a serviceable scorer and facilitator. His shot-making spreads out across 3 levels, making him a tough guard for many that line up in front of him. High academics and high character are also included in this well-rounded prospect. 
Ahmir Langlais, PF, Holy Spirit Prep(GA), 2019: Ahmir Langlais stook to his bread and butter at our Fall Preview as a do it all 6-8 forward. Several times his wide-ranging skills were on full display as he could affect the game in a variety of ways. A true jack of a few trades made him a tough cover as he could space out to the perimeter and move defenders around in the paint. The right division 1 program with an emphasis on player development could unlock a unique talent at the forward position.