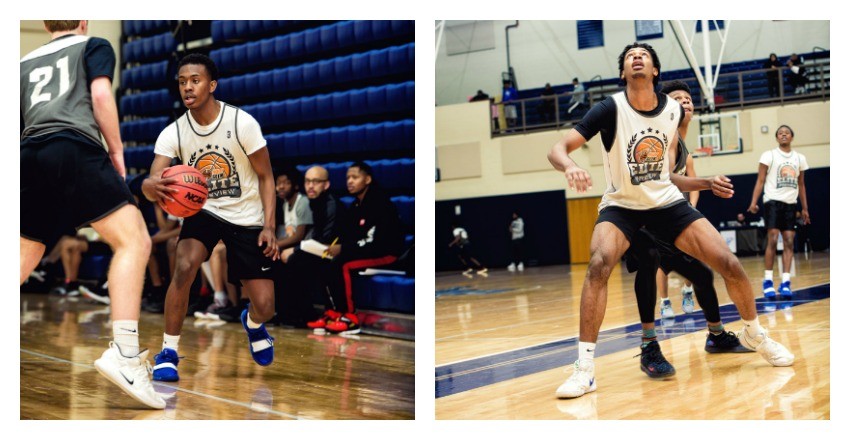 Our Senior Showcase was a terrific stage for the 40 or so colleges that came out for the day to see good talent. Here's a look at the players on Team 6.
Quadre Davis, Seminole County, 5-8, PG
A small point guard with good handles and confidence, Davis played well in several facets of the camp. he has a great attitude and was super coachable. Runs the floor very well and turned up the tempo with his play. 
Jakeem Faulkner, Cedar Grove, 6-4, SG/SF
A good ball handler with good length, Faulkner created opportunities when he had the rock in his hands. He shoots it well and challenged defenders with a very good pump fake.
Daren Patrick, Sprayberry High School, 6-5, SG
FROM OUR TOP PERFORMER STORY:  If there was a true separation guy - if you want to call it that - it was Patrick. His play opened a gap between the good and really good on Sunday. The long combo forward stretched the floor with his terrific shooting touch. He drilled three-pointer after three-pointer. He did an excellent job of spotting up and getting quality shots off. It was a consensus thought among our staff coaches and evaluators that Patrick will be a terrific signee for a program moving forward. Low-major Division I programs may want to take a deeper look at him, too.
Desmond Price, Franklin Prep, 6-2, SG
One of the most confident players in the camp, Price impressed in a number of ways. For starters, he was one of the few players in the field who took charges. Loved his toughness. He also shot it very well all the while being a pass-first guard. He is a really good on the ball defender. 
Hector Rosario, Duluth High School, 6-2, PG
A pass first point guard who always looked for others, Rosario was a great set up man. He's a really good on the ball defender that caused problems for the opposition.
Jahvon Sims, Campbell, 6-9, PF/C
A shot-changer and a shot-blocker, Sims was one of the best defensive big men in the camp. His length paired with athleticism and timing allowed him to be a problem in the paint all day long. He runs the floor well and is quick on his feet. He's raw offensively but certainly was a player that sparked a lot of dialogue with his play. Very intriguing long term guy. 
Lance Smith, Salem, 6-1, G/F
A strong bodied guard with a good burst and good speed, Smith shined as a slasher. On the defensive end of the floor, he made life tough for offensive guys. He was really good stopping the opposition. 
Tre Stafford, Loganville Christian Academy, 6-2, PG
Stafford did a nice job of working the passing lanes and getting deflections and sprinting back on defense to make a play. He let his defense create offensive opportunities for himself and for others. 
Chase Toomer, Peachtree Ridge High School, 6-0, CG
A good shooting guard with nice handles and speed, Toomer played well in the open floor. He got to the rim and scored in the paint as a finisher. Could be a nice pick-up for a college and grow on the defensive end of the floor. 
Jahsan Upshaw, Stanhope Elmore, 6-5, SF
A great rebounder and who sets great screens and played physical. He's a garbage man with skill. He always has his foot on the gas. Overall, he does his job very well.  Love how hard he plays. So did the college coaches on hand. 
TOP PERFORMERS | TEAM 1 | TEAM 2 | TEAM 3 | TEAM 4 | TEAM 5 | TEAM 6 | TEAM 7 | TEAM 8