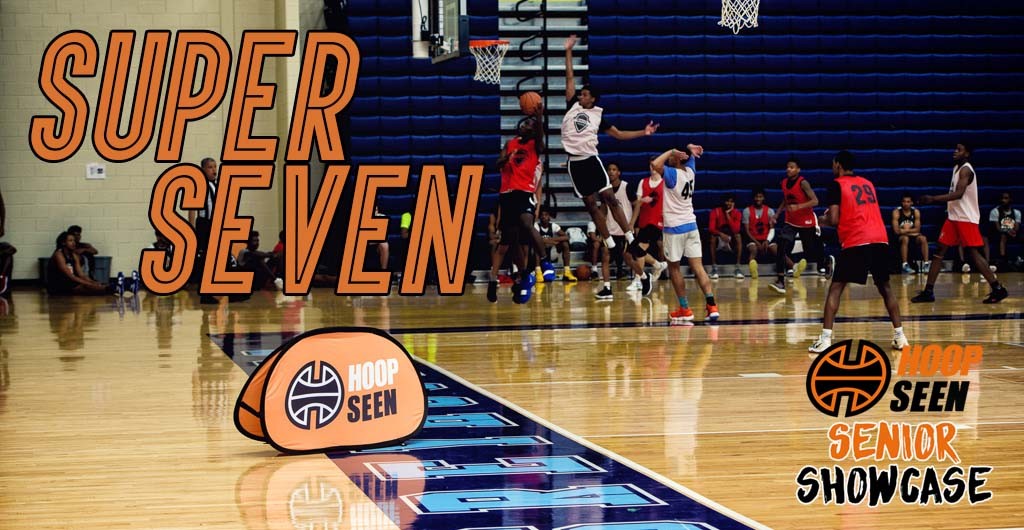 We've polled our coaches and our evolution staff and this year's Senior Showcase was really good from top to bottom. After complaining the votes, these players make up our Super Seven from the 2019 HoopSeen Senior Showcase. 
Josh Lusane, Americus-Sumter: Our Georgia AAAA Player of the Year played like such a title on Sunday. The 6-foot-7 big man was a consensus top performer selection from the camp and that shouldn't come as a big surprise. He was terrific from all spots on the floor and from both sides of the ball. Lusane was a three-level scorer. He was very good at setting ball screens and playing off the ball as a cutter. He has great hands as a rebounder. Lusane has a great feel for the game and defended multiple positions well. As his ball-handling improves, so will his ability to produce even more at the college level.

Nathan Presnell, Hiram: Across the board, our coaches and staff of evaluators thought the 6-foot-9 big man was one of the top two overall performers on Sunday. Presnell mixed it up as a paint producer, a transition scorer, a face-up shooter and a solid rebounder. Presnell can be a good pick and pop or a pick and roll post player at the next level. Overall, he was one of the top three performers on the day according to our staff of coaches and evaluators. 
DJ Patrick, Sprayberry: If there was a true separation guy - if you want to call it that - it was Patrick. His play opened a gap between the good and really good on Sunday. The long combo forward stretched the floor with his terrific shooting touch. He drilled three-pointer after three-pointer. He did an excellent job of spotting up and getting quality shots off. It was a consensus thought among our staff coaches and evaluators that Patrick will be a terrific signee for a program moving forward. Low-major Division I programs may want to take a deeper look at him, too.
Kamar Robertson, Cambridge: The best point guard in the camp played with his foot on the gas pedal and kept it mashed on throughout the day. He's a good, strong point guard. He can shoot the three and mid-range shots with ease. Robertson is good in the pick and roll and pushes the ball well in transition. He's at his best in the open floor. Robertson can help a Division I program and would be a nice addition as we head into April. 
Devin Evans. Duluth: We said coming into the camp that the 6-foot-7 forward from Gwinnett County would be one of the most intriguing players in the camp and judging by the conversations from the college coaches, that was certainly the case amongst the evaluators. Evans is one of the more intriguing players in the Southeast. The athletic forward has a frame ready for college. He's at his best in the transition game. Adept at passing, Evans was a tough guard because of his ability to move the ball all over the court. He's more prone to face up and score than he was to post up and go to work in the post. Overall, Evans was one of the most versatile players in the camp. 
BJ Knight, Peachtree Ridge: Knight was one of the best passers in the camp. He was always looking ahead and say plays before they came to fruition. His overall feel was one of his best strengths on Sunday. The 6-foot-5 wing is a good three-point shooter with a strong body and a great feel for the game. He showed that he could score inside and out throughout the camp. Outside of the game, he was very aware and locked in to coaching and instruction. We loved his attention to detail. Knight was one of the most coachable players in the camp. 
Nolan Causwell, Morgan County: There wasn't much debate about this thought - the 6-foot-9 post player may have the best upside of all of the prospects in the camp. There is still a lot to improve upon (strength, mobility and agility) but there are also tons of tools to sharpen moving forward. That's a good thing. Causwell has a nice touch on his shot. He played big around the basket on defense. He changed so many shots on Sunday and rebounded well above his shoulders. Overall, he left college coaches with plenty to think about. 
TEAM 1 | TEAM 2 | TEAM 3 | TEAM 4 | TEAM 5 | TEAM 6 | TEAM 7 | TEAM 8