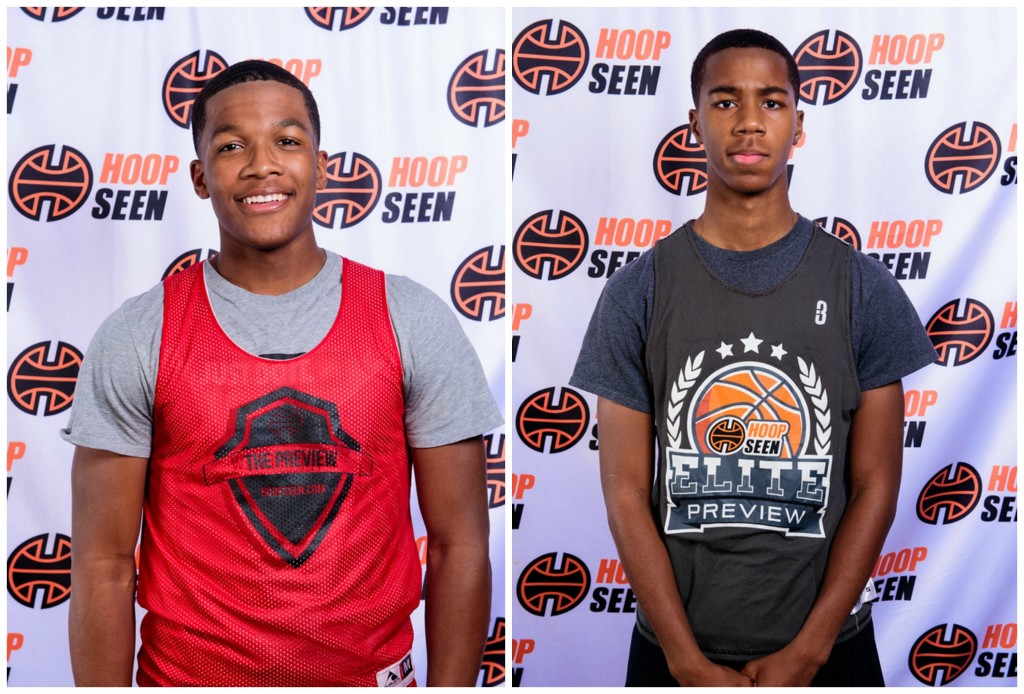 We had a full camp on Sunday for the 2018 Georgia Fall Preview. Each team was balanced with talent, size and grade levels. We begin our team by team evaluations today. Meet team 4
Maxwell Calloway, CG, 5-10, Newton High 2020: This combo guard has a knack for moving well without the ball and anticipating when he will find an open shot. Calloway made several shots from 3 and attacked defenders after they began to close out on him hard. There weren't very many forced plays as a solid decision-making lead upped his value as a ball handler.
Ebenezer Dowuona, C, 6-10, The Heritage School 2020: Shot blocking, dunks, and rebounding. All were things that landed Dowuona on our top performer's list. Read more here.
Alex Elliott Marietta, CG, 6'3, Mount Paran Christian School 2020: A high basketball IQ and a strong driving ability allowed Alex Elliott to find gaps as they were developing. A solid shake-up of moves was on display for the lefty as he could get to the elbows even after defenders locked in on his primary hand. A non-stop motor also helped as well as he often found himself guarding the other teams best perimeter threat.
James Glisson, PF, 6-6, SWD, 2019: If there was a ball to be dunked then SWD forward saw to it that it be done. Glisson's showing at our Fall Preview earned him top performers honors. Read more here.
Sabane Maiga, SF/PF, 5'10, Duluth High School 2022: While his shot didn't drop as much as he anticipated Sunday, all wasn't lost as Duluth guard Sabane Maiga did little things that impacted his team's win-loss record. Communicating defensively was one of our key points to camp and it appeared as if Maiga took that to heart as he provided a vocal presence for his team.  
Hunter McIntosh, 6-2, PG, Greater Atlanta Christian 2019: Being named the most coachable at camp was just the beginning for GACS guard Hunter McIntosh. His play earned him top performers honors. Read more of what our staff had to say here. 
Darnell Moran Jr, CG, 5'11, Shaw High School 2020: Another talented lefty on team 4, Darnell Moran provided his team with another stand still floor stretcher. Moran was often the beneficiary of some drive and kicks as he positioned himself well for pitch outs. Playing hard kept him involved in the action, even when he didn't have success breaking down defenders off of ball screens.  
Lamar Oden, 6-6, SG, Greenforest Christian Academy 2020: A potential double-double machine, Lamar Oden has the capabilities to be a stat sheet stuffer during his junior year. He impressed our staff and walked away with top performer honors. Read more here.
Chris Youngblood, 6-4, G, East Coweta 2020: Chris Youngblood made a statement at our Fall Preview as one of the more savvy players in camp. The ability to manipulate defenses and use ball screens was masterful at times as he routinely got what he wanted. A player at his size with his ability to handle the ball will allow him to a dominant scorer as he continues to learn how to mix up his moves and ability to shift gears. In the open court, there wasn't much defenders could do as Youngblood could lower his shoulder and carve out enough space to create easy finishing angles.