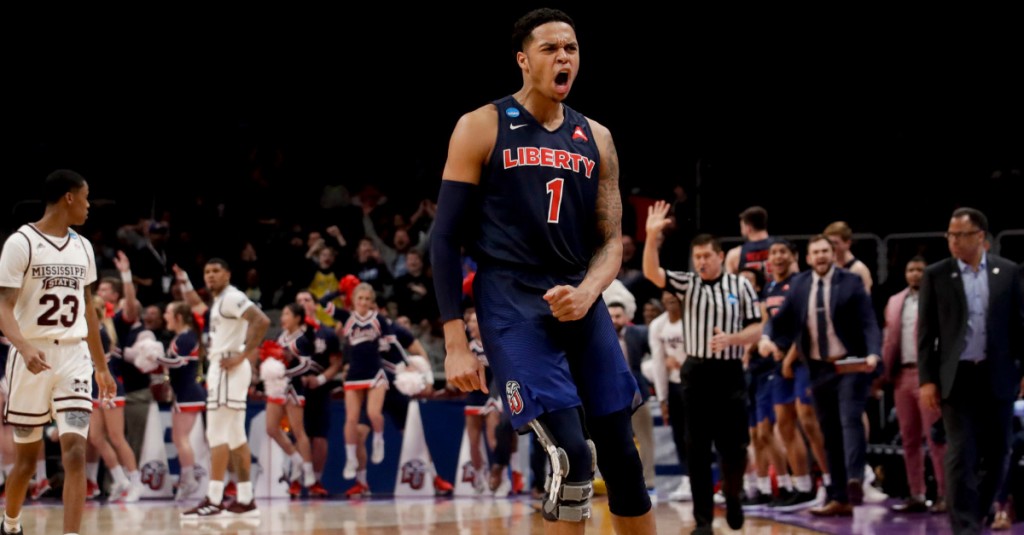 In this week's Just a Minute column, we look at some of the best talent in college hoops and how players don't need to shine on a shoe circuit. A pair of non-major schools picked up commitments of note. And there are a number of events you should be paying attention to this week nationally. 
HI, I'M NOT A SHOE CIRCUIT DUDE… 
Every week I'd love to feature a player in college basketball who didn't play on the circuit and having success. Because there are a lot of those players, more than shoe company marketing will have you believe. 
They are everywhere. Trust me. We'll highlight them often on this site. Today we look at Liberty's Caleb Homesley. The senior is the anchor of the 18-1 program from the Atlantic Sun Conference. The Flames have one of the best non-major teams in college hoops. 
And Homesley is one of the best players in non-major basketball. The 6-foot-5 lefty from Indian Trail, N.C. didn't play on a shoe circuit. He laced 'em up for the Carolina Hawks and played at events like our Havoc on the Hardwood in Winston-Salem in 2014. 
Nice week of work for 2015 SG Caleb Homesly of the Carolina Hawks. Versatile producer. 8 LM offers. #Havoc pic.twitter.com/tBlnXILqav

— HoopSeen (@hoopseen) July 25, 2014
His shooting touch is what got him to the next level. He picked Liberty over the likes of Abilene Christian, Appalachian State, Gardner Webb, High Point and Kent State. 
I asked our North Carolina editor Justin Byerly about the first time he saw Homesley play. He recalled: 
"I actually saw Caleb on accident when I was covering Myers Park HS senior guard Zaquan Matthews who would later sign with UT-Chattanooga. Porter Ride ended up winning the game by like 20 points and Homesley jumped on my radar. 
"I talked to former Carolina Hawks head coach Derrick Wall and he had this to say about Caleb: "I've known him since middle school actually. When I first met Caleb, when he came to play for my program, he was a 5-foot-4 7th grader that wore a size 12 shoe with long arms. He was a point guard that can shoot at that time, slow footed, but I knew he was very skilled and crafty with the ball. I knew he was going to be good player but didn't know he would grow as much as he did. Once he got to high school he was still your averaged size freshman at like 5-foot-8 but then going into his sophomore year he started growing. I played him up from time to time because of his skill set and IQ. By the time he was a senior he had around seven to 10 Division I offers." 
Homesley has been nothing short of great since he's been at Liberty. He's been a First Team All-Atlantic Sun player. He's lead the Flames in scoring. He was named Mid-Major Player of the Week, ASUN Player of the Week, and has endured several knee injuries only to be reslient enough to help his team win in the NCAA Tournament. 
Stories start at every level. 
TAKE NOTE OF THESE COMMITMENTS
There were a couple of commitments over the past week that may go unnoticed but shouldn't be. There are players scattered about in non-major conferences who have "where did HE come from" types of stories. These two could fall under this category. 
While neither Shannon Grant of Johnny O'Neil are big names in the regional recruiting conversations, they both possess talent that should grow and thrive with further coaching at the collegiate level. 
Let's start with Grant. The Alabama big man was trending at our Best of the South. He's a load down low and Mercer needed some size. There needs to be some development here but there is a lot of productive talent that Grant brings to the table. Derik Williams wrote about that in July: 
Not sure how someone 6'10 and well over 250 pounds can go under the radar, but that was the case with the Alabama Celtics big man. After a strong showing during 2019 Best of The South I'm sure not many will continue to look past the mountain of a young man. He posted 3 double doubles during the weekend and showed he can hold his own amongst some of the most talented big men in the country. 
O'Neil, a 6-foot-7 stretch four from Chaminade Madonna in Fort Lauderdale, announced his commitment to American on Sunday evening. He was one of the best sleepers I saw on our 2019 circuit and followed up that thought with his play at the Hoop Exchange Fall Festival. He's a good face-up four man who can shoot and score from multiple spots on the floor. 
American needed some frontcourt help and someone who can stretch the floor. O'Neil is that guy. He could develop into a quality player in their rotation and potentially a starter in the Patriot League. 
DREAM CHALLENGE ON TAP 
The MLK Dream Challenge is a week from today at Maynard Jackson High School. The day has a strong schedule throughout the day and I'll be there for the action. There are nine games on the slate, starting at 9 a.m. The last game is scheduled for a 7:40 p.m. start. 
The best match-up of the day is the East Coweta vs Tri-Cities match-up. You're going to find some fo the most competitive teams in Georgia going at it in this game. In a perfect world, a match-up of Kennesaw State bound Chris Youngblood of East Coweta and Tri-Cities top junior Peyton Daniels would be outstanding. Youngblood is an elite defender while Daniels has stone cold killer shot-making ability. 
We will have coverage on our HoopSeenGA Twitter account throughout the day. 
I will be in Atlanta for the Dream Challenge, one of my favorite day's of the HS season. Join me, ATL Hoop Heads! Action is at Maynard Jackson HS all day. Nine games. pic.twitter.com/8v5VY0XumV

— Justin Young (@JustinDYoung) January 13, 2020
HEAVY HITTERS AT THE HOOPHALL CLASSIC 
The rematch of Montverde and IMG is scheduled for 730 p.m. on Sunday, Jan. 19 in Springfield, Mass. Pound for pound, these are two of the most talented teams in the nation and two of the biggest. This event will feature no less than 50 nationally-ranked players in the action. 
A good majority of the game action will be broadcast on ESPN3 and/or FloHoops. HERE is the schedule.
OTHER NOTABLE EVENTS TO WATCH
Our annual coverage of the Flyin' to the Hoop in Dayton, Ohio will tip off on Saturday. Tai Young will make his way back to the event and be on hand for the action. Schedule
The Bass Pro Tournament of Champions is also going on this week in Springfield, Mo. Now in it's 36th year, the event is one of the best atmospheres in high school hoops. Schedule
The Wally Keller Classic tips off on Friday in Punta Gorda, Florida. Oh, just 19 games in two days. If you're in the Sunshine State, this is always a great event to be at. Schedule
RELATED: Just a Minute Jan. 6 | Throwback Thursday: Jonathan Isaac
Our HoopSeen stage is designed to provide the best exposure opportunities for top independent programs. Tons of coaches, social media exposure, and elite competition are some of what you'll find at our events. For more information on our 2020 events, visit our events page, or call our hotline at 470-266-8862.