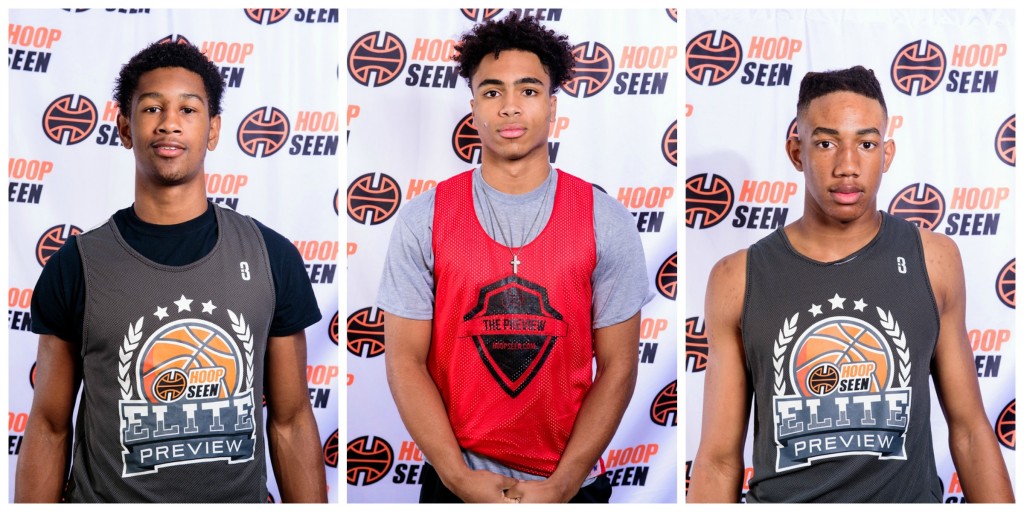 It was an exciting day at our Fall Preview as 160 players from all over the Southeast gathered for a chance to compete against some of the best. As our staff continues to roll out top performers and team by team breakdowns, we decided to take a minute to hand out some individual awards. 
Best available prospect: Kamar Robertson
An injury in July took Kamar Robertson out of the mix just as he was starting to gain more traction with college coaches. A great showing against many of the states top players should certainly get the ball rolling again as Robertson earned top available prospect honors. What programs would get is a player that plays like his grades suggest he should. Very few mistakes for the high academic prospect as he makes sound decisions with the ball in his hands. His utilization of ball screens was second to none as he understands reads and knows how to manipulate defenses into favorable situations. Shot making is never an issue as Robertson can utilize a fluid stroke to make defenders pay from deep. A little bit of an in-between game can shine through at times as he uses his body to get just enough separation for floaters and tough layups. Robertson has a great grasp of how to run a team and deliver points when called upon. He's a solid get for a program looking for a steady extension of their head coach.  
Best 2020 prospect: KD Johnson
Sometimes a player comes to camp with the intentions of making sure everyone there knows that he's the top dog in attendance. With his chin held high and snarl on his face, KD Johnson proceeded to rip through defenses on his way to top performer honors. High major programs have started the push early for Johnson but what will always separate him is that he plays with the grit of an unsigned senior. 
Best 2021 prospect: Matthew Cleveland
Our staff has continued to beat the drum of Matthew Cleveland with the hopes that more will begin to take notice going forward. There's no end in sight for that as the Cambridge-Hype Hawks product continues to elevate his game to new heights. There's an overwhelming amount of potential dripping throughout the long limbs of this 6'6 scorer as he enters his sophomore season of high school. To read more on his day at our Fall Preview, check out or top performers. 
Best shooter: Matthew Davis
The phrase "even the misses look good" was something I uttered a time or two when mentioning the shooting touch of Northview junior Matthew Davis. The stroke is pure and without hesitation, making even a hand in the face seem like a wasted effort. Even after a hard closeout, Davis put the ball on the floor for a few bounces and raised up over the help. While some run fast and jump high, Matthew Davis's next level niche is his pin-point accuracy from deep.  
Best motor: Ja'Queze Kirby
Rewinding back to last years Elite Preview, a parent stopped me and wanted to complain about how hard a certain guy was playing. "There are no coaches here, why is he playing that hard? I just don't understand why he thinks its ok to run around crashing into people like its a championship game" Fast forward to this year and not much has changed about the mentality of Jeff Davis forward Ja'Queze Kirby. 50/50 balls turn into 80/20 splits. Unclaimed rebounds turn into 2 handed above the rim tear downs. Lazy layup line attempts at the rim can be obliterated with backboard pounding swats. If you can't match his intensity then you probably don't have a chance. There's been an obvious improvement on the offensive side of the ball, but his best attribute is still wanting to do the dirty work that others are to clean to do. 
Most coachable: Hunter McIntosh
In Georgia, we all know Hunter McIntosh as a major contributor for GACS state title run last year and one of the states top availables. But now, after talking with several members of our camps coaching staff, we should also think of him of one of our camps most coachable prospects. It's a unique situation for coaches and players alike. A one-day event requires for a player to stay engaged with many voices and deliveries of information that he may not be accustom too. To be named most coachable requires a player to have an outstanding sense of awareness, eagerness to learn, and to be humble enough to take away the lessons taught from our staff. Hunter McIntosh checked off all those boxes, thus giving him even more value with college coaches. 
Stock Riser: Tay Watson
It happens every year. As our staff starts to put our rankings together, a kid plays in front of us for the first time and makes us reshuffle the entire deck. There have been several Division 1 forwards find homes in this 2019 class and Tay Watson could be right there in the mix. As dominoes have fallen and Division 1 programs scramble to find the next up, expect Watson to creep into the discussion of a prospect to check in on. For a one day evaluation, Watson left a lasting impression with our staff. Read more about his day here.