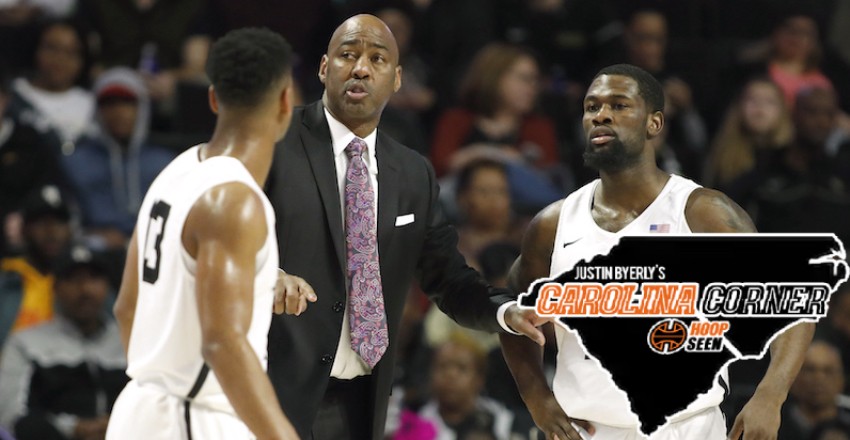 In this week's Carolina Corner we take a look at a coaching change at Wake Forest and it's ramifications, some North Carolina commitments, a South Carolina guard picking up steam, Andy Poplin is coming home and more.
Wake Forest Search Begins
Danny Manning held the head coaching position at Wake Forest for the past six seasons. He was let go this past weekend after finishing 13-18 overall last season. The search is on for the next Head Coach at a school that has had some success in the ACC in the past 30 years along with many players that have gone on to become NBA All-Stars.
If I was Athletic Director John Currie, I would not  be looking too far from the East or from the West of Winston-Salem.
To the West, you have Steve Forbes at East Tennessee State. Just over the border in Johnson City, Tennessee down I-40 and a short spin up I-26. Forbes has won and won a lot at ETSU. This past season, the Buccaneers won their second Southern Conference tournament title and advanced to the NCAA tournament for the second time in his short tenure. Forbes has been all over the country as an Assistant Coach and as a junior college Head Coach. He should be one of the top candidates for the job.
To the East of Winston-Salem and only 20 minutes away down I-40, Wes Miller has to be at the top of the list. The UNC-Greensboro Head Coach has been at the helm since 2011. His career record at UNC-Greensboro is 164-126 all at UNC-Greensboro. The former North Carolina and James Madison player held an Assistant coaching position at Elon and High Point before taking over for the Spartans. He has strong ties in the recruiting world around the Southeast and is only 37 years old.
Miller and his staff do a great job of recruiting the state, on the other hand, so does Forbes and his staff recruiting North Carolina.
One of these two will get the job, just a matter of if Currie goes with a younger coach or an older. Both can triumph and succeed at the ACC level.
Manning Departure Ramifications
6-foot-10 forward Jaylon Gibson and 6-foot-5 point guard Djimon Bailey have both asked out of their letters-of-intent for the upcoming season with the news of Manning's departure.
Gibson who broke out this travel season playing with UC 27 quickly became one of the top big men in the country with his blossoming skill-set and his ability to handle the ball and run the floor.
At our Bob Gibbons Tournament of Champions, Gibson was named one of the three best players we saw after the event playing with UC 27.
Gibson's AAU coach, Deshannon Morris told HoopSeen that Gibson has heard from Maryland,Iowa,USF,   Houston,Syracuse, UNCW, Providence, Miami, Cincinnati, Louisiana, Louisville, Pitt, VCU, Boston College, Georgia and Texas A&M. Gibson earned a nod on our Who Recruited North Carolina the Best series earlier this year.
Bailey, from Greenfield School in Wilson, North Carolina has asked for his release and are awaiting feedback from the athletic department. Bailey spent this past travel season with Garner Road and was named to our NCISAA 1-A All-State team.
Poplin Returns Home
Andy Poplin has been a fixture with Team CP3 on the Nike EYBL circuit for years and has been the head coach at Hickory High School for the past seven seasons. He had an overall record of 158-40. 
Poplin led Concord High School to the state finals in both 2006 and 2007, winning it all in 2007. Poplin heads back home to the Charlotte area to take over for legendary head coach Shelwyn Klutz who resigned after a long tenure.
Poplin has built relationships in the Charlotte area for a long time and will have one of his CP3 players for AL Brown in 2021 guard Kheni Briggs. 
Beadle Picking Up Offers
Cardinal Newman (SC) guard Joshua Beadle has been the topic of conversation on a good amount of phone calls I have received during this down time. He has the length, the size and the scoring ability to make it close to the high-major level. Two months since he led his Cardinal Newman squad to a SCISAA state championship, Beadle has seen his recruitment at the mid-major level pick up two new offers.
New Head Coach Takayo Siddle at UNC-Wilmington offered and Will Jones from North Carolina A&T offered today. The 6-foot-5 Beadle is a playmaker on both sides of the ball and can score against smaller guards with his ability to shoot over them and get into the paint.
Blake Makes Decision
One of North Carolina's most prolific scorers has decided where they will play their college basketball.
First Flight High School's Dylan Blake will suit up for Joe Dooley and East Carolina University next season as a preferred walk-on. The 6-foot-1 Blake scored over 2300 points during his career. Blake had offers from High Point University and Young Harris University.
The smooth shooting guard has a knack for making shots from beyond the three-point line and is also one of the best defenders in the state on a team that held it's on against some of the power teams around the state this past season.