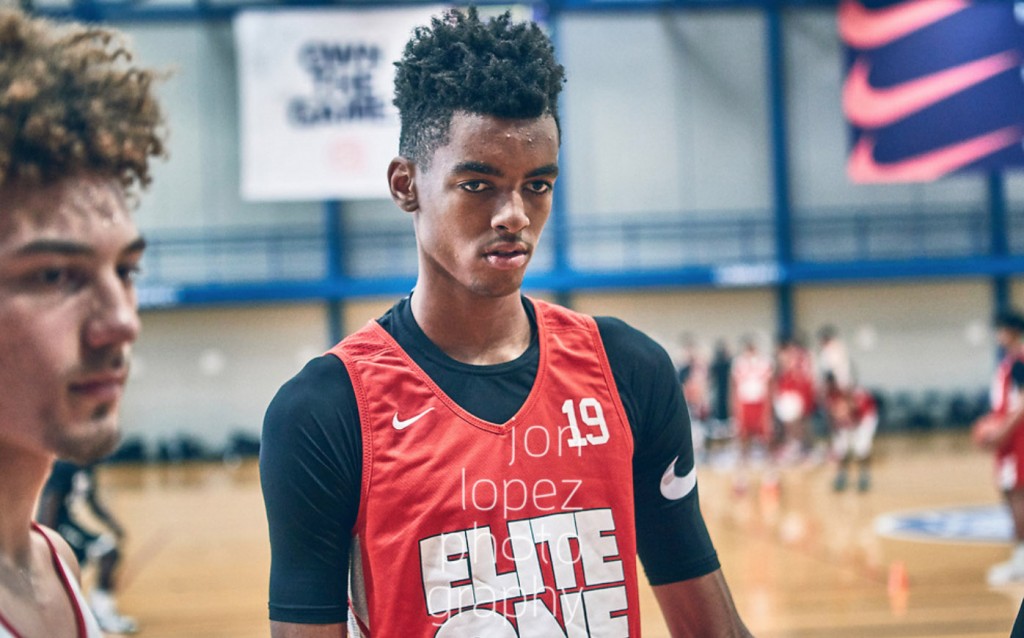 ST. LOUIS, MO - The 2019 Nike Elite 100 was loaded. Just absolutely loaded. And the big dogs barked louder than anyone else. When the star power plays to its potential, that makes for a great week of work for everyone involved. Who were to the top overall performers from the invite-only Swoosh Summer Camp? These are Justin Young's top dog picks. Meet the first round of the top performers.
2022 Emoni Bates, WF, 6'8" (pictured)
Lincoln High School | Ypsilanti, MI
What a dominant prospect he is. Absolutely dominant. We talked about his game after the opening full day of action. Bates has so many tools that just make you stop what you're doing and watch in awe. With the NBA Draft more than likely open to high school prospects in a couple of years, the NBA scouts were on hand to see the next wave of amateur talent. Bates gave the on-lookers plenty of things to think about long term. He had flashes of a young Kevin Durant. Yes, he's that good. Dating back to Zion Williamson, in HS at the same age, I haven't been this blown away with a player quite like I am with Bates. He's a terrific player with one of the best and brightest futures for any amateur player in the world. 
2021 Jonathan Kuminga, SF, 6'7", 217
Our Savior New American | Bedford, NY
We saw the full array of five-star talent from Kuminga and as the grassroots world of hoops mavens dialogues about who the top player in the class of 2021 should be, the native of Congo certainly made his case for such an honor. Kuminga turned his beast mode on and went to work in St. Louis and played like a guy who was ready to take on all challengers. There wasn't a "hey, let's be friends" attitude to his play. It was all business and Kuminga stood in the middle of the ring and jabbed away at anyone who tried to challenge him and the top spot. Loved that competitive drive from him. His first step explosion was the deadliest move of any camper from the weekend. Kuminga delivered and didn't disappoint. 
RELATED: 2019 Nike Elite 100 Top Performers, Part II
2021 Chet Holmgren, C, 6'11.5", 183
Minnehaha Academy | Minneapolis, MN
I value unique in every phase of life. With hoops, unique means everything. How do you stand out versus your peers? How do you leave your mark? Holmgren is next level unique. The near 7-footer is a terrific mixture of shot-blocking, rim-protecting, offense stretching and three-point shooting. His body type is long and lean like Bol Bol. He's aggressive for a player with such a thin frame. He wants to defend better than anyone on the floor. And his jumper? Man, is he confident from deep. And good. Really good. Holmgren is such an interesting player, you just have to see him to appreciate his current and long term value. Fun player to watch. 
2021 Langston Love, SG, 6'4", 205
Byron P. Steele High School | Universal City, TX
I thought he was one of the top overall guards in the camp and he got better every day of the camp. Love mixed his perimeter game with good off the bounce shooting, attack mode drives to the rim and explosion on both sides of the floor. He played like a middle linebacker and was always looking for an opportunity to use his great frame to his advantage. He was one of the best attackers in the camp. Competitiveness is a skill and Love masters that. 
2021 Khristian Lander, PG, 6'2", 169 
FJ Reitz | Evansville, IN
The lefty plays fast and balanced with good pace in the half court and in transition. I loved everything about his game. He has a good shot and loves to convert in the corner as a shooter. Lander works to get the rim and plays with a great explosion. He can absolutely fly when he gets a clear path to the rim. His burst is fun to watch and he uses it very well. Lander plays with a fire in his approach.