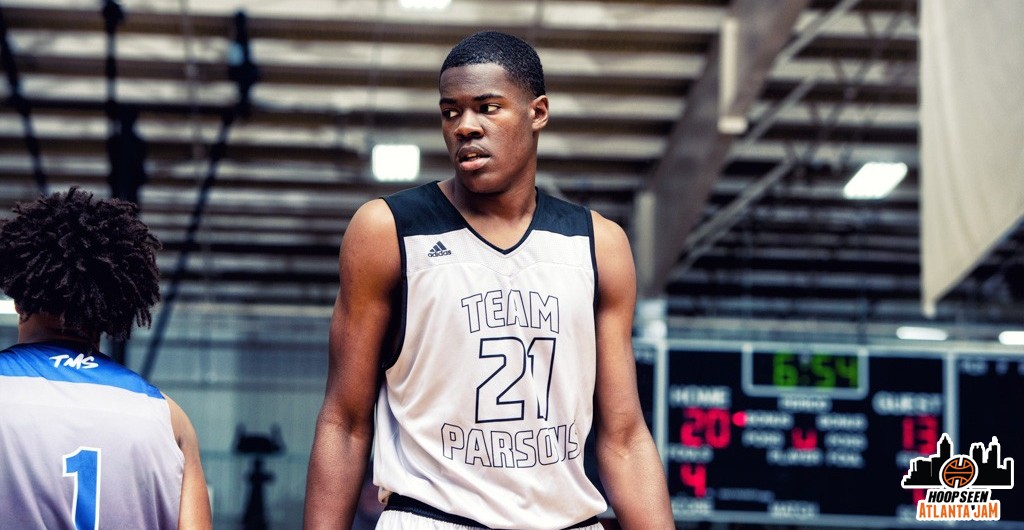 The Atlanta Jam has consistently been a stage for unsigned seniors to play their way into a scholarship. Our Justin Young continues to roll through his notes from the NCAA Live Period event. These three players stood out on the big spring stage. 
Wylie Howard, C, Team CP25 (FL) pictured above
The big man is a huge presence in the paint and strong enough to hold his ground. Defensively, he's a presence to say the least. But he's a project and probably will be even deep into his college tract. There isn't a lot of size left in the 2019 class and there certainly isn't any size quite like Howard. He's a project and you'll know that right away. But the long term payout may be worth it for those looking for big size in 2019. 
Jalen Ware, SF, Team Phoenix Elite (NC)
I thought he was one of the very best unsigned seniors I saw at the Atlanta Jam. Ware runs the floor very well and looks like a fluid athlete who can play well above the rim. He's a good shooter and has some creativity to his game. He told our staff that he's looking at going to Hargrave Military, Fork Union and Massanutten for a prep year next year. I think he could really emerge after a year at a military school. Truthfully, I could see where he could end up sparking interest at a high-major school because of his positional size and upside. A lot to like here.
Marlon Allen, F, TNT HoopSquad 2019 - Bromwell (FL)
The 6-foot-6 forward had a motor that just didn't quit. He was a match-up problem throughout the event and he just punished defenders with his physical brand of basketball. He went hard for 32 minutes a game. Allen scored most of his buckets in the paint but he proved himself as a face-up scorer out to the three-point line. As a defender, Allen was ready to body up another player and he used his size very well to grab rebounds and start the break. Ideally, he could really shine at a junior college before a transfer up. 
RELATED: Top Georgia availables | Top overall availables