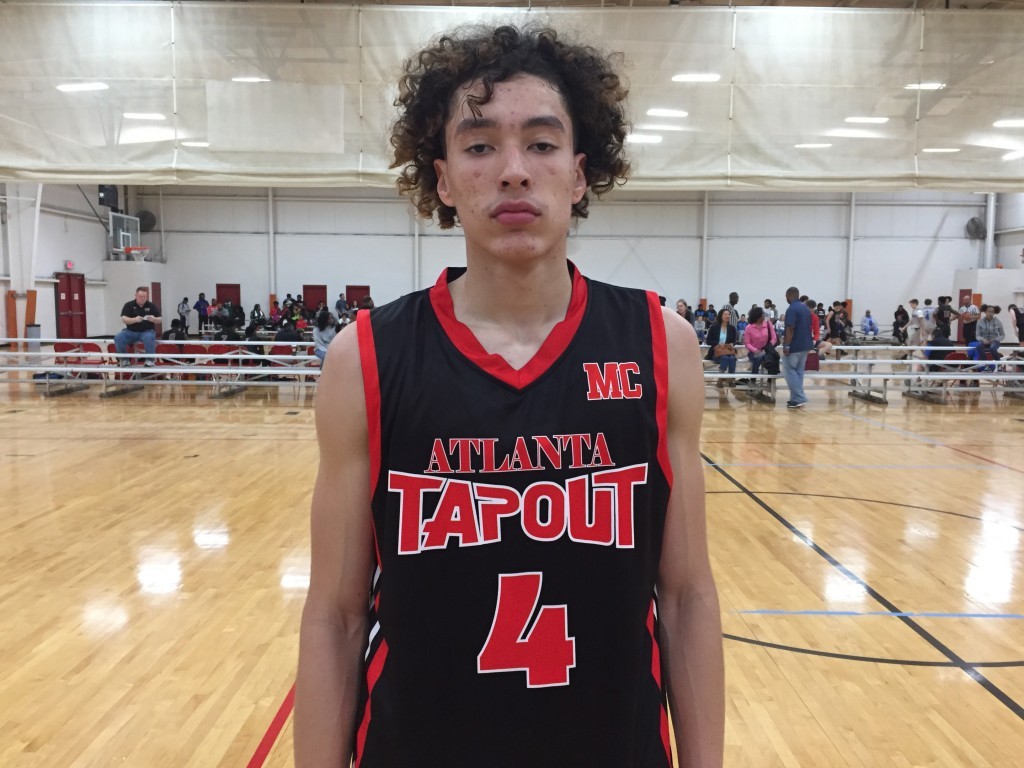 The first Georgia Cup of the season was full of impressive players. The Cup stage allows our staff a good, long look at prospects in an intense setting. A good number of players stood out to our Justin Young from the weekend. Here's a deeper look into his evaluation notebook. Who stood out? These guys certainly did.
Jusuan Holt, Atlanta TapOut Black, 16U (pictured above): After his stellar showing in the Class A Private state championship game, Holt turned it up at the Georgia Cup I. The 6-foot-7 forward knocked down 10 three-pointers over the course of the weekend and averaged 18 points a contest. He's one of the more intriguing prospects in Georgia's 2022 class because of his size and versatility. St. Francis has always had a go-to guy on their state-championship level program. Holt is looking like he's ready to be the next in line. We saw that with TapOut over the weekend.
Jaylen Jackson, Team Forrest, 16U: The bouncy forward from Atlanta Westlake was an eye-catcher because of his strength and bounce around the rim. The 6-foot-5 forward plays bigger than his size and bounced his way to buckets in the paint. There is a raw energy to his game that makes you want to see more of him this travel season. 
Griffin Neville, Atlanta Timberwolves, 17U: The point guard helped pilot his club to a championship and was outstanding in the championship game against Team Forrest. The 6-foot-2 point guard was a brilliant mixture of passing and scoring on the championship stage. He was just terrific in the victories. There is a layer of toughness to his game that should attract various levels of schools in April at the Atlanta Jam.
Ross Shephard, Marietta Elite, 17U: The 6-foot-6 from Pope (GA) High School was a nice mixture of inside-out from the power forward position. He stretched the floor with his three-point shot and was crafty around the rim to make things difficult for defenses. Shephard ran the floor well and played well in the paint as a rebounder.
Shone Webb, NE Georgia Warriors, 17U: The long-armed class of 2021 guard is coming off a state championship game with Hart County High School. He started his travel season with an impressive bang. Webb is a terrific three-level scorer and he has the length to cause problems on the defensive end of the floor. There's a lot to like with what Webb can become in time. Very nice first impression on the 2019 travel circuit.
RELATED: HS All-Tournament Georgia Cup I | Eye Catchers Part I