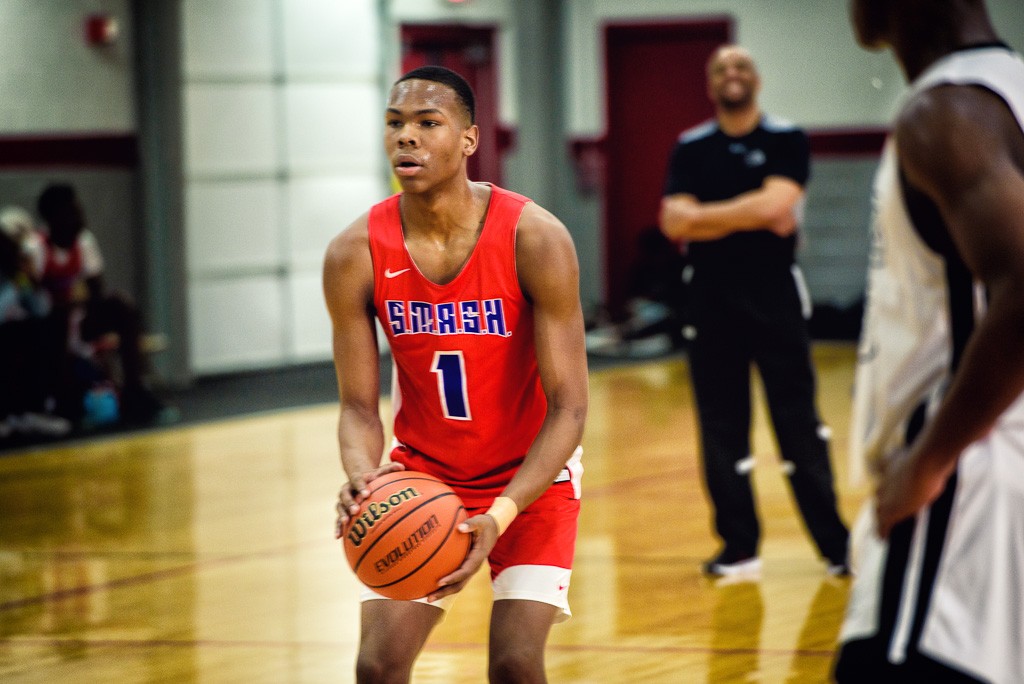 The first Georgia Cup of the season was full of impressive players. The Cup stage allows our staff a good, long look at prospects in an intense setting. A good number of players stood out to our Justin Young from the weekend. Here's a deeper look into his evaluation notebook. Who stood out? These guys certainly did. 
Kalib Clinton, Team S.M.A.S.H., 16U (pictured above): The 6-foot-4 wing forward was outstanding over the course of the Georgia Cup. The Jackson County junior has a terrific basketball frame, a terrific instinct on how and when to attack the rim, he proved himself as a player who could get to the foul line and win from the charity stripe. His ball-handling and feel for the game is impressive, too. Clinton impressed in a big way on the Georgia Cup stage and we are looking forward to seeing what's next for the class of 2021 prospect.  
Tyree Curry, Montgomery Fire 16U: I loved his defensive intensity in his match-ups. The 6-foot guard got right into his man and caused havoc as an on-the-ball defender. He was intense and intentional with as a ball-pressure guy. He shined as a deny guy, too. I'm not sure I saw I more focused defender in the games I saw at the Georgia Cup I.
Dominik Henderson, Ga Go Hard 15U: What a fun player to watch. Henderson had a very nice weekend of work for Georgia Go Hard. He's fast but controlled. He's long and versatile in the backcourt. The Albany, Georgia prospect got to the foul line with little trouble and really made things difficult for defenders. South Georgia always has good, young prospects. Henderson has the tools be a guy to watch moving forward.
Jack Kostel, Atlanta Timberwolves, 17U: Last year we saw Alex Kelehear do work for the Timberwolves in the backcourt. This year we'll see a lot of Kostel doing the same kinds of things - scoring, passing, creating, shooting and leading. Kostel was the steady anchor to a terrific team run to the title in our 17U division. He's a rim attacker and got to the foul line, scored from three and ran his team efficiently.
Kedarieon Rabb, AOB Elite 16U: The 6-foot-4 wing was a nice revelation for our staff. The 6-foot-5 wing averaged a cool 18 points and (an estimated) 10 rebounds a game at the Cup. He's an impressive prospect in the paint and showed some touch out to the three point line. Rabb is a strong player to guard the 16U level and was one of the better class of 2021 prospects we saw in the field.
RELATED: HS All-Tournament Georgia Cup I | Georgia Cup I eye-catchers Part II