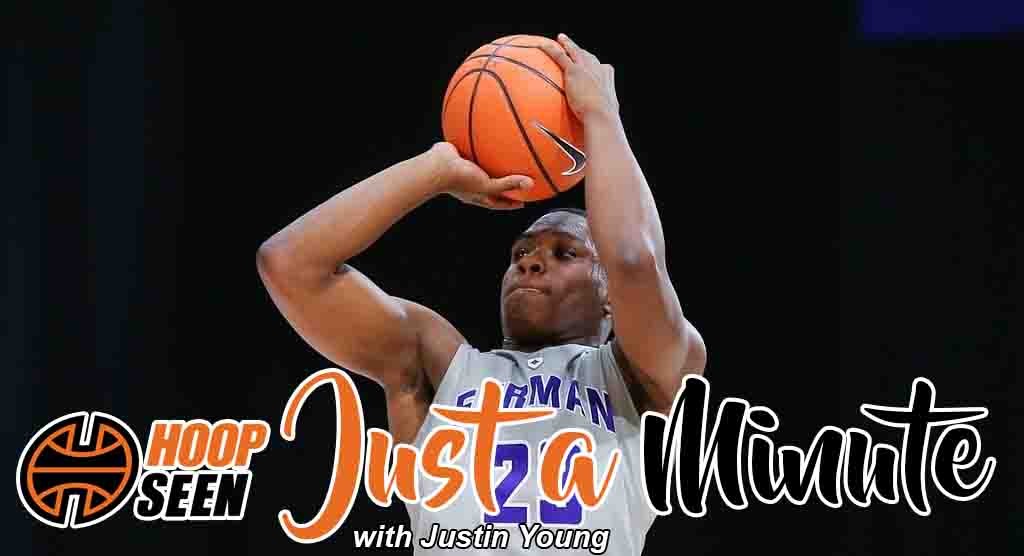 Happy Thanksgiving week, one of the best weeks of basketball around. This week we dive into the play of one of Georgia's best 2020 players, Furman's success to start the year, how some of the biggest schools remain the strongest in Georgia, a top big man on the board and a commitment of the week. 
SMITH SURGING 
Deivon Smith is a special talent. He's so es The class of 2020 point guard is the new go-to anchor in the Grayson backcourt. He shined over the weekend for the Rams and made a strong impression at the Hawks Naismith Tipoff Classic at Maynard Jackson High School. 
Smith scored 16 points, grabbed nine rebounds and handed out seven assists in a big win over Dutchtown. We spoke after his dazzling performance. 
Post game interview with 2020 PG Deivon Smith. He was terrific in his @graysonhoops win. pic.twitter.com/E3JhMB4WSZ

— HoopSeen Georgia (@HoopSeenGA) November 17, 2018
His blend of athleticism and skill is a terrific combo. He told me he held offers from UAB and Old Dominion on Friday. Since then, Florida and Hofstra have offered. Alabama, Butler, Georgia, Georgia State, Miami, VCU and Cincinnati came in to see him this fall. 
FURMAN THRIVING WITH THE JORDAN RULES 
Google searches have risen for the phrase "What is a Paladin?". Why? Because the Furman basketball team is making some noise early in the season. Furman travelled to Philadelphia and beat No. 8 Villanova 76-68 in overtime last week and now the Paladins are 5-0. 
Furman is 2-0 against Final Four teams from last season. The Greenville, S.C. team beat Loyola Chicago 60-58 on the road earlier in the season.
One of the reasons why is the play of junior guard Jordan Lyons. He tied a NCAA record by connecting on 15 made three-pointers in a win over North Greenville. The Peachtree City, Georgia native is averaging 23.4 points a game this season and he's connected on 28 three-pointers already. 
Lyons was a HoopSeen All-State selection and one of the key members of the best graduating class from McIntosh High School. Lyons was a four-time competitor at our Elite Preview camps. 
I wrote this about Lyons in 2015 after his terrific weekend at the Bob Gibbons Tournament of Champions: 
"We know this much about Lyons already - elite shooter, elite scorer, elite winner, high basketball IQ, absolutely produces and can change a game with his three-point range. We saw all of that at Gibbons. What continues to improve but not discussed enough is his improving athleticism and, moreover, how he is using it to add new dimension to his offensive game. Lyons has shown more of an attempt to score in the paint and at the rim. He's finding more success than every before. A more diversified approach has expanded his production. It has been fun to watch play out." 
Some things never change. 
PEAAAAAAACH POWER
If there is any doubt about the strength of talent of teams in AAAAAAA in Georgia, just take a look at the results from last week. 
McEachern beat Westlake, a top 10 team in AAAAAAA. Grayson beat Dacula, a top team in AAAAAA. Discovery beat SW Dekalb, the top team in AAAAA. Wheeler knocked out Norcross, my top overall team in AAAAAAA, on Saturday at the House of Blue. 
Mountain View beat East Hall, a top 10 level team in AAA. Lambert beat Woodward Academy, a state contender in AAAA. Pebblebrook took care of AAAAA power Cedar Shoals. No. 1 GAC went down to Peachtree Ridge. Duluth knocked out Holy Innconents' at the Hawks Naismith Tipoff Classic. Shiloh beat Langston Hughes. Newton beat Heritage Conyers. South Gwinnett beat Tucker. Roswell beat Redan. 
That's a monster run of wins for AAAAAAA teams over other Georgia state tournament level teams. It was a clean sweep against different classifications and there will be some shakeup with the Wheeler win over Norcross. 
What does this all mean? It means we are in store for a terrific regular season and beyond in Georgia. 
BEST AVAILABLE: Nathan Presnell, Hiram 
Now that we are back into the high school season, don't be surprised to read more about 6-foot-8 forward Nathan Presnell from Hiram. 
Presnell was an all-state selection for us last season after his dazzling junior year at Hiram. He's also a quarterback on the gridiron. The two-sport star is a Division I basketball talent. And in a year where big men come at a premium, he should have plenty of opportunities at the end of the year. 
He shined at the Hawks Naismith Tipoff Classic, according to Tai Young. 
North Florida, and Mercer have shown interest in 6'8 Hiram forward Nate Presnell. One of the more versatile forwards left available in GA.18 points and 14 rebounds here @HawksNaismith pic.twitter.com/ogBMUmsTXn

— Tai Young (@TaiYoungHoops) November 17, 2018
As teams continue to look for talent in the 2019 class, Presnell's ceiling should fall somewhere around the SoCon. He's worth a trip for any program looking to add some athleticism and skill at the power forward spot. 
COMMITMENT SPOTLIGHT: Donnell Nixon (Buford) to Wingate 
We saw one of the most significant signings of the 2019 class go down. Buford point guard Donnell Nixon inked with Wingate. That's a significant signing, folks. Nixon is a tremendous player. He's a top 30 prospect in the class here in Georgia and one of the very best floor generals to suit up for Eddie Martin. 
Nixon was one of the very best players on our HoopSeen circuit in 2018.
Archived Just a Minute with Justin Young 
November 4, 2018 
November 12, 2018