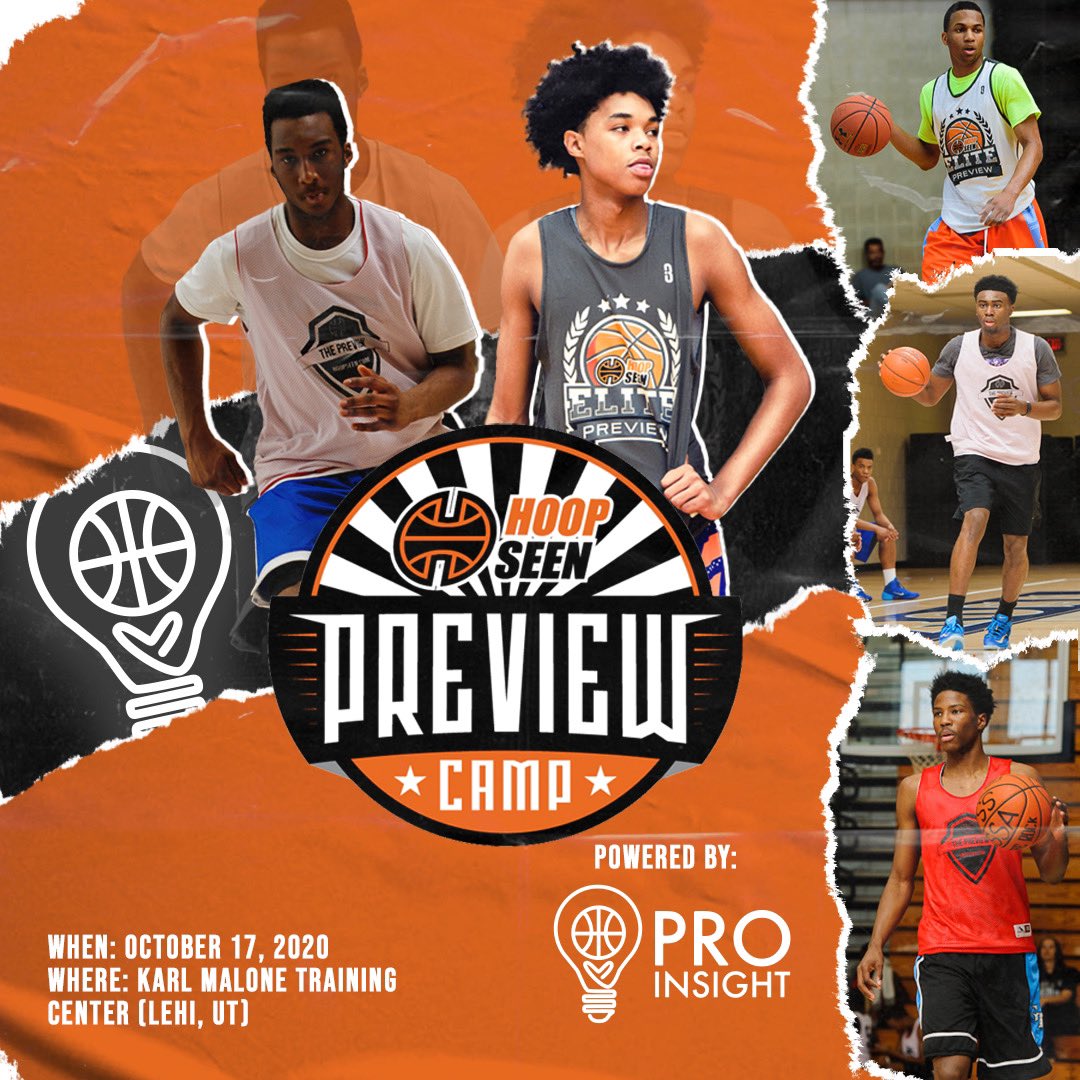 HoopSeen West Preview Camp, powered by Pro Insight
Saturday, Oct. 17, 2020
Karl Malone Training Center - Lehi, Utah
Due to COVID safety guidelines, we are asking that refrain from attendance. There is limited space within the facility and we need to have as much room for players to move from station to station. Click HERE for the attending players.
When you aren't playing or in a drill work, you must wear a mask. No exceptions. This is a closed event and not open to the general public due to COVID concerns. 
CAMP ITINERARY *The times will not change for the day, but the different station work times may be adjusted 
10:00-10:20 Check-In and Registration / at the back side of the Karl Malone Training Facility
INTRODUCTIONS AND EXPECTATIONS (JUSTIN YOUNG, OTHERS)
10:20-10:30 INTRODUCTIONS
INTRODUCTIONS AND EXPECTATIONS (JUSTIN YOUNG, OTHERS)
HEAD COACH OPENING REMARKS (JORDAN BRADY)
10:30-10:40 WARM UP
10:40-10:45 TEAMS TO COURTS/STATIONS
10:45-1:30 STATIONS
1:30-1:40 BIG CIRCLE UP/DIVIDE GROUPS FOR SHOOTING (JORDAN BRADY, SAME AS DIVIDE INTO TEAMS)
1:40-3:10 LUNCH BREAK/CAMP 50 SHOOTING
1:40-2:10
GROUP 1 SHOOT
GROUP 2 REST
GROUP 3 LUNCH / HEAD SHOTS 
2:10-2:40
GROUP 1 LUNCH / HEAD SHOTS
GROUP 2 SHOOT
GROUP 3 REST
2:40-3:10
GROUP 1 REST / HEAD SHOTS
GROUP 2 LUNCH
GROUP 3 SHOOT
3:10-3:15 BIG CIRCLE UP/BACK INTO TEAMS
3:20-END OF CAMP GAMES
GAMES 
| | | | | |
| --- | --- | --- | --- | --- |
|   | Court 1 | Court 2 | Court 3 |   |
| 3:20 - 3:55 pm | 1 vs 2 | 3 vs 4 | 5 vs 6 | 15 minute halves |
| 4:00 - 4:35 pm | 7 vs 8 | 9 vs 10 |   | 15 minute halves |
| 4:40 - 5:20 pm | 1 vs 6 | 2 vs 4 | 3 vs 5 | 20 minute halves |
| 5:25 - 6:15 pm | 7 vs 9 | 8 vs 10 |   | 20 minute halves |
| 6:20 - 6:40 pm | 1 vs 3 | 2 vs 5 | 4 vs 6 | 10 minute halves |
| 6:40 - 7:00 pm | 7 vs 10 | 8 vs 9 |   | 10 minute halves |
Lower number team is the home team/white jersey 
Regulation clock under 1 minute in each half 
1 timeout per half per team 
1 made FT = 2 points, Court FT on and-one play
No one fouls out 
Important links: 
COVID protocols
Be The Beast Live Stream: For college coaches / For Parents/Fans
Who are you playing in front of? 
Interested in receiving an in-depth prospect evaluation from a former NBA scout? Click here 
Pro coach Jordan Brady to lead camp teaching
HoopSeen Events (2021 travel season schedule coming soon)
Follow us on Twitter: HoopSeen | HoopSeen West | Pro Insight | JustinDYoung | Matt McKay, Jr. | Tyler Glazier