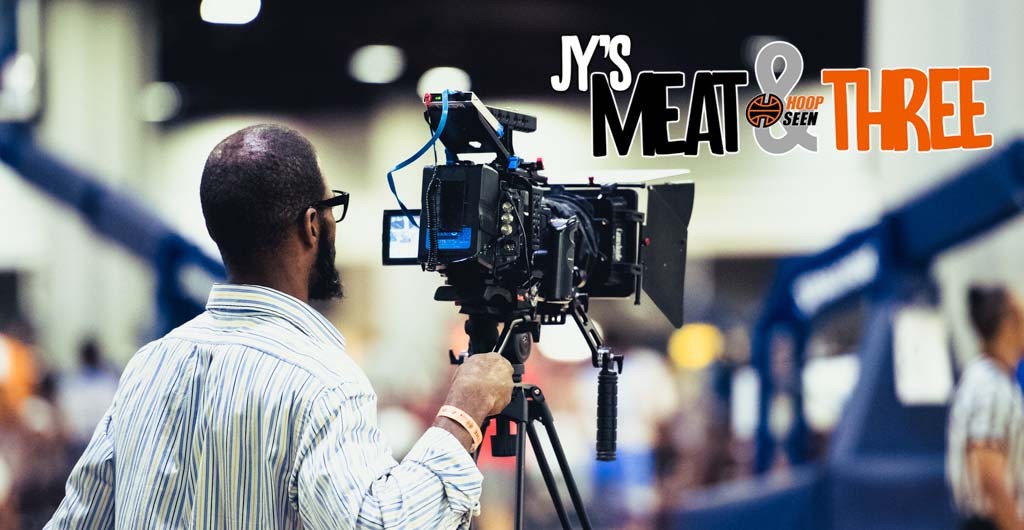 It is lunchtime somewhere. So, welcome back to the Meat & Three. Today we dive into the ripple effect of a full-on shutdown of sport. How are college coaches evaluating players when they can't see them in person? Which PG will be a popular player in the transfer portal? What should I stream tonight? And what is the picture of the day? 
THE MEAT: HOW COLLEGE COACHES ARE SPENDING MORE TIME WITH FILM
As I mentioned yesterday in the Meat & Three, recruiting has taken on a more technological feel than ever before now that we are all essentially sitting the next couple of weeks/months out. 
Relationships are being formed through FaceTime and more phone time. But how are college coaches evaluating players when the games are essentially being put on pause? 
Almost all of the coaches said they are watching film that is sent to them. Platforms like Synergy, Hudl, YouTube, archived high school games from services like BallerTV, SUVtv, FloHoops and the like are proving to be a major source of help in the moment. 
I asked one coach, what kind of film is valuable? Full game film is clutch. Highlights are fun, but they don't hold much context. 
"Games against good competition helps me," said one of the premiere recruiters in college basketball. "When I see them live I'm paying attention to more of the off court action than on court. Things like the parents interaction, (how the players is) with teammates, coaches, refs and the other team. How does the player pay attention in timeouts." 
Several college coaches said being forced off the road has been beneficial in a round about way. The budgetary issue was brought up several times from several coaches, each from a different level in the sport. 
"Accessibility to game film has really helped programs like ours who don't have big budgets," said one NCAA tournament level mid-major program.  "I'll watch a kid play five or six times on film before I ever go see him in person.
"This unanticipated dead period is actually helping us because I know I've watched more film than most others and it has evened the playing field." 
A junior college coach said the shift in operation has allowed him and his staff to make better decisions with more patience. 
"This has helped save costs and prolonging the recruitment for a longer period of time," he said. "Film has been big for us lately. This has given more time for our staff, and specifically our head coach, more time to watch and catch up on film on prospects that was hard to watch during the craziness of a four month game schedule." 
For junior colleges staffs, they are still looking to fill multiple roster spots. For some high-majors, the class of 2020 is already done. So, that means a lot of programs are building their class of 2021 recruiting lists now during the "down time". 
Some coaches, even before the pandemic, found film to be the last line of the recruiting process. 
"I'm not a fan of video. You are fooled easily," one head coach said. 
For him, and several others, film can serve as a filter to who makes the recruiting board. 
"For me it's a way to get familiar w players and see who can't play. So you can remove them from a list…I think a lot of mistakes will be made. Film in no way should be the end all be all, but a tool to help you in your decision making process." 
Whether college coaches like film or not, it is valuable. With no live sports or in person events to attend, it is the only lifeline to actuality on the court. If you are a high school player or a high school coach, now is a perfect time to put together as much contextual game film possible. 
Again, more is more. If you have full game tapes, gather them. Build your own personal library. What are your five best games? Have them ready to share at moments notice. 
THE THREE: What to know, what to watch and what to look back on
THE NOTE 
Yesterday in this space, we talked about the transfer portal and what it is. Go back and read the links that were provided in the Wednesday Meat & Three. Good resources. 
This morning we saw a familiar name enter the portal. UConn point guard Alterique Gilbert put his name into the transfer space. The former Miller Grove star will be a hot target for teams looking to add a point guard to their roster next season. 
Point guards are in high demand in the 2020 high school recruiting class and Gilbert is a player, despite his numerous injuries at the collegiate level, will be a guy that draws a lot of attention. 
THE STREAM 
Louis Williams is the biggest prep star Georgia has seen this century. Truly. 
You can debate Dwight, Young Bull, Sharife and probably a handful of others, and I understand that. But let me tell you, LouWill was a different kind of show in the early 2000s. 
I remember going to Snellville to see a game at South Gwinnett High School and walking past Mike Vick, Ludacris and even Chipper Jones. Two questions: 1. Why did they make those ATL legends wait outside? 2. Who knew Chipper loved HS hoops? 
South Gwinnett games were a must-see show. In 2005, I went on the road for one of their games in North Carolina as the Play-By-Play Classic paired the Comets with the powerhouse known as Oak Hill Academy. Lou Will put on a show. 
In the game was a skinny baby-faced kid named Kevin Durant, too. Have you heard of him. 
Enjoy:
THE TY FREEMAN PHOTO OF THE DAY 
We had a Duke on Duke incident at Suwanee Sports Academy back in 2016. It was at the rim and it could have been legendary. Cassius Stanley was just a freshman for Cal Supreme and his bounce was a weapon, even as a shoe circuit rookie. He drove hard down the baseline and tried to dunk of Wendell Carter, who was our No. 1 player in the nation at the time. Carter stopped the attempt. Ty Freeman captured that moment.