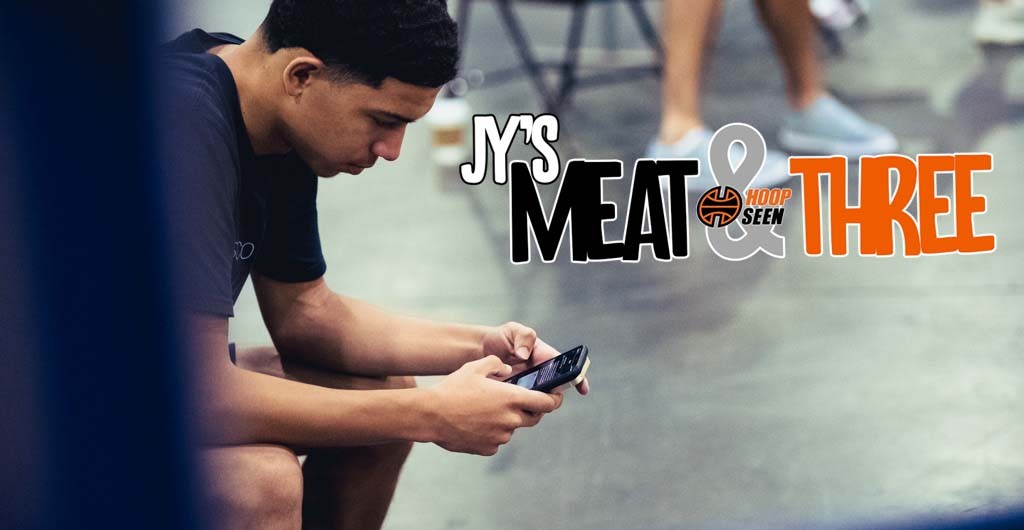 It is lunchtime somewhere. So, welcome back to the Meat & Three. Today we dive into the ripple effect of a full-on shutdown of sport. How are college coaches keeping the lines of communication open? What is the transfer portal? What should I stream tonight? And what is the picture of the day? 
THE MEAT: HOW COLLEGE COACHES AND STUDENTS ATHLETES ARE CONNECTING DURING THE PANDEMIC 
Everyone has questions right now. Everyone in every walk of life and in every type of industry. How can you not? One question floating around our world is this - How do you recruit right now? 
After the shock of the cancellation of the NCAA tournament, the reality and understanding of what's ahead has settled in about the ripple effect of the worldwide shutdown. 
How does this spill over into recruiting? April looks like it will be a wash, thus taking the college coaches off of the sidelines and baselines of NCAA certified events. Players and travel teams are wondering what's next and college coaches are trying to find their next players without seeing the prospective student-athlete in person. 
Talk about a conundrum. 
I asked a number of coaches one simple question - How are doing recruiting right now? The scope of the answers varied. But I also wanted to ask coaches from every level - from the elite high-majors to the junior college level. Recruiting is different for every staff and now that the games are taken out of the picture, staffs are going back to some old tried and true processes but through the lens of modern technologies. 
The consensus answer was this - "We use FaceTime." 
That face-to-face communication has been a normal process in recruiting and now that we are seeing more and more people hunkering down in their respective homes, the way we communicate as humans has been moved to screen-to-screen. 
There is a psychology to recruiting. College coaches are always trying to figure out what kind of human being a player is. A junior college coach said something really interesting about that. 
"Now is a really good time to do research on social media to see what these players are doing with all of their free and down time.  We are finding out a lot about them right now and how they will handle the freedom college brings because they don't have any obligations," he said. "What is he doing with his free time, who's he hanging out with and things like that. It's very telling on what they will do at college." 
Another coach said the time being able to connect with players on a human level is much more important than what he sees on the court. 
"Ya, (we are) watching some film but at this level, and especially for us, it's about the type of person you are," one low-major assistant coach told me. "Plenty of players good enough talent wise for this level, but how do you fit as a person with the type of guys we are bringing in?"
Another coach said he and his staff are just talking about the entire pandemic entirely, educating and sharing some positivity in a time of uncertainty with all of the implications of it all. 
This isn't a new approach, human connection. Developing and cultivating is a huge part of the recruiting. In the new transfer era, perhaps a more focused approach to developing and cultivating trust may help "flatten the curve" with regards to transfers. 
Keep those phones charged, y'all. 
Tomorrow, I'll dive into the conversation about film and how important that will be in this coming weeks on the recruiting front.
THE THREE: What to know, what to watch and what to look back on
THE NOTE 
You're probably heard of the infamous "transfer portal". What is it exactly? It sounds like something from Stranger Things. 
The simple answer from the NCAA is: 
"The Transfer Portal was created as a compliance tool to systematically manage the transfer process from start to finish, add more transparency to the process among schools and empower student-athletes to make known their desire to consider other programs."
This is the link to the NCAA's answer to the question about what this is. Great resource. Read it. What else do you have to do today? 
This is a valuable link, too. Our friends at 247Sports have an up-to-date list of players who are transferring. I'd argue this is a tool more viewed than the player rankings. 
THE STREAM
Finding Forrester is one of my favorite basketball movies. It pairs two things that I love with everything in my being - writing and basketball. It stars Sean Connery and Rob Brown about a novelist and a basketball player who is accepted into a prestigious prep school. The plot is somewhat predictable but perfectly done in early 2000s form. 
You can rent the movie through YouTube Movies. 
It offers up some fo my favorite quotes about writing. 
"Punch the keys." 
"No thinking, that comes later." 
"You write your first draft with your heart. You rewrite with your head. The first key to writing is to write, not to think." 
And, of course…
"You're the man now, dog!" 
THE TY FREEMAN PHOTO OF THE DAY 
Oh, just University of Iowa All-American Luka Garza as a member of Team Takeover at the Nike Memorial Day event at Suwanee Sports Academy in 2015.